Hope sometimes appears in the most unlikely places.
Malawi, one of the poorest countries in the world, is making progress to help individuals with intellectual and developmental disabilities. This week, President Joyce Banda joined the Special Olympics to convene an unprecedented "African Leaders Forum on Disability."
It was an outpouring of power -- with Presidents; Ministers of Health, Education, Finance, Culture, and Sport from across Africa; officials from the World Bank, African Development Bank and U.S. AID; and leaders from UNICEF, Catholic Relief Services, Red Cross, and Lions International -- gathering to establish real plans to empower some of Africa's most powerless.
But power sometimes appears in unlikely people.
At the forum, among the first speakers was Charles Okello, a Special Olympics athlete from Lilongwe. I am not sure I have ever heard a person with an intellectual disability speak at a leadership forum before -- after all, people like Charles are those whom leaders are supposed to be helping, not following, right?
Wrong. Charles spoke with unvarnished honesty -- "people like me have been told we can do nothing." He spoke with hope: "we can work together if we accept people with intellectual disabilities." He spoke with inspiration and longing: "I would like to be in the light because I can help my family and my country if I get the chance." Charles was a leader among leaders.
Those with intellectual and developmental disabilities number in the hundreds of millions, yet they too often live in the shadows of society. Subject to stigma, prejudice, shame, and abuse, they are often denied access to food, school, health care, and social integration. They are more likely to die from diseases such as HIV/AIDs and malaria than those without disabilities, while progress combatting these diseases often leaves them behind.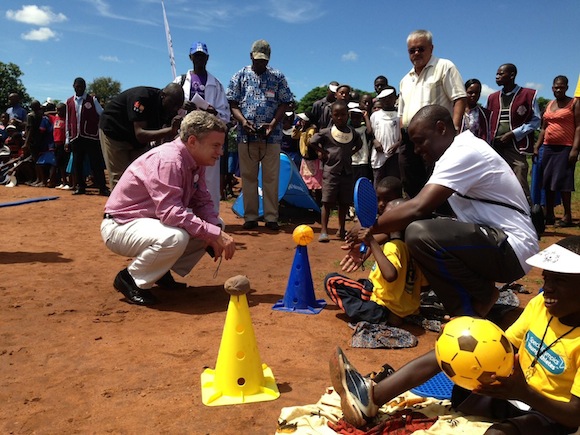 The good news is that the tide may be turning and Special Olympics is leading the way. Using the wedge of sport and play as common ground, children and youth with disabilities come alive, see their talents, and integrate with other children. Visiting a school in Lilongwe, we saw dozens of children with intellectual and development disabilities playing games with their classmates. Smiles emerged, skills were developed, and confidence built. You often could not tell who had a disability and who did not.
But so much more needs to be done to combat cultural barriers to inclusion, provide access to basic services, and educate parents, teachers and leaders. We cannot solve problems we do not fully understand and it is time to close the disability data gap.
At the forum in Malawi, I had the privilege of moderating a panel on what the data tell us about disability with some of the world's top experts, like Nora Groce and Daniel Mont. Societies count what they value, and sadly, not every child, youth and person with a disability is counted. Nor is the degree to which public and private investments are reaching these vulnerable populations with their basic human rights.
One of the most important next steps is for Africa and the world to embrace a data revolution on disability.
We need data to understand the prevalence, type, and severity of disabilities. We need data to see how those with intellectual and other disabilities are accessing education, health care, employment and micro-finance. We need data to uncover the attitudes within communities and cultures that create barriers to entry into the mainstream. We need longitudinal data to track progress over time. And we need internationally comparable data to understand strengths and weakness across countries. This may sound daunting, but we've done it again and again, disaggregating data by income, race, ethnicity, geography and more for all sorts of public purposes. Now it is time to include disability in the mix.
Speaking at a State Dinner in Malawi that brought an extraordinary African and international community together, Special Olympics Chairman Tim Shriver observed that the motto for Malawi -- Unity and Freedom -- summed up the movement he and President Banda are jointly leading.
Theirs is a vision for a more inclusive, compassionate, and loving Africa and world. It is time to embrace that vision with concrete goals, sound data, and proportional resources that bring individuals with disabilities out of the shadows and into the light.
REAL LIFE. REAL NEWS. REAL VOICES.
Help us tell more of the stories that matter from voices that too often remain unheard.