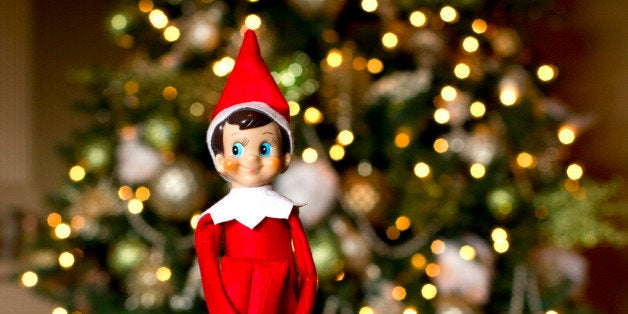 Over the last couple years I have witnessed the rise and fall of the Elf on the Shelf. I have heard its praises sung like the sweet sound of a choir on Sunday morning, and then I watched as the tides turned. The pitchforks came out and the elf with his "Did I do that?" facial expression and changed to eyes pleading you to understand,"That wasn't really poop, it was Hershey kisses. Your mom set up that whole thing. Sorry."
I remember initially when I heard of this I thought it was quite demented. I commented something like, "Propping the elf up on the shelf with war paint, a G.I. Joe gun, binoculars, and ketchup blood would be taking it too far? I misunderstood and thought the elf should have more power to solve problems instead of tattle tailing all the time." This previous to buying an elf and I was feeling like a badass.
Then I saw my own kids starting to grow up. I don't know what it is, but things seem less magical to her. Maybe it's the fact that she already can access information through a phone, take pictures with that same phone, doesn't have to watch commercials when she watches her shows, and she doesn't know that we used to have to use a mouse instead of a touch screen on computers. I might have a better handle on this then I thought. In any case the magic wasn't really coming through. I was sad about that. Also if I'm being honest at about that 3 year old range we went through some things and I was not opposed to having an elf to provide counsel for me on how to handle things.
That is how Beans the elf came to our house. Beans hides. He doesn't do shenanigans. Sometimes he writes notes to say "Hey, stop crying for no reason and making your parents crazy. I still love you." That isn't an actual note, but it could be the gist.
About this time is when I witness the tide turn on Facebook and in life. What it's no longer cool to have the elf? People are picking it apart. They are questioning the motives. They are saying things like -- that elf is ridiculous. It's horrible to manipulate your kids that way. To scare them into good behavior. I say this to that. What is Santa, but the biggest tool for getting good behavior in the parenting arsenal? Now all the sudden I'm bad for bringing magical elf. Gosh darnit. I can't keep up with this.
It's like when Taylor Swift was at the top of the world and then all the sudden she wasn't. I still remember the confusion and the heartbreak. Luckily I don't cave to that pressure. I think for myself in some circumstances. Taylor Swift is always going to be a gift to this world.
So we come to the end of my Elf on the Shelf memoir. As of this time we continue to soldier through our movements of Beans. Small reminder, our elf is beans. I'm not referring to anything intestinal or food related, though maybe there are parallels. Sometimes Beans the elf disappears in a poof of smoke until the next morning, much like beans and your butt. That was really immature. Let's pretend I didn't go there (girlfriend.) I am going to stick by the magic of the Elf for a little more. I want my kids to see some magic. Not the magic that lets them become lazier, but the magic that makes their eyes shine with wonder and their heart race.