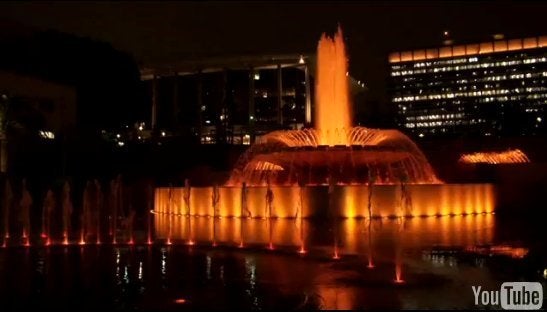 Summer is officially in full swing, which means that we Angelenos are reluctantly preparing for increased gridlock on the freeways, elevated smog levels covering the skyline, and (most inconveniencing of all) an overflow of unsolicited out-of-town visitors. Alas, a major drawback of living year-round in a perpetually sunny seaside city is that friends and relatives tend to think of you less as a person than as a vacation destination... and a free place to stay! There are only so many times you can thwart their westerly summer migration attempts with reasonable-sounding excuses: "Sorry, but I'll be gone that weekend" or "Unfortunately, my apartment is being fumigated" or "Who is this and why are you calling me?" After a while, they start to catch on. The best that you can do is be as hospitable as possible while steering them away from endlessly roving tourist traps and requests to track down a Kardashian or two for autographs. The truth is that there are plenty of ways to entertain your out-of-town guests without their trip turning into a sightseeing nightmare. Here are a few fun ideas, depending on who happens to be visiting.
Your NYC Friend Who Hates L.A.
You know the type, endlessly prattling on and on about the superiority of New York to L.A. From the moment she steps foot on SoCal soil, she can do nothing but proclaim Los Angeles to be a cultural, culinary void where the only advantage of living here is "being able to make a right turn on a red light." Try as you might to convince her otherwise, your efforts will be in vain. She'll scoff at even the suggestion that Langer's mouth-watering, tender pastrami sandwich is superior to the one at Katz's Deli. You can show her that while the expansive collections at The Getty or LACMA will never quite match those countless works and artifacts housed at MoMA or The Met, then at least the uniquely stunning design and setting of L.A.'s museums merits some serious artistic praise (plus, there's a giant freakin' boulder!!), but she will remain none too impressed. Even as she scarfs down an entire pizza (and half of yours) at Pizzeria Mozza, she'll claim she'd trade a dozen chewy, perfectly charred fennel sausage pies for a single slice at Di Fara. Fine. So, throw her in the car, pick up a couple Duck Confit Banh Mi sandwiches from Next Door by Josie and some "Old School" Yummy Cupcakes, then head up to Malibu Bluffs Park for a sunset picnic. If that doesn't perfectly convey the sublime virtues of L.A. living to her... well, then she's not worth convincing.
Your Sweet Ol' Grandparents
Los Angeles can often seem like one gigantic, noisy urban sprawl, but there are quaint little neighborhoods that can be a welcome refuge, especially when the grandfolks are in town. Spend a nice, quiet afternoon with them in Larchmont Village. Stroll, shop, and nosh at their leisure -- they can do some browsing at Chevalier's Books, stock up on stationery at Landis Gifts, and grab a great little sandwich at Larchmont Wine & Cheese. If you happen to be there on a Sunday, there's even a farmer's market. It's like Main Street USA in the heart of L.A. For supper (that's right: "supper"), they'll undoubtedly prefer to dine on the early side, in which case you should brave the aforementioned city sprawl and take them to Fig at the lovely Fairmont Miramar Hotel in Santa Monica, where Tuesdays through Saturdays from 5-6 p.m. nearly the ENTIRE menu (drinks too!) is 50 percent off. Grandma and Grandpa will appreciate the gourmet version of an "Early Bird Special," while you can appreciate some half-priced cocktails and bacon-wrapped bacon.
It's probably safe to say that we live in the movie center of the universe, so any visiting cinema buff would surely have no shortage of things to do while in L.A. Despite this abundance of film-related activities, one tends to reach the point of diminishing returns after an umpteenth studio tour or visit to the Dolby (née Kodak) Theatre. To really show this out-of-town cinema savant a good time, you may have to think outside the box. For a different kind of tour, show up downtown at 10 a.m. sharp on Saturdays for the Los Angeles Conservancy's guided walk through the Broadway Historic Theatre District, where he can check out the giant movie palaces of the early days of cinema. If he's looking for some nostalgia he can actually take home with him, there's Book Castle's Movie World, a veritable treasure trove of posters, movie books, and memorabilia where he'll find collectibles unavailable anywhere else. But if he wants to watch an actual movie, there's no better place for film aficionados than the New Beverly Cinema. Owned by none other than the quintessential movie buff himself, Quentin Tarantino, this revival house shows an eclectic mix of classic movies, independent cinema, obscure titles, and fan favorites, oftentimes with filmmakers on hand for discussions and Q&As. It's the perfect place for a film nerd to truly geek out on flicks.
Your Not-Quite-21-Year-Old-Cousin
Ah, minors -- can't drink with 'em, can't leave 'em home alone 'till 3 a.m. while you go clubbing. Those younger relations are tricky to entertain, as you often find yourself stuck in their not-a-teen-but-not-quite-an-adult limbo where everything is either too childish, too uncool, or too strict with its carding policy. (We at Broke Girl's Guide do not condone having fake IDs made. Having said that, we do have a friend of a friend...) The trick is to find places that only SEEM like you have to be 21 to be there, like a night out in Hollywood at Lexington Social House, which certainly has a trendy bar scene but doubles as a choice dining establishment where all ages are welcome for dinner (and if you need a quick break from the youngster, sneak off to the bar area where drinks are nicely discounted every Tuesday through Friday until 8 p.m. and all night on Sunday). Keep the illusion of adulthood going with an all-ages show at The Troubadour, a music right-of-passage for L.A. locals and visitors alike. Just make sure your cuz doesn't steal one of those alcohol-accessing wristbands -- you don't want to fall prey to that other L.A. music right-of-passage (getting kicked out of a concert).
Your Hoity-Toity Aunt (pronounced "Awnt")
No matter where your kin happens to hail from, every family has that relative who somehow has climbed a rung (or four) higher on the socioeconomic ladder than the rest of the fam. And when that relation comes to visit, you'll no doubt feel obligated to prove that L.A. is more than just a never-ending sea of marijuana dispensaries, strip malls, and vintage t-shirt shops. So as soon as you pick up Aunt Such-and-Such from the airport, promptly whisk her away to the enormous secret garden that is The Huntington Library. If wandering this opulent estate, with its vast, lush gardens and priceless works of art, isn't quite enough, then surely she will be won over with a genteel luncheon of finger sandwiches and unpronounceable imported cheeses at the Rose Garden Tea Room. For dinner, reserve a white-tablecloth seat at Michael Cimarusti's Providence. Now, is this a Broke-Girl-friendly establishment? Of course not. But since you're being a perfect little tour guide of a niece, the least she can do is treat you to one of the best meals that (her exorbitant amount of) money can buy.
Article written by A. Joos.
Popular in the Community