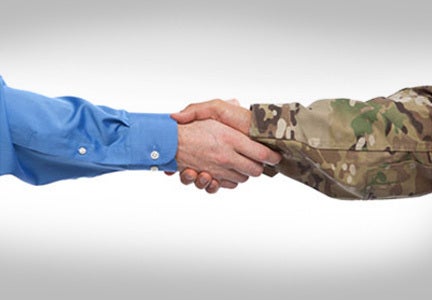 Joining the U.S. Armed Forces can be one of the most rewarding, exciting, and difficult learning experiences of a service man or woman's life. And when a service member's duty ends, migrating from military to civilian life can be similarly daunting and thrilling.
In 2015, the U.S. Bureau of Labor Statistics reported the national veteran population to be 21.2 million men and women, making up about nine percent of the civilian population over 18 years of age. While active duty obviously has its stresses, assimilating back into civilian life and being labeled "veterans," many individuals face a new set of anxiety-inducing events.
As a former counterterrorism analyst with the National Guard and Army Reserve, I've seen from first-hand experience and those of my peers the challenges presented by transitioning to post-duty careers.
Deciphering Valuable Job Skills
The biggest challenge veterans face is learning how to speak about their military careers in layman's terms. Military jargon serves an incredibly important purpose within the parameters of the service, whether it be in actual combat, carrying out duties on base, or describing rank. However, the majority of people are not familiar with this terminology or the ability and skill that goes into that type of work.
It is difficult enough for veterans to explain these details to friends and family, let alone convince a hiring manager of their valuable skills in what feels like a different language.
I recently began mentoring a veteran who has had difficulty translating his extremely valuable military intelligence skills into a career. Reflecting on his experience and mine this Veterans Day, I have outlined a few tips for veterans as they look to reenter the workforce.
Find someone — a friend or formal mentor — who has taken those first, shaky steps before you, and speak with them about challenges they overcame. Ask this person to help you translate your resume and skills from military jargon to civilian language that employers are comfortable with. For example, consider using more common work terms — such as converting an "infantry leader" title to "project manager" — on your LinkedIn profile page, to phrase it in a way that recruiters understand and are looking for.
In my experience, many recruiters are impressed with service experience but don't know how to assess military work and may be afraid to ask. First and foremost, I recommend being proud and forthcoming about your military experience, but convert it into civilian-friendly terminology. This way you will level the playing field between you and other candidates.
Tip No. 2: Take a Different Kind of Basic Training
Before entering the interview, consider pursuing some sort of interview training. Spending years within the military construct can create a disconnect in interview conversations. Interviewers often ask or expect candidates to explain particular projects or achievements; by contrast, in the military, soldiers are expected to deliver exceptional results without discussing the nitty gritty details. Senior officers don't want an explanation, just a finished product. Interview training can help veterans get used to telling their story in a conversational manner.
With practice, you'll be able to easily elaborate on your training that the average individual would not possess — your successes in high-pressure situations, experience dealing with difficult issues and working on various teams, etc. — that makes you an excellent candidate.
Tip No. 3: Exude Confidence and Pride
Take a moment to reflect on and recognize the sacrifices you've made and feats you've accomplished. Be confident. Be proud. You have not taken the path of least resistance, and that should increase your value in the eyes of an employer (once you're practiced conveying that value). Sure, the "real world" can be intimidating. But you have faced far greater obstacles during your time serving our country. Embrace the challenge and overcome it.
Learning to translate your skills into words that mean something to the average person will show that you are just as qualified — or even moreso — for that job as the civilian sitting next to you in the waiting room. Once you can bridge the communication gap, rejoining the civilian workforce will seem a lot less scary.
Joining the Civilian Ranks
Obviously, veterans face other issues as well that I have not mentioned. But veterans looking to build civilian careers may be able to give themselves a leg up by focusing on these ways to translate their experience and make it — and themselves — more relevant to potential employers.
And companies can do their part by making a conscious effort to give veterans an equal chance at employment. One in 50 employees here at Justworks is a veteran, which is something I am incredibly proud of, as we continue to focus on building a diverse workforce with people from all backgrounds. We as employers need to do a better job meeting applicants like veterans halfway, and trying to understand where they're coming from and what they can bring to the table. Veterans have specialized skills and a team mentality that can be extremely valuable in a civilian work environment, if only given the opportunity.
Calling all HuffPost superfans!
Sign up for membership to become a founding member and help shape HuffPost's next chapter
This post was published on the now-closed HuffPost Contributor platform. Contributors control their own work and posted freely to our site. If you need to flag this entry as abusive,
send us an email
.