When friends first pitched the romantic concept for his debut music video, pop artist Lyon Hart knew immediately "Falling for You" was the perfect complement to the production team's idea. There was just one problem: The original proposal included a straight couple as the video's leads.
"I wanted it to be more true and authentic to me as a person and as an artist," the New York-based queer singer/songwriter told Party Foul Radio with Pollo & Pearl of his decision to instead cast two men. "Plus my boyfriend is a modern dancer, so we had all these lovely male dancers around. It made sense to seize that opportunity."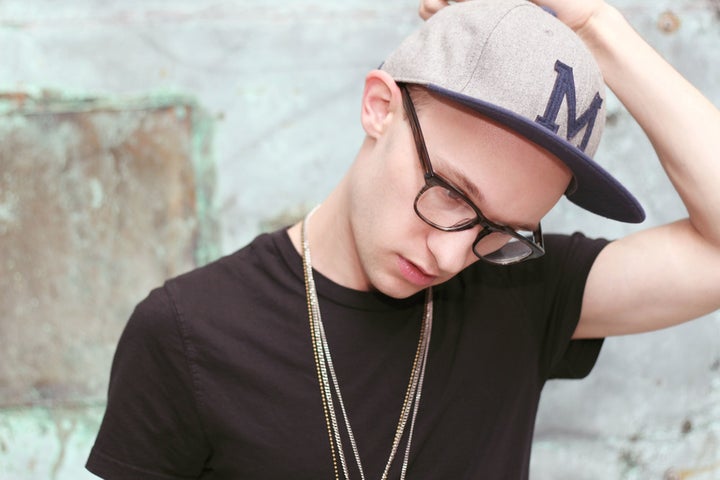 The decision paid off on a larger scale than the emerging star might ever have guessed. Since it's independent release in October 2016, the "Falling for You" music video conceived by Matt Van Daniker and James Manzello and filmed by Zak Ray has amassed more than 2.6 million views.
"It's wild," Hart told Podomatic's No. 1 LGBT Podcast of the lush, electronic pop ballad's success. "It really has surpassed my wildest dreams…I was thinking I'd be happy if 10,000 people saw it."
The musician jokingly attributes some of the video's success to "the power of putting a couple of muscle-y, shirtless guys in the picture that pops up on YouTube searches." Though he admits that has possibly contributed to the song's popularity, he recognizes the continuing viewer growth speaks to something greater.
"People came for the shirtless boys," he said, "And stayed when they realize the video and song are also good."
Hart released his debut EP With or Without Me in 2014. The collection of songs was initially written to pitch for big name stars like Nick Jonas and Rihanna, he stated, but when interest waned, he chose to release the tracks on his own.
Two years later, when deciding how to portray himself as a solo musician on video, Hart was faced with a common dilemma. Would he be upfront about who he is – or take the route of others who have hidden their sexuality. Confessing it is "always a consideration, especially when you're starting out," the choice soon became clear.
"It's a concern, but I think it's way more important to be true to yourself," he said of confirming his sexual identity with his first release. "There's no point in hiding who you are, especially where we are today in the culture. Being closeted is not a popular thing to be these days."
As views for "Falling for You" grew, Hart began to notice where the decision situated him in the music world. On YouTube, the platform's algorithms placed him alongside other queer videos. He recalled, "It was all other gay videos, either the content was gay or the artist was gay."
The confirmation forced Hart to question whether it was the right move – if that was where his work would exclusively exist. Rather than being a 'pop artist,' would he always be a 'gay artist,' he wondered, and was that where he wants his music to live?
"One of the top videos for that time was Phi Phi O'Hara," he said of the RuPaul's Drag Race contestant and singer alternately known on later releases by his given name, Jaremi Carey. "I thought, 'Am I part of the drag queen music scene? If so, I need better wigs!'"
Humor aside, rather than second-guessing his decision, Hart continued the "narrative" started by his debut with follow-up single "Delusional." Written to reflect staying in a relationship long after its expiration date, the singer said assembling its video from clips of old black and white films grew the song's queer context.
"Digging through all the footage, I realized I was doing that thing you do as a gay person growing up where you read too far into things. 'Oh, that looks slightly gay! Maybe there's something going on,'" Hart explained. Soon, he said, the song "was more about feeling delusional in the way most queer people" do as youths seeking connection and a sense of hope.
"You have these tragic crushes on helplessly straight boys who are never going to be gay, and never be interested in you, but you still think, 'Maybe there's a chance,'" he related. "Sort of the way you do as a young person, where you think, 'Oh, he agreed to be my lab partner! Does that mean he's gay too? Does he like me?'"
With his second video now online and both tracks available through all online retailers, Hart is deciding which sonic direction best suits him going forward. Releasing songs first written for others – and dabbling as a featured vocalist in the "very bro-y, very masculine" world of EDM, where he never hid his sexual identity either – has allowed him to question "what I actually want to say as an artist."
"What's going to feel most truthful for me?" he asked. "It's a different way of discovery for what makes sense for me as an artist."
Needless to say, Hart's space within the queer music scene will continue to grow, but he admits audiences respond differently to those acts. Whereas many rally behind heterosexual artists who show support for the LGBT community, even high-profile artists within the community -- such as Adam Lambert, for example -- have a tougher road.
"It's an interesting phenomenon people have -- especially gay people -- of being followers of or really big fans of queer artists out there," he stated. "I don't know if it's internalized homophobia or the way we're fed pop artists in our culture, but there's a bit of a block out there for queer artists."
That will change over time, he hopes, as the number of out artists grows. The days of artists revealing their sexuality after achieving success are begininging to wane, he suggests. "The big coming out stories, like the Sam Smiths of the world, are going to happen less and less," he asserted.
Hart looks to musicians like EDM's Troye Sivan and Olly Alexander of the band Years & Years as examples of "great queer artists out there making amazing pop music." He is anxious to see if the "new, more accepting society we've cultivated" will propel "queer artists [to] the same level of fame."
"I think people like Troye Sivan are kind of paving the way," Hart concluded. "[He's] someone so young and celebrating their queerness in a really big way. I think it's going to change things."
LISTEN: Singer Lyon Hart, The Dinah Shore Weekend's Mariah Hanson on Party Foul Radio
REAL LIFE. REAL NEWS. REAL VOICES.
Help us tell more of the stories that matter from voices that too often remain unheard.