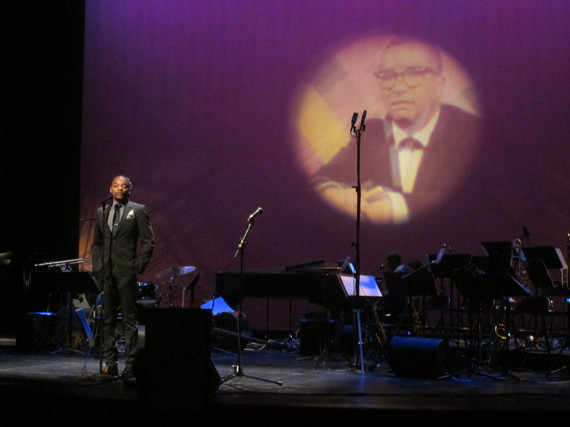 vocalist V. Shayne Frederick singing Strayhorn's 'Strange Feeling' (ph: LW)
In Philadelphia this month, OutBeat America's first Queer jazz festival was "gay as they say it ought to be..." To quote 'Something To Live For' a tune written by gay pianist-composer Billy Strayhorn. Strayhorn was Duke Ellington's in house big-band arranger-composer, but remained in the background largely because of his sexuality. Strayhorn may have been writing in ironic code in his closeted era, but there was nothing but pride to celebrating his contribution in Philly as The William Way GLBT Community Center and Philadelphia Jazz Project to launched OutBeat, the nation's first jazz festival that showcased gay jazz artists, composers, music and GLBT themes.

The four day event in various venues all over Philly is the culmination of two years of planning between the two organizations and the Pew Center for Arts and Heritage. Chris Bartlett, executive director of William Way, said the festival underscores the acceptance of diversity that exists in jazz culture and arts communities.
Bartlett is also classically trained pianist and an avid jazz fan, he noted that "Philadelphia's has a great jazz history and for acceptance in diversity in the African American community and LGBT community," he said. "One of my goals at William Way was to have arts as a focus because I think it is our universal language that crosses generations and cultural barriers. It sparks conversation about inclusion and diversity. Jazz particularly sees the intersection of African American and gay communities."
Bartlett credited Philadelphia Jazz Project director Homer Jackson in getting East Coast Jazz's crème de la crème to participate "The turning point when Homer and Philadelphia Jazz Project got involved and wanted to be part of this event honoring Billy, a magical performer and composer of the 30,40s & 50s. It was his idea to have a Strayhorn night and he brought all these incredible artists."

The centerpiece concert was staged at the Suzanne Roberts Theatre in Center City, was highlighted by LUSH LIFE big band assembled by bassist and musical director Keith DeStafano brought full dimension to the set of Strayhorn-Ellington big-band classics Take the 'A' Train, Chelsea Bridge, Johnny Come Lately, In A Sentimental Mood, et. al. The concert featured a dazzling array of gay and straight musicians, vocalist and poets.

The concert underscored Strayhorn's influence on jazz artists and as a gay icon to this generation of GLBTQ performers. The concert featured new jazz artists, and established stars like premier trumpeter Terrell Stafford, Broadway star Ty Stephens, who sang in the original cast of Sophisticated Ladies, legendary pianist Raymond A. King (doing a brilliant Strayhorn improv) and blue fire guitarist Monette Sudler.
Meanwhile at The Philadelphia Museum of Art, the festival presented Grammy award winning gay composer-pianist Fred Hersch and his trio and was broadcast in part WRTI radio. Hersch new recording 'Floating' is currently at the top of the jazz charts. At Chris Jazz Cafe, Terri Lyne Carrington riffed off of Duke Ellington's classic 60s recording 'Money Jungle' and The Bill Stewart Quartet performed at The Painted Bride Art Center.
OutBeat culminated in an all-day event with a dozen acts performing all day at Union Station on Spring Garden. Participating performers included Andy Bey, Ben Flint, Patricia Barber, Dene DeRose, David Coss, Drew Paralic, Jennifer Leithan, Mike McGinnis and "this whole new gen of LGBT performers, who are making such incredible music," Bartlett said, " We wanted to honor the past and create a unique opportunity for the new gen or performers to be fully out and expressed in their sexual and gender identity. "
"I do think Philly one of the best LBGT cities. We've had so much success with city government extending rights to the full range of LGBT citizens. Great community leadership in our community and in the corporate sector," he said.
As progressive as Philadelphia is, just two weeks ago, there was a brutal attack on a gay couple by a mob of 12 people who hurled antigay slurs, surrounded the couple and pummeled them to the ground, resulting in severe head injuries to one of the men. Bartlett observed that "The festival is an antidote to hatred. Jazz particularly has that ability to speak of communities growing from a place of exclusion. Moving away from violence and hatred to love toward connection and diversity."
REAL LIFE. REAL NEWS. REAL VOICES.
Help us tell more of the stories that matter from voices that too often remain unheard.