Helgi Tomasson's Romeo and Juliet made a comeback at San Francisco's War Memorial Opera House last night, buoyed by a vivid and sensitive performance of the Prokofiev score by the San Francisco Ballet Orchestra, under the electrifying baton of Martin West.
The theme of the tragic fallout from senseless political feuding was given short shrift in favor of teen romance and botched parenting. The conflict between the Montagues and Capulets, captured in the stirring street fight scene in Act I, faded quickly. Ballet to the People missed the class struggle of Lavrovsky's original 1940 Socialist Realist production, the bold crowd scenes of John Cranko's 1962 interpretation, and the oppressive grandeur of Kenneth MacMillan's in 1965 that did so much to set the broader social and political context.
Long stretches of unmemorable choreography, at times deaf to the emotional swells of Prokofiev, were punctuated by brilliant outbursts from the exceptional supporting cast -- notably Sofiane Sylve as a very complicated Lady Capulet, Anthony Vincent as the cruel and imposing Tybalt, Hansuke Yamamoto and Taras Domitro as Romeo's wing men, and Dores André and Dana Genshaft as the lusty Harlots. Though given too much airtime for such inconsequential roles, the Acrobats Norika Matsuyama, Francisco Mungamba and Wei Wang brought the house down with their elegant, fearless tumbling and spinning.
In this Romeo and Juliet, people take an awfully long time to die. In truth, since the deaths are driven by the music, they take no longer than in other productions that employ the same score, but it's an indication of how unfocused the choreography is in those moments where the victims seem to take forever to expire.
In certain critical scenes, however, Tomasson's storytelling shone far beyond the histrionics of MacMillan, Cranko and Lavrovsky. (Ballet to the People is partial, though, to Lavrovsky's ending, in which he depicts the reconciliation of the two families after the tragic double suicide: A vote for humanity.)
In Act I, Juliet and her gate-crashing admirer steal a private moment during the Capulets' ball, while the other guests head for the buffet. Their get-to-know-you pas de deux is full of delightful, subtle touches and delicate, airy lifts.
Later, in the ballroom, Tybalt accosts the masked Romeo and, identifying him as an interloper, tries to bounce him. Lord Capulet intervenes, not wanting to wreck the party vibe, and Lady Capulet steps in to calm the hot-headed Tybalt. She and Tybalt have a private huddle downstage, implying more strongly than most productions that she and her nephew are having an affair.
Sylve's Lady Capulet steals Act II at the very end, as she mourns the death of Tybalt with a terrifying eloquence, and tries to assault the guilt-stricken Romeo.
The crack-of-dawn bedroom pas de deux that opens Act III is a towering achievement of Tomasson's production. So is the following scene in which Juliet battles her parents for control of her destiny -- perhaps the most pivotal scene in the entire ballet, as this is where she makes the dramatic decision that leads to the double suicide.
Sarah Van Patten was not entirely convincing in Act I, her dancing too controlled and mature for the role, lacking the inchoate longing of a cloistered, but sensitive and inquisitive, 14-year-old of the Italian Renaissance. But she relaxed and found a youthful impetuosity for the secret wedding in Friar Laurence's chapel in Act II. By Act III, she fully inhabited the role. The pas de deux choreography makes the most of her expressive supported arabesque, with arms that breathe beautifully into an unclassically wide open shape. Where MacMillan's choreography for this scene is breathless, more naturalistic and less balletic, Tomasson's is more nuanced; absorbing in its build-up, it culminates in a passionate snog on the bedroom floor.
In Juliet's struggle with her parents, who are determined to marry her off to the wealthy, aristocratic Paris, Van Patten conveys the fragility of Juliet as well as her heroic determination. Tomasson builds up this scene masterfully. After Lord Capulet storms out of Juliet's bedroom in disgust, the orchestra catches its breath, and in that moment of silence, Lady Capulet gives her daughter a look of hatred and follows her husband into the wings, her heels clattering ominously.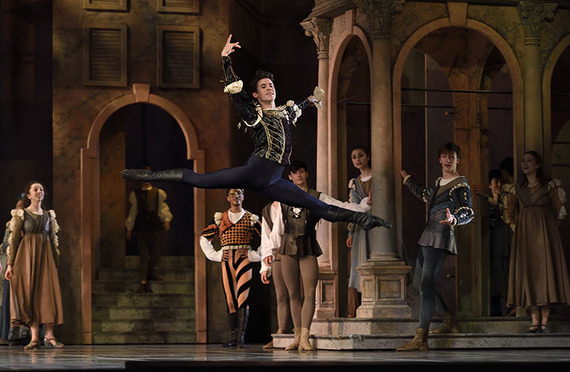 Carlos Quenedit in Helgi Tomasson's Romeo and Juliet (Photo:Erik Tomasson)
Carlos Quenedit plays the dashing, ardent Romeo with the perfect blend of nobility and abandon. His turning jumps with one leg whipped out of the hip like a brandished sword were particularly spectacular.
Hansuke Yamamoto made an audacious Benvolio, sailing through the air as he circled the stage with a series of turning leaps that seemed natural and unforced in their elevation.
Heart-throb Taras Domitro as the cavalier Mercutio tossed off his technical challenges with ease. But he is given a kitchen sink of emotions to portray during his death scene, which register as a somewhat incoherent, slapstick muddle.
In contrast, the orchestra's strings, woodwinds and brass in turn bring out individual colors in the score to poignant, exhilarating or fearsome effect. Surely, Prokofiev would be thrilled.
Calling all HuffPost superfans!
Sign up for membership to become a founding member and help shape HuffPost's next chapter