The Obama campaign headquarters in Seattle is located on a steep narrow one-way street in a redeveloping neighborhood a few blocks from the REI store. When I come to volunteer, I pass through the entry way crowded with voters buying Obama signs and step into the main volunteer center. It is a large room filled with desks, volunteers, and legislative district coordinators. These are some of the people responsible for the hundred of thousands of votes newly registered in Washington state. Their tables are filled with phones, computers, scanners, chunks of old food, an occasional coffee cup and stacks of paper. I pass the volunteers making buttons and shredding sensitive documents, and head down the narrow hallway, past the tiny kitchen (no sink) filled with donated food, and make my way past the warren of offices belonging exclusively to the paid campaign staff: communications, finance and voter protection. I turn in at this last door.
The Director of Voter Protection is Kramer Phillips. He has the face of a Renaissance angel with tousled dark blond hair and a string-bean physique that is clothed in preppy attire: white shirt and tie and loafers. He sits hunched over his laptop. To his left is a TV, tuned to MSNBC. On the desk, a bottle of Alaskan Amber (unopened) keeps company with How to Rig an Election by Allen Raymond. Kramer has worked on several elections over the past six years, written a thesis
about Universal Voter Registration and drafted two model state initiatives for the same reform. He's twenty two.
Along with several other older volunteers, my first job, was to call the twenty-two hundred voters whose absentee ballots were discarded from the August 2008 primary election due to signature concerns. Kramer discovered that the Secretary of State didn't have the list. Each county kept their own information stored in their own particular way. Some counties had computerized lists, while others had to compile the list just for our request. Such information is available under the freedom of information act to anyone interested enough to ask. Pierce County had just tossed the "bad" ballots into a box and someone had to photo copy each one and then send the stack of photocopies to Kramer.
When the separate county lists were amalgamated into numerous pages, seven of us including Kramer met in the Democratic State headquarters over the course of four evenings to call the voters. Our lead volunteer, and head of the Grasssroots Washington Democrats, Deb Saxon, had worked closely with Kramer to pick suitable volunteers to make these sensitive calls and rewarded us in advance with elegant and extensive hors d'oeuvres to keep us going between 6 and 8:30pm, the hours deemed best to reach voters at home. We had a script to read, but often we never got that far. People hung up based on the caller i.d. that read Democratic Party. Perhaps they thought we were asking for money, or maybe they were just Republicans.
Calling a voter who has taken the time to cast a ballot announcing that vote was thrown out is a delicate operation. In the calls I made I met with gratitude, disbelief, drunkenness (with a promise to vote for Obama," don't you worry!"), language barriers and two startling admissions. One woman realized that putting her absentee ballot in the envelope with her husband's voter number on it effectively eliminated both their votes. Several parents of absent college students admitted they had (illegally) signed the ballot for their child. Signatures are a personal thing. One elderly woman pointed out that her signature had changed since she registered thirty years before; a twenty-something admitted she liked to sign her name differently every time. In this state you can call the elections office and arrange to have your official voter's signature be matched with your your driver's license. When you go to vote, you just check your license and sign exactly the same way.
Kramer said the signature issue was a form of voter harassment or "systematic disenfranchisement". In thirty-two other democracies around the world, people vote using just their national identity number (equivalent to our social security number) and a simple form of identification such as a drivers license. There is no need for voters to initiate registration or create matching signatures. If you change your address in Denmark for example, this information is entered into a national system that is used for creating the voter rolls. Kramer pointed out that requiring matching signatures puts the burden of proof on the citizen, who allegedly has the "right" to vote. In addition, I could see from the amount of time involved that tax-payer dollars are wasted to pay state employees to check those signatures.
Washington's law requires the Secretary of State to notify the person who has been disenfranchised due to signature issues. Part of our job on the phone was to determine if this had in fact happened. In most cases it appeared the law had been followed, yet, frequently the card arrived the day before the voters had to call and rectify the situation in order for their votes to count. Numerous people reported the card looked unimportant and was cast aside. Few voters realized that the same problem would reoccur in the next election unless action was taken by them. Kramer pointed out that once again the burden was placed on the citizen to prove something, to do something, often something inconvenient, in order to restore the "right" to vote. This was systematic disenfranchisment.
While volunteers were making these twenty-two hundred phone calls, Kramer was on the phone to the Secretary of State asking for more public information, the list of voters state wide who had been placed on the "inactive" list. "Inactive" in Washington state is a broad and strange designation. If a person fails to vote in two consecutive federal elections or if a piece of election mail is returned to the sender (Secretary of State) as non-deliverable, that person will be deemed inactive. There are lots of reasons that mail is non-deliverable, generally it is because a person has moved or died.
But what about the people who for whatever reason didn't vote in two consecutive federal elections? By being marked inactive they would not be automatically mailed an absentee ballot. No problem, you say, because they can vote at the polls on election day. Not so. In Washington, where the counties run the elections and make the voting rules, voting is entirely by mail (i.e absentee ballot) with the exception of King County which includes Seattle. Thus being on the inactive list disenfranchises an untold number of voters statewide. Kramer and Deb Saxon, head of the Grassroots (Volunteer) Democrats of Washington agreed they couldn't let this happen.
When the inactive list finally arrived from the Secretary of State it came in a large four inch loose leaf binder. The pages were single spaced lists of names, by county. There were ten thousand names.
Systematic disenfranchisement is widespread in the United States compared to other democratic countries. Working with Kramer is Myong Groen, a Danish born young woman who explained that in Europe among the countries of the European Union voting is far simple. Everyone has a national number and on voting day they appear at the polls, show their identification and use their number to automatically receive a ballot to vote. In fact, Myong explained, if a French citizen is working in Denmark, the Frenchmen/woman can vote in Danish municipal and local elections, despite being a "foreigner".
I had come to work in voter protection expecting that we would be looking for "dirty tricks' and Republican "bad guys". Instead I found we were fighting an old system. "Where did this all start?" I asked Kramer, (the sixty-year-old asking the youngster). Before he answered, I recalled studying about the fight during the Constitutional Convention between the northern and southern states over whether the right to vote should be predicated on owning property. (Interestingly enough Australia also had to deal with this property issue and voting rights, as a former member of the British Commonwealth.) "Was it the old fight over property?" I followed up. He nodded and smiled as a proud professor does when a student begins grasp the subject.
"The greater the burden (on the citizen), the less likely to participate in the process," Kramer told me. I was beginning to agree with him wholeheartedly. Signature rejection and inactive status are the two biggest ways that the government systematically disenfranchises the citizens. When the system actively disenfranchises citizens, I could see how simultaneously it creates opportunities for dirty tricks occur on a partisan level. And it burdens the taxpayers
with the cost of rectifying both the systemic and the partisan problems.
I had some concerns earlier about trying to call all of the ten thousand voters. After talking with Kramer, Myong and Deb I knew it was the right thing to do. But I've become convinced that our voting procedures need serious improvement if we are to enter the twenty-first century as a competent, first-rate democracy.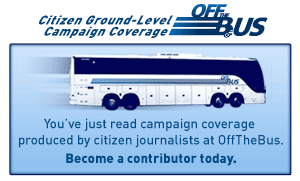 Calling all HuffPost superfans!
Sign up for membership to become a founding member and help shape HuffPost's next chapter