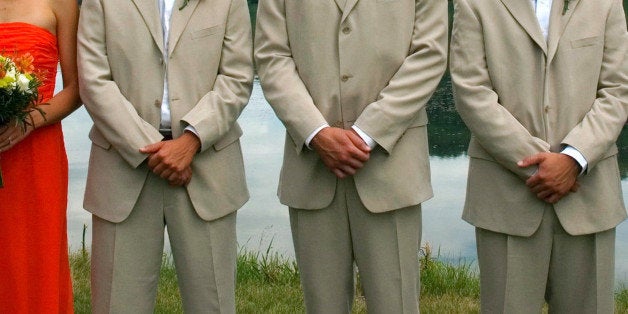 It's fun to see how creative brides and grooms can be with the myriad of wedding planning ideas and resources available to them now via Pinterest, Instagram, YouTube and good wedding websites with lots of pictures of real weddings they can imitate. When I was planning my own wedding, Wedding Channel was the only real online wedding resource and The Knot was in its infancy. There was certainly no Wedding Wire to hook me up with vendors because the folks that founded it weren't even out of college yet!
But somehow, for years and years, we all planned pretty weddings and made amazing memories without having photo booths at our weddings, multi-colored cake pop displays and cake toppers made to look EXACTLY like the bride and groom. And we didn't have cool flash mobs, choreographed wedding party dances or sparkler tunnels. As much fun as those are, they do make the execution of the wedding a bit more complicated.
With that said, there are a few traditional wedding activities that are dying, and I am not sad to see them go. Not just because they complicate my life as a planner, but because a few of them are in rather poor taste. Check out my list so that you don't plan an outdated (and maybe even a little tacky) wedding ceremony and reception for yourself.
1)Groomsmen escorting the bridesmaids down the aisle during the processional. You still see it sometimes, but most ceremonies begin with the groomsmen being led in behind the wedding officiant and the groom, not escorting the girls down the aisle as couples. I'm not sure why this tradition changed, technically speaking, but I get the logistical improvement as a wedding planner. MEN CANNOT LINE THEMSELVES UP properly when they get to the altar. I'm sorry guys, but it's true. You can't seem to find your correct place to stand when you have to walk down the aisle and take a right and grab the spot you were assigned in rehearsal. By having the gentlemen led in by the minister (down the outside aisle beside the right-hand set of chairs is the trick) lines them up perfectly in place when the minister stops walking.
2)Announcing the entire wedding party at the reception. I'm still asked to do this occasionally, but almost everybody has dropped the practice. This is reasonable because the bride and groom finish pictures last, meaning the wedding party will have rejoined the guests at the reception long before the bride and groom finish pictures and have a chance to repair and refresh themselves and have a snack before their entrance. If you do announce everybody, the wedding planner has to go find them all and herd them back outside the reception venue so they can re-enter as their names are announced. It's just annoying and a big time suck, especially if you have less than 100 guests and most of them know who your wedding party is. Also, if you've listed them in your wedding program, you're being redundant with the introductions. Finally, you're literally paying for your wedding reception by the minute. Did you mean to waste 15 minutes of reception dance time later so your friends could do silly dances as they entered the party (for the second time)?
3)Using both escort cards and place cards. For the less-informed, an escort card is the card in an envelope that tells you what table you're going to be sitting at for dinner. Once you've arrived at that table, there will be place cards telling you which seat is yours. But most brides and grooms figure their adult friends can handle choosing their own dinner seats and skip the escort cards entirely. You can simply put the placecards out in alphabetical order for your guests and then they can choose their seats at the assigned table. More and more often, brides and grooms are choosing to do an open-seating option, meaning they let their guests sit wherever they like. While this makes it more complicated for the service staff when giving the correct dinner selections to everyone, it does cut down on the rampant card switching that goes on when the bride and groom have preselected the seating. And yes, that happens at EVERY wedding.
4)The sweetheart table. Why would you invite all of your most loved friends and family to a wedding reception celebration and then sit at a separate dinner table? That fad went out in the 1980s and it should have stayed gone. In my opinion, it's basically taking the whole "Queen for a Day" thing a bit too far. More often now, you see the bride and groom seated with their parents or wedding party, and then they get up and visit all the tables at some point during dinner. The "sweetheart table" requires the guests to come pay homage to the bride and groom individually. It actually makes it harder for the bride and groom to eat any dinner.
5)Money dances. I'm happy to say that I've only had to facilitate a few of these over the years, but they've all been Italian weddings where that's a long-standing tradition. If you've never seen one, they can be done a myriad of different ways. Sometimes it's just announced and then many men dance with the bride and all of them slip an envelope (or just cold cash) into the silk bag she's wearing while they dance. In some traditions, dance partners pin money to the bride (usually on an apron they've placed over her to protect the gown from the pin holes). The worst example I've ever heard of but not seen (my husband was there) included paying a dollar for a shot of Apple Pucker and a dance with the bride. No lie.
Keep it simple, elegant and classy, ladies and gentlemen. If you're not on an episode of Redneck Weddings, try to keep the money-grabbing stuff and special activities to a minimum. Everybody knows you're the bride and groom -- you don't have to sit by yourselves on an elevated platform to prove it. Nor do you have to be announced with 16 bridesmaids and groomsmen preceding you into your own party. Adults can make intelligent seating decisions but the groomsmen cannot line themselves up straight. It's pretty simple. Let's not make life more complicated than it already is.
Until next time, happy wedding planning from Weddings in Vieques and Weddings in Culebra!
Related