Outdoor design choices keep getting better every year. I'm noticing that inside styles are venturing outside and the classics are getting contemporary updates. The bar has been raised and the exteriors of our homes are now an extension of our indoor style.
Who do we thank for these style shifts? The biggest buying market: the Baby Boomers. They're born between 1946 and 1964, which places them in the 49 to 64 age range, representing 26% of the population. As a group, they control the lion's share of the nation's disposable income and have been shaping the nation's buying choices for decades. The National Kitchen and Bath Association (NKBA) addresses this very topic of generational buying influences at their annual KBIS show in New Orleans.
There are more working boomers than ever; they are postponing retirement and taking fewer vacations. Along with their staycation mentality comes having the best of the best at home -- not having to travel to relax in luxury. They entertain at home more than ever, and they like to do it right. Boomers don't like to rough it. Instead, they crave upscale comforts and experiences. All generations should be grateful to this group for raising the bar for outdoor aesthetic and function.
So what are some ideas that are trending in outdoor design this season thanks to our baby booming friends?
1. Wing Back Chairs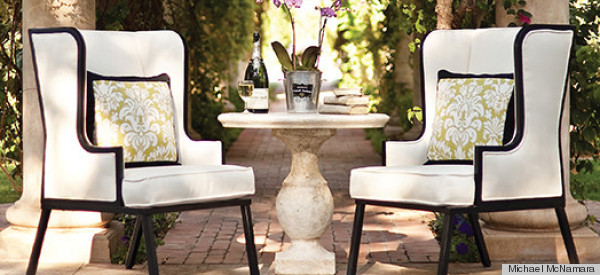 Photograph by Michael McNamara
These fabulous wing back chairs are iron and mesh fabrication upholstered in all weather fill and foam. They are available in a dining and lower club seat heights. See more at On the Veranda.
2. Outdoor Pillows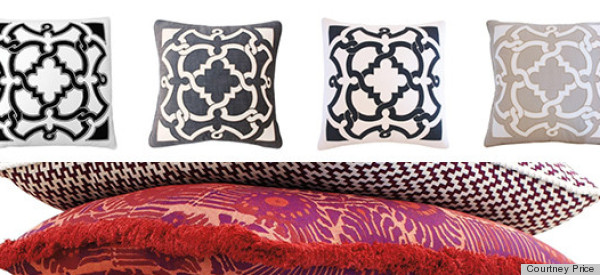 Photograph by David Sutherland Showroom
Outdoor fabrics are better than ever, including velvets, trim, sheers, even embroidered pillows. David Sutherland Showroom carries a fantastic collection of vivid colors, textures and patterns to dress up your outdoor living space. Side note: As a designer, I highly recommend these fabrics for high-traffic indoor spaces or for those with pets who need durable options as well.
3. Stone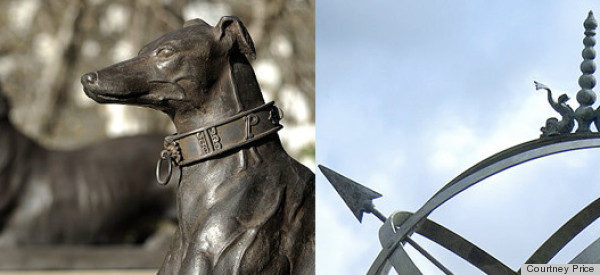 Photograph by Cave N Dish Stone
The classical touch is always a nice addition to an outdoor setting. If you don't have pets of your own (or even if you do) consider a few of these cavendish stones to add a stately architectural element to the landscape.
4. Outdoor Fireplaces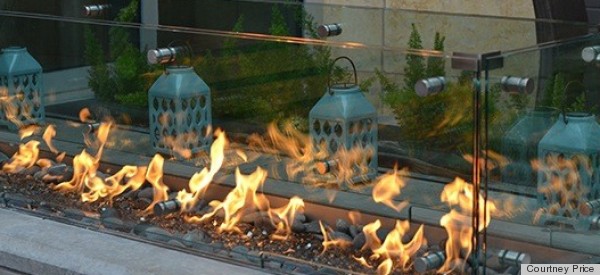 Photograph by Sub-Zero Wolf's Showroom, Dallas
Fireplaces are hotter than ever. Pictured here is a glass enclosed series of gas jets, creating a weatherproof fireplace with the dual function as light source in the middle of an area. It's a nice update to the traditional fireplace! This one is at Sub-Zero Wolf's new showroom in Dallas.
5. Awnings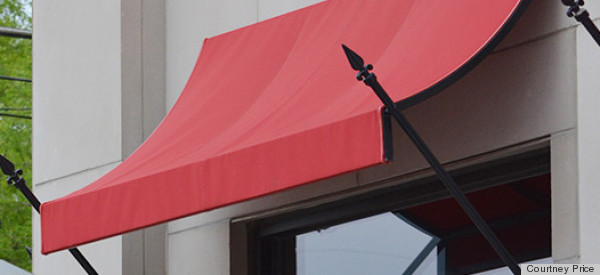 Photograph by Courtney Price
It's all in the details. Awnings are more customizable than ever, a nice way to add to the overall design scheme through color and hardware detailing.
Related