So the question is, where were YOU on July 13th? Because we were in Chicago, posted up in Hyde Park, simultaneously attending a youth leadership summit hosted by Outdoor Nation and wondering if that Starbucks on the corner was Obama's go-to back in the day.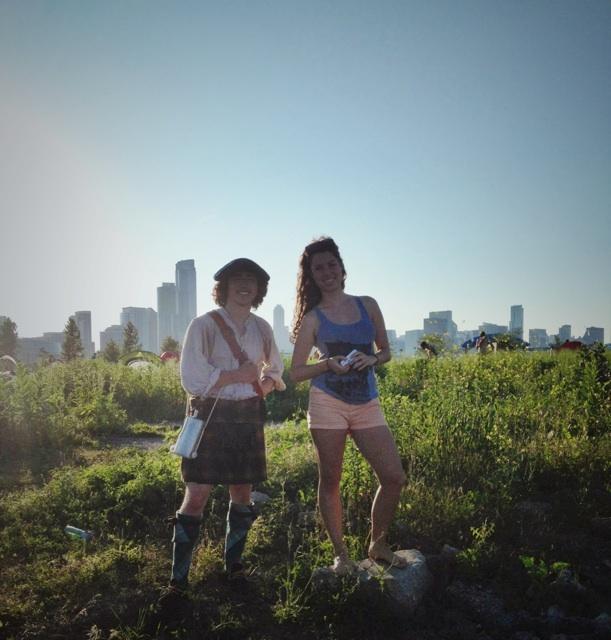 You know those days when it's 70 degrees out, no humidity, sun shining on the water and you're just feeling double o d GOOD? Add an eclectic mix of outdoor enthusiasts, inner city Chicago teens, some tent-chillin' on Northerly Island with the skyline in the background, a steady stream of good food and there you have our weekend spent with Outdoor Nation. We were on our full-fledged summer time grind.
A haiku on Outdoor Nation:
This cool non-profit
Hosts summits, then awards grants
Getting kids outdoors.
Even though the phrase "youth leadership summit" is drier than the Mojave Desert, this one was practically Niagara Falls. We had absolutely no idea what to expect, but were pretty much sold once they gave each attendee a nifty trivia answering pad. Why is the act of pressing buttons so fun?!?
Everyone else at this summit besides us came with a group, and in 30-ish hours each group had to come up with a project to get communities and people outdoors. Then everyone presented their idea, the rest of the groups voted, and the two most popular projects plus a staff choice were given 1,500 dollars to put their idea into action. Dolla dolla bills y'all, sounds like a sweet deal to me. Also, everyone got to camp.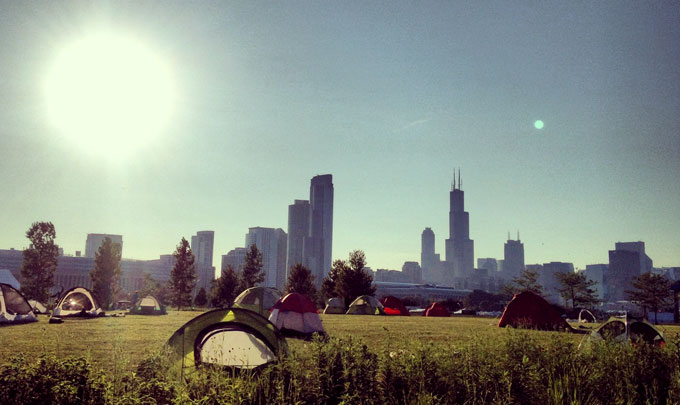 We all bopped on over to Northerly Island, essentially a nice strip of grass where we could both camp and still have a stellar view of the city highrises. Who needs compromises when you can have it all? Friends, card games in tents, catered food, and a North Face rep to tell us stories. A bunch of the kids I talked to had never been camping before, but were becoming more and more sold on the idea. If the goal was to inspire people to get outdoors, this organization plus the weather did a bang-up job.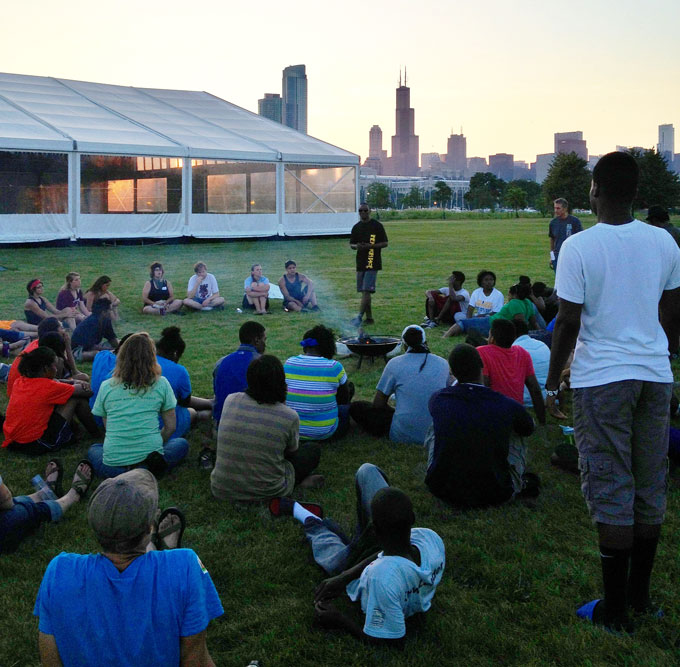 Daniel and I did identify an elephant in the room, and attempted to get to the bottom of it. We asked as many people as we could find (and who would willingly answer), "Is camping a 'white person' thing?" The reactions and responses were fascinating:
Did I mention that each person at this summit got a $90 gift card for Merrell's sneaks?
Calling all HuffPost superfans!
Sign up for membership to become a founding member and help shape HuffPost's next chapter