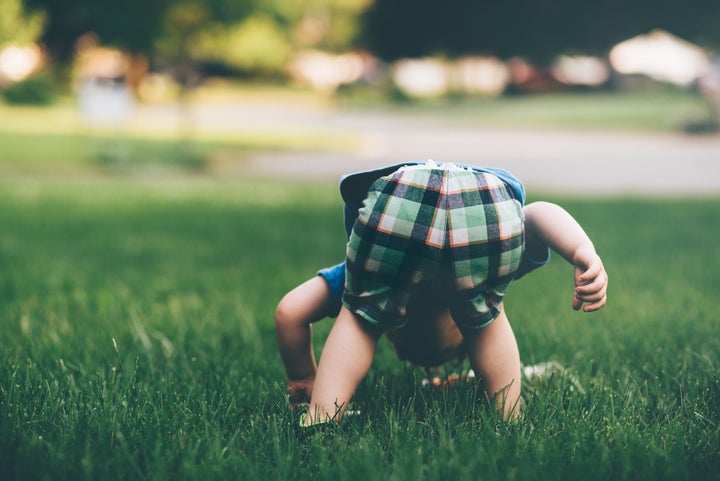 "Children should play outside and get dirty." —National Trust
Did you go outside and play when you were a young child? Did you love that special time of freedom to look at leaves, play with pets, spend time with friends, or simply lay down and look at the sky?
Many young children today don't have that opportunity. Through the years, we've lost some of that freedom we had as children, when our parents opened the door and said, "Go play outside." It was our chance to use our imaginations, jump rope, play jacks, play ball, play with toys outside, or do whatever we wanted to do. It was completely our own time until we were called for lunch or dinner.
Now, as a grandparent, I can't even imagine doing that with my grandchildren. I supervise them every single minute, as do their parents. It's natural to want to keep our children safe. So, what can we do to enhance our children's outdoor play, keep them safe, yet give them a sense of play freedom?
I believe we should step back and provide supervised yet uninterrupted time for children to be children. They should be able to exercise their large muscles by jumping, throwing a ball, skipping, riding a bike, or pushing someone else on a swing and taking turns swinging.
We know that these kinds of activities benefit children in many ways:
developing eye-hand coordination
increasing flexibility of movement
exercising the imagination with pretend play
learning to negotiate rules with other children
following rules that they themselves have negotiated with other children
Active play is also a partner to literacy. Reading stories helps fuel children's imagination as they create games and improvise dialogue for their characters. A box becomes a pirate ship or a table for a tea party. A fenced yard becomes a castle's keep. A tree becomes a forest.
Here are a few of my favorite books that you can read with your child to help inspire their outdoor play:
Lucia the Luchadora by Cynthia Leonor Garza
Where the Wild Things Are by Maurice Sendak
A Rainbow of My Own by Don Freeman
We're Going on a Leaf Hunt by Steve Metzger
Going on a Bear Hunt by Michael Rosen
Props can help, too. Little plastic containers can be used to make castles. Small bins can hold water for playing with toy boats or floating and sinking objects. Leaves can decorate mud cakes and pies. And dirt, sand, and snow can provide for limitless creative outdoor opportunities!
A small investment in equipment can also go a long way. A piece of chalk creates a hopscotch court and a motivation for exercise that improves strength and balance. A ball and a wall, or a set of jacks and a rubber ball, develop coordination and concentration skills. A jump rope can lead to many hours of physical development, with the introduction of jumping rope rhymes to support an improved sense of word sounds and rhythm:
Teddy Bear, Teddy Bear, turn around.
Teddy Bear, Teddy Bear, touch the ground.
Teddy Bear, Teddy Bear touch your shoe.
Teddy Bear, Teddy Bear, that's all for you!
Of course, if you're not certain your child is playing in a protected area under the supervision of someone you trust, then you will want to be there. But stay in the background and don't intervene to settle arguments except as a last resort, so that your child can develop his or her own negotiation skills.
One thing you can do is take pictures, and then later on put them in a scrapbook with captions that you and your child write together. Your child might just pick up the wonderful habit of journaling as she gets older! And in any case, you'll have the scrapbook to share together for years to come—and for your children to use to introduce their children to the joys of outdoor play.
The most important thing to remember is that nothing takes the place of outdoor play, where your child's imagination can "run" wild as well!
Related
Popular in the Community