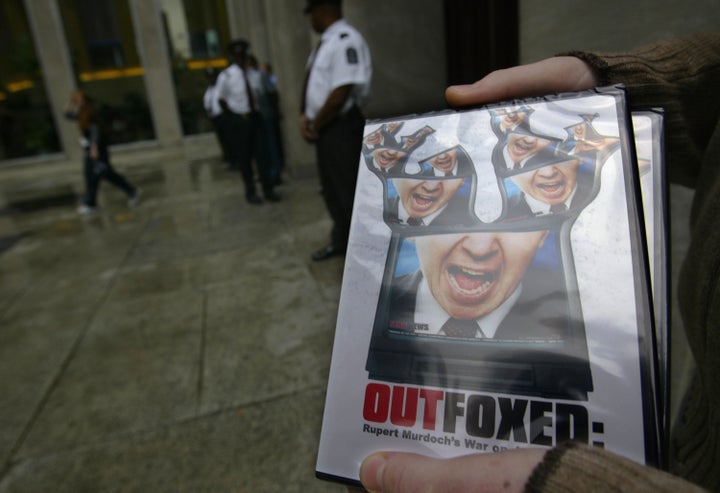 Director Robert Greenwald and Fox News do not like each other very much. In 2004, Greenwald released the documentary "Outfoxed: Rupert Murdoch's War On Journalism," claiming to expose the network's conservative bias. Among the documentary's allegations were that the network's politicized coverage swayed public support for the war in Iraq and tipped election projections in favor of Bush in 2000.
To hear Greenwald tell it, the film was one of the first outspoken critiques of Fox News at a time when there were still doubts about Fox News' conservative slant. Back then, Fox News responded to the documentary with a hostile statement saying, "Any news organization that believes this story is big and Fox News Channel is a problem will be challenged."
Seven years later, the political landscape is different and so is Fox News. But one thing hasn't changed: the mutual loathing between Greenwald and the network.
The film is celebrating its seventh anniversary in a live, online discussion with Greenwald, who will answer questions from the audience, on Tuesday at 8 PM ET. The discussion will also feature commentary from former MSNBC host Cenk Uygur, Ilyse Hogue of Media Matters, James Rucker of ColorofChange.org, comedian Janeane Garofalo and The Nation's editor, Katrina vanden Heuvel.
Greenwald and Rucker spoke to The Huffington Post about what they saw as Fox News' changed role within the cable news landscape and within American discourse since the film first opened.
For Greenwald, Fox News' relationship to the Tea Party is the most dramatic transformation that has taken place since 2004 . In an interview with The Huffington Post, he said that "no one dreamed" of the Tea Party--or of Fox News' role in it. In a followup email, he wrote, "in 2004, the network pretended it was news, and argued hard that it was. Today they openly talk about and encourage people to attend Tea Party rallies. They energize and motivate Tea Party extremists without any so called news element."
Fox News declined multiple requests for comment. But the network has always strongly disputed the assertion that it has no boundary between its news and opinion divisions. Fox News routinely makes an effort to point out that some of its most popular hosts, such as Bret Baier or Shep Smith, come from what it calls its "hard news" side.
However, it is nearly indisputable that the network has a close relationship with both the GOP and the Tea Party.
James Rucker, whose Color of Change organization partnered with Greenwald in 2007 to produce a critical video about Fox's portrayal of black Americans, said that he has also observed a change in the way that Fox News approaches the issue of race.
The network claimed that the campaign had no financial effect because advertisers simply moved their ads to other time slots. But Beck and the network split in June, and Rucker believes that the network has changed the way it approaches race in response to the outrage. However, he stressed that he does not think Fox News' coverage has improved. He called the change "less blatantly racist but just as problematic," explaining, "It's harder to organize around it when things are a bit more nuanced."
Greenwald said that one positive development is what he sees as other networks' increased skepticism of Fox News.
He recalled, "One of the most difficult things we struggled with when we did this film was we wanted to let other news outlets know that [Fox News] is not a legitimate news organization." He said he thinks that other networks are now less likely to pick up FNC's stories without doing the proper research first.
However, there have also been several examples of rival networks rallying around Fox News. In 2009, the White House Press Corps joined together to resist an attempt by the White House to block Fox News from a pool report. And, when Helen Thomas resigned her seat at the front of the White House press room, Fox News was given the coveted berth.
Rucker said he still sees instances where he believes Fox News sets the tone for other media outlets. He alleged that the Washington Post and CNN "moved too fast" following Glenn Beck's claims that Van Jones, Obama's former green jobs advisor, was a Communist and a subversive. He charged, "Other news organizations, in not wanting to be scooped by Fox, sometimes replicate what Fox does in a lighter manner."
Greenwald also said that "Outfoxed" is seeing a bump in interest thanks to the unfolding of News Corp's phone hacking scandal. Greenwald described his reaction to the scandal as shock, both because "their practices were getting public attention" and "people were calling them out for their corrupt practices." He said of the situation, "The chickens are coming out to roost."
CORRECTION: An earlier version of this story misstated that Rupert Murdoch claimed that Fox "should be seen to be backing the Tea Party," when the contrary was intended. We have corrected the omission.
Popular in the Community