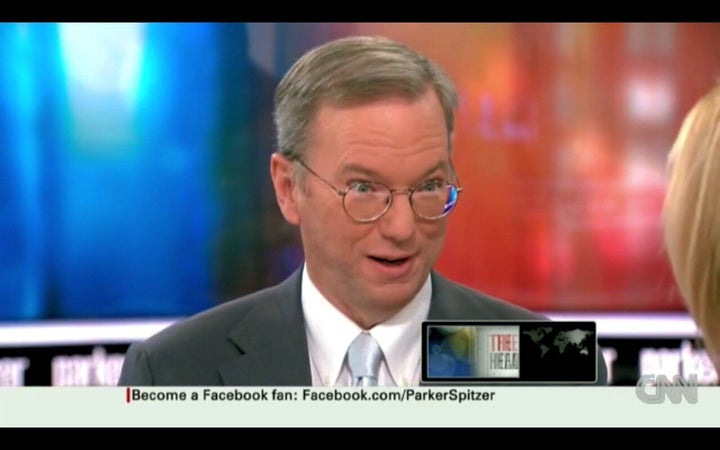 Outgoing Google CEO Eric Schmidt has said that he will remain at the Silicon Valley company as executive chairman, focusing on "deals," "partnerships," "relationships," "government outreach," and "thought leadership." But that may not be all he's doing: according to the New York Post, Schmidt has been pursuing a career in television.
Schmidt "has been consulting with CNN's 'Parker Spitzer' executive producer Liza McGuirk on developing a show featuring himself as host," writes the Post's Page Six, which notes that Schmidt and McGuirk initially connected during Schmidt's guest appearances on "Fareed Zakaria GPS."
Schmidt's pilot, which stars him as talk-show host, has not yet been picked up and was a "complete disaster," an unnamed "CNN insider" told the Post. "Eric Schmidt has been looking for a TV job for over a year," the source said.
Schmidt appeared on CNN's "Parker Spitzer" in October of last year. His interview sparked considerable controversy: though he later apologized, the CEO suggested that individuals concerned about privacy and uncomfortable with having their homes appear on Google Street View should "just move." CNN was also accused of censoring the quote, though the network later denied that it had removed the statement at Schmidt's request and attributed its absence on a clip to "editorial decisions."
See Schmidt's appearance on Parker Spitzer below.
WATCH:
Popular in the Community