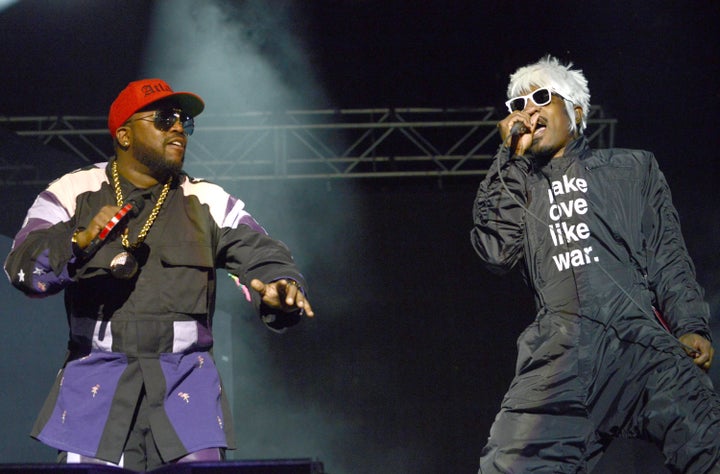 OutKast ― the beloved duo behind hits like "Ms. Jackson," "Rosa Parks," "The Whole World," and "Southernplayalisticadillacmuzik" ― is developing a biopic about the group.
In speaking with HipHopDX, the Atlanta native says he and Andre 3000 are currently in talks to develop a film based on the group's rise in the 1990s. The pair have a wishlist of directors that includes Lee Daniels.
"Me and [Andre 3000] just spoke about it last week when I was in New York," he revealed to the site. "I think he might have been taking a couple meetings talking to people and then I got a couple of people in mind that I'ma talk to, one of them being Lee Daniels who I just did the TV show 'Star' with so, yeah all that's coming and we just know it's time to do it. It's coming!"
The 42-year-old added that he may take a cue from Ice Cube's casting selection for "Straight Outta Compton" by selecting one of his sons to star in the film.
"They look exactly like me and they know all the words to all the raps so they probably could pull it off," he said. "They know me so I may have to do the Cube move and pick one of my sons to play me."
Andre 3000 has had his own thoughts about the film, telling Rolling Stone in 2014 that the film should be pegged as a comedy. 
"It would be great to make an OutKast movie right now, but instead of really serious, make it a full comedy ― like Kevin Hart would play Big Boi," Andre said at the time, before suggesting the pair should "cast somebody stupid ― like Leonardo [DiCaprio]" to portray him.
Until additional details surrounding the biopic are announced, fans will have to settle for the release of Big Boi's new solo double album, "Boomiverse," which is scheduled to drop in June.
Calling all HuffPost superfans!
Sign up for membership to become a founding member and help shape HuffPost's next chapter
BEFORE YOU GO
PHOTO GALLERY
The Real Names Behind Your Favorite Rappers