While it takes a village to make a television show, Starz's intense drama Outlander wouldn't be close to the hit it has become without the riveting performance of Caitriona Balfe.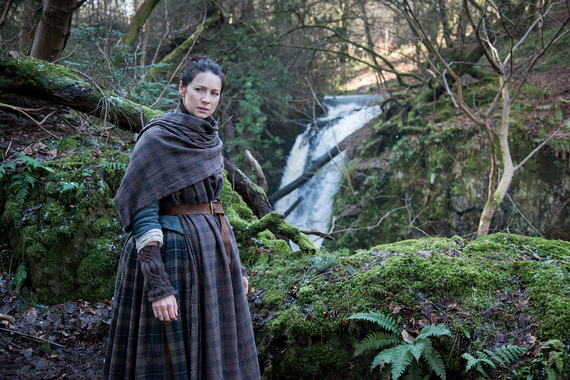 Outlander wraps up its second season with a 90-minute episode July 9 at 9 p.m. ET, and it can celebrate with, among other things, a renewal from Starz for two more seasons.
Like the past two years, they will be based on the Outlander novels of Diana Gabaldon. They will continue to star Balfe and Sam Heughan as Claire and Jamie Fraser, who are making their rocky way through the most complicated love story in all of mid-18th century Scotland.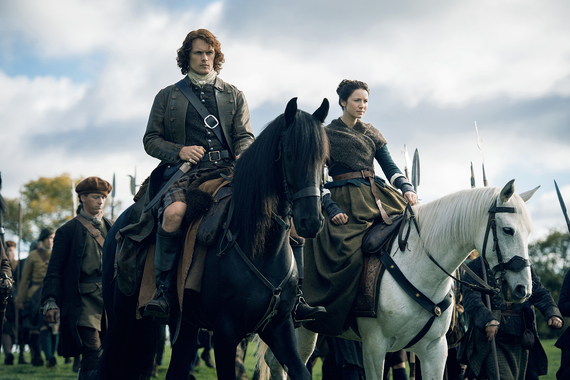 To recount briefly, Claire is really from the mid-20th century. She was a nurse in World War II before being mysteriously hurtled back to 1743 Scotland, where she met Jamie (above).
She also met Black Jack Randall (Tobias Menzies), a deplorable, depraved British officer who is a direct ancestor of her 1945 husband, a gentle and kind man named Frank Randall.
Frank is a history student, so Claire knows a lot about what happened in 18th century Scotland - specifically, that the Highlanders' Jacobite rebellion against the British would be crushed with great loss of life.
Not by chance perhaps, Jamie is part of Clan MacKenzie, whose people are major rebels.
So Claire decides to try the old "change history" trick, which anyone who has seen Back to the Future knows is fraught with pitfalls. She and Jamie ultimately fall in love and marry, along which path she tells him her unlikely story and convinces him to join her in trying to stop the rebellion.
A prince, that Jamie. What are the odds of finding a guy who would buy all that?
Meanwhile, the unspeakably awful Black Jack Randall continues to make their lives miserable, and Claire also still battles occasional residual guilt over "leaving" Frank, though it wasn't exactly her fault.
So there's plenty of drama here, and while in one sense that makes the role a juicy delight for an actress, it would also be very easy for the whole thing to slip into a period soap opera with minimal dramatic credibility.
Some skeptics may still see Outlander that way. But the ratings say a loyal and sizable audience is buying it, and that would not be the case if Balfe weren't making Claire believable.
That might seem mildly surprising to those who knew her, before Outlander, mostly as a fashion model. But she studied acting before she went into modeling, so this isn't just a case of a pretty face being drafted to seduce the camera.
In fact, one of the most impressive aspects of Balfe's performance is that she isn't always pretty.
For long stretches of the series, including the last few episodes, she has looked almost ragged, with uncomfortable clothes, her hair held together with a prayer and her countenance drawn and harried.
Some time ago viewers stopped remembering the model thing, not because Balfe isn't attractive, but because that isn't the important tool in Claire's arsenal.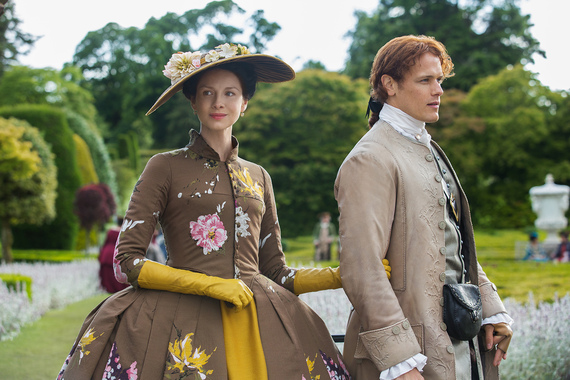 Earlier this season the show shifted to France for a time, reinventing Claire and Jamie as socialites of wealth and position. Balfe was stunning in elegant gowns, but even then it wasn't a fashion show. She and Jamie were there on a high-stakes mission that did not turn out as they had hoped.
Yes, some Outlander scenes still play like throwbacks from an old Errol Flynn swashbuckler. In one recent episode, Jamie pretended to threaten Claire as a means of tricking another man into helping her, and the looks she shot him during that scene flirted with camp.
In the broader arc, though, the 36-year-old Irish actress has created one of TV's best characters, a woman who is complex, humane, not always entirely sympathetic, smart, clever and always struggling to make sense from and find peace with an impossible situation.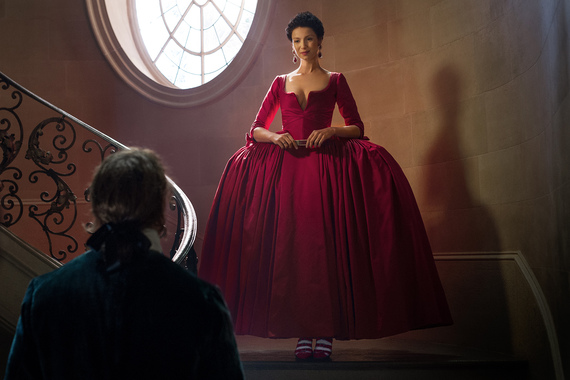 She gets a lot of help on Outlander. But Balfe is the star that lights up the night.
Calling all HuffPost superfans!
Sign up for membership to become a founding member and help shape HuffPost's next chapter