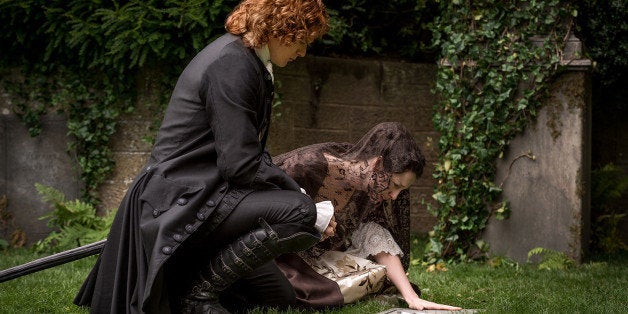 I watched the character of the time-travelling Claire Randall Fraser give birth to a stillborn daughter on Outlander this week. I was shaken to the core, as if I too had fallen through a portal in time to the same hospital room in which, a decade ago, I gave birth to a stillborn son. As I write this, I am forever reminded of how poor our language remains about such loss: can one truly give birth to a baby who has died? Immediately we come across a black hole into which words of our everyday life vanish.
Which is all to say that Outlander got stillbirth right.
Think of all the topics which the media covers - which create space for those who might otherwise feel voiceless. And then consider, until recently, how hushed our collective conversation on stillbirth has been.
Given the high frequency of pregnancy loss, it becomes vitally important that the media cover pregnancy and infant loss in a manner reflective of the true experience of women who deliver stillborn babies. When I see portrayals such as Outlander's, they serve as windows for personal reflection and growth. I don't find accurate media portrayals of stillbirth to be, in our current parlance, triggering. Instead, I find solace in the experience of others. A community gathers and helps its participants to heal.
Consider how Outlander handled the topic so well. We observe Claire Randall Fraser, the show's main character, played by Caitriona Balfe, learning that her baby daughter was stillborn. Claire calls out in agony for her baby to be brought to her. The scene is bloody; we see the placenta removed and how Claire simultaneously cradles and mourns her baby. Claire herself lingers near death even while seeming to welcome it. We watch her take possession of her (self-perceived) sins as guilt, just as a nearby Virgin Mary statue smashes. And in all our spectatorship, we observe Claire's sense of self as a woman and a mother shift.

In many sites across the internet and world of commentary, Claire has been described in feminist terms for both her sexual and intellectual liberation. While the historical setting of the series does not wholly reflect the experience of women today, we can draw inexact parallels to the way contemporary women so often grade themselves on a yardstick which society dictates, whether or not that yardstick notes sexual, intellectual, maternal, or career-related excellence. Is it ever not the case that the more things change, the more they stay the same?
While the greater truth for all of us, men and women alike, is that we live life as an evolution and not along a fixed yardstick. Who and how we are develops in relation to our environment, trauma often spurring our greatest growth. Just as a person can evolve into being a parent, we can also evolve into being a widow or widower, always a veteran of life itself, a forever-changing landscape.
1 in 4 pregnancies end in miscarriage. 1 in 160 pregnancies end in stillbirth. Each year millions of families endure a particular grief associated with pregnancy and infant loss. And still there is a not yet fully emerged shadow that haunts women grieving their losses. This shadow extends to fathers, co-parents, and partners. It then spills over to communities where a cloak of silence and ignorance might prevail. For instance, many people are surprised to know that women whose babies will be stillborn still must undergo labor.
The more the media can present a complex and multi-faceted experience, the less alone women will feel. Rather than including trigger warnings - which tend to stop conversations more than they start them - the media serves women and families by showing what such experiences actually entail. Women who have experienced trauma may need support in returning to it. But return to it they do - over and over again.
The inclusion of fathers' grief also forms a critical part. In Outlander, we see Jamie Fraser, played by Sam Heughan, anticipate the birth of his child. We see his questions and his mourning.
These sorts of representations matter. In our contemporary society where families create their own traditions, we often ask our male partners to be far more involved in child-rearing than was required in the past. Even so, we give them little space for grief when childbearing ends in tragedy. Says author Daniel Raeburn, author of Vessels: A Love Story, whose daughter Irene was stillborn:
"Men and women both assume that even though a father may grieve and then mourn, that he does not need any help the way a woman does. He keeps it all inside. That led to a lot of problems in my case."

Correspondingly, as Claire in Outlander depicted, women almost universally experience guilt about loss, and here the media can help to shape authentic stories and narratives. Says Dr. Julie Bindeman, a Reproductive Psychologist in practice in Maryland:
"If the media does this right - if the popular media starts sending messages about pregnancy and infant loss that are more in line with real life experiences - where grief is real and deep and not sanitized - that reflect real life, well, then, bereaved mothers can start to understand their grief responses as normal responses to abnormal situations."
As I watched the character Claire experience motherhood on Outlander, salty hot tears spilled down; my throat pulsed. The work of this ground-breaking show returned me to that time when I too held my deceased child, swaddled and yet increasingly pale, his departure hastening. The messiness and love that makes up stillbirth as much as any birth is what Outlander presented.