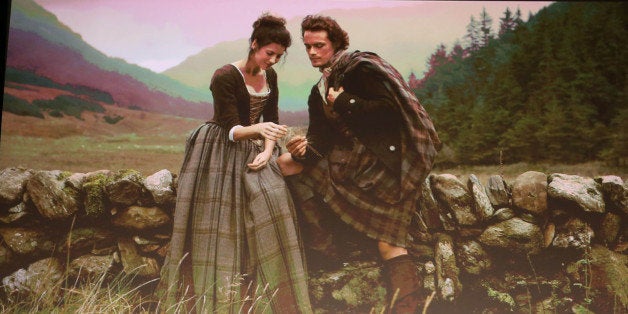 What's been happening on cable television lately is inspiring conversations that are breaking out in the open and revealing a secret that women have known for centuries. It's not just a reminder of the groundbreaking work of Dr. Masters and Virginia Johnson in Showtime's Masters of Sex and why romance novels remain popular. This summer, USA Network's Satisfaction asked if monogamy was natural, predicated on the wife trying to find satisfaction outside her marriage. Then came the wedding episode in Starz's Outlander and suddenly, televised adult drama and erotica proved as powerful a draw as all the violence served up everywhere else.
Lena Dunham plays a part in this, giving advice in a new set of videos that puts the cherry on top of what it takes to have great sex in a relationship, something I've been writing about on HuffPost regularly and talking about for years.
To have great sex in a relationship, it takes a woman showing a man what to do.
The marriage bed scenes last weekend in Outlander are the best examples of this ever seen on television since Dick Van Dyke and Mary Tyler Moore were given twin beds, part of a cultural and political message that was meant to instill that marriage was about family and children, not steamy sex.
People magazine described the sex scenes in Outlander this past weekend as "the episode we've all been waiting for."
He recalls the first moment he saw her in her dress: "It was as if I stepped outside on a cloudy day and suddenly the sun came out," he says reverently. "Take off your shirt," Claire replies tenderly. "I want to look at you." She caresses his scars and introduces him to some very R-rated pleasures.
In case you didn't know, Jamie (played by Sam Heughan) and Claire (Caitriona Balfe) are not in love when they marry. It's a long story that is worth binge watching. In short, Jamie is marrying Claire to save her from a dastardly villain and British officer Capt. Jack Randall (played by Tobias Menzies). Proof of consummation is the price for her safety.
It doesn't matter that Jamie is literally a virgin on his wedding night, because most men engaging a woman in sex for the first time are unknowing about what can make her pleasure complete. Claire obliges Jamie's awkward eagerness the first time they have sex without instruction, clearly revealing dissatisfaction at the end. His reaction to her is to say he always heard that women don't like sex very much.
This is the twentieth century canard about women and sex handed down through traditional marriages where a woman's sexual needs were ignored.
What women don't like is men having sex with us who are doing it badly by only considering themselves.
Bad sex is defined differently for every woman, but it begins with not having a voice when you're naked with a man.
Lena Dunham confronts this seminal revelation, which every woman has at different times of their life, in a new video that's been released in anticipation of her new book: "I was so worried about whether other people were enjoying sex with me that it never occurred to me that it was an act I was supposed to receive any pleasure from."
Dunham continues, saying good sex is "an alchemy" between two people.
That is exactly what's on the screen between Claire and Jamie, who didn't get married for love.
This alchemy is something the 1950s ignored in favor of traditionalist norms that designated specific roles for the sexes, but always had the woman receiving sex however it was served up to her.
Setting women free to experience sex on our own terms was the beginning of hope for modern marriage.
Relationships demand deep sexual intimacy that only a woman can guarantee through teaching the man how to make her body sing. In relationships, men follow our lead and in the post-traditionalist era, that revolves around making sure your partner knows what it takes to satisfy you sexually.
The road map for each couple is different.
Excavating your sexual chemistry and compatibility together is one of the secrets to a successful modern relationship. The ability to get naked, ignore the world and devour each other, forming an intimate connection and unbreakable physical bond that goes beyond what friendship alone can offer, can be incredible.
Calling all HuffPost superfans!
Sign up for membership to become a founding member and help shape HuffPost's next chapter