Ever since seeing the "Power of Song" documentary about Pete Seeger in the fall of 2007 and then getting the chance to meet his chip-off-the-old-block-grandson Tao Rodriguez-Seeger who traveled to Minnesota during the RNC in September 2008 to sing at our "Peace Island Picnic", we have been fascinated with the Seeger activist spirit. So when I heard about the 90th Birthday Benefit Concert being organized, I knew it was a once in a lifetime opportunity. I knew that transplanting the lessons inside our own souls of Seeger's larger than life, successful struggle against fear, hate and greed-driven McCarthyism, racism, wars, and environmental degradation required more than just attending the concert, no matter how extraordinary that would prove to be. So a week ago, our little group of Minnesotans traveled out to Pete Seeger Land (Beacon, New York) a couple days early to try to steep ourselves in that musician activist air. We got to attend the incredible hometown birthday party-hootenanny for Pete given at the Beacon Sloop Club's monthly meeting and then we also followed up with a sail boat ride on the Clearwater Sloop itself on the far-less-dirty Hudson than when the Sloop was first launched 40 years ago by Pete Seeger and began its work of educating people up and down the Hudson River about life's need for clean water.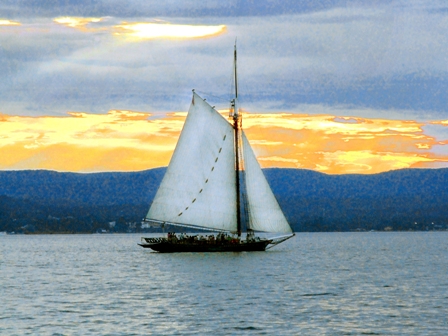 (photo by Anthony Pepitone)
We even got to stand at the same intersection corner between Beacon and Poughkeepsie where Seeger and other area peace activists have been conducting their steadfast vigil every Saturday holding "Peace" signs since before Bush's pre-emptive invasion of Iraq. Just in the last couple years, a number of pro-war types have begun to gather across the same intersection to confront what they apparently see as the looming threat of peace. On this particular Saturday, we counted 17 different military flags, a couple of motorcycles and numerous other gory signs planted by the larger warmonger group and heard their boom box blaring out something about revenge from the opposite side of the intersection. Many of the folks on the peace side had already departed to Manhattan for final concert preparations, so it was really good we had thought to bring our large (Seeger-inspired) "BRING 'EM HOME" banner all the way from Minnesota to compete for the honks of the cars passing by.
The epitome of our Seeger activism-steeped weekend was, of course, the huge, almost five hour long Clearwater Benefit concert in a sold-out Madison Square Garden that featured nearly a hundred of our country's best folk and jazz musicians all singing and playing their hearts out in tribute to the first 90 hard-lived and hard-fought years that have made the musical activist legend. There's no way for me to describe this experience in words and no way to improve on the musicians' various tributes but Bruce Springsteen's words did encapsulate well the Seeger secret of success: the "stubborn, defiant and nasty optimism" that Pete needed to stand on conscience in the darkest of hours with those like Paul Robeson and Martin Luther King; to truly believe "we shall overcome" and the "stubborn, defiant and nasty optimism" which has ultimately allowed him to "outlast the bastards".
At least that was the message that got transplanted in my soul.
Of course Pete's own banjo has been spewing the same message for nearly 70 years. Apparently the stubborn, defiant and nasty optimism works because what started as one little banjo "machine" united all those hundred musicians on stage with about 18,000 singers in the Madison Garden audience in one perfect note after perfect note. Outside the stadium, hundreds of thousands more activist musicians have sprouted all over the world, all twanging out that same stubborn, defiant, and nasty optimism that "surrounds hate and forces it to surrender".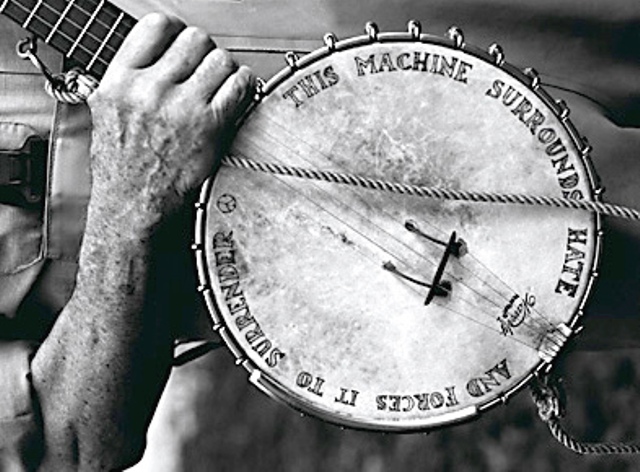 Amongst those on the Madison Square Garden stage recruited by Pete's banjo machine, were at least six, who in the same peace and social justice activist tradition (Tom Morello, Steve Earle, Michael Franti, Larry Long, Billy Bragg and grandson Tao) had come here to St. Paul in September 2008 to use their best powers of song to dispel the hate-based power of the RNC message. Unfortunately, despite these musicians' best efforts, some fear and hate won out that first week of September 2008. The ugliness was first seen, even before the RNC began, in the pre-emptive raids and arrests of 8 protest organizers who, it was alleged, needed to be pre-emptively dealt with under "Minnesota's Patriot Act" as constituting a terrorist "conspiracy to riot". This scene was quickly followed by those of militarized police clad in robo-cop gear spraying pepper spray and other chemical weapons and using tasers and other brutal methods to make three mass arrests of nearly 800 persons, including over 40 journalists and other members of the media.
Tao, who went with us to the first hastily put together press conference to try and expose these outrageous and indiscriminate police state methods, immediately recognized that it was, sadly enough, the police who had turned the tables on themselves by resorting to "terroristic" tactics. The Seeger grandson intuitively went to the mike and employed the power of song to bolster some resistance:
Months later, things have slowly started to right themselves in the wake of the RNC police fiasco. While no apologies or admissions have been forthcoming from any city, county, state or federal official, almost all the charges based on the mass arrests have been dropped and the city has only won one trial (fining a guy $50 who was functioning as a medic during the RNC protest and who was trying to help a kid in a wheel chair but even that one fine is apparently being appealed). The terrorist enhancement charges against the "RNC 8" activists were also finally dropped last month, reducing the years they potentially face in prison from 12 to 5 years. They are now merely charged with garden variety "conspiracy to riot" whatever that is. Ironically, however, if it wasn't for their being originally smeared as "terrorists", I don't think their pre-emptive arrests for "conspiracy to riot" could have been justified as this is something too akin to a thought crime.
Happily, by the most serendipitous of coincidences, Bruce Springsteen is going to be playing with The E Street Band this Monday, May 11th at the very same Xcel Energy Center in St. Paul which was the site of the 2008 RNC. The concert will undoubtedly provide a wonderful opportunity for us to hand out information to concert goers about the "RNC 8" prosecution expected to go to trial in September. Our group intends to apply the lessons we learned from our travel out to Seeger Land last weekend to muster a little stubborn, defiant, and nasty optimism of our own in demonstrating for the "Right to Dissent" and gathering more signatures on our poster statements in support of the RNC-8. Nothing could better describe our ongoing mission than Springsteen's own song about Tom Joad:
"Wherever there's a cop beating a guy, wherever a hungry newborn baby cries, wherever there's a fight against the blood and the hatred in the air, look for me, Mom. I'll be there."
So it would be great if we could get Springsteen to sign onto the "Peace Musician-Songwriter" statement that Tao, Larry Long, Pat Humphries, Sandy O. and others have begun. We are just so close to forcing the leftover RNC hate to surrender!

(The photo above, taken by Rick Lewis Photography, is of Tao and Larry Long singing "This Land is Your Land" during the RNC.)
The Right to Dissent-Peace Musicians

As musicians and songwriters who have spoken out and told the truth even when it was unpopular, we stand on the side of peace and against the unjustified wars and other wrongful and even illegal policies that our government has engaged in over these past several years, and we wish to emphasize our unqualified support for Americans' right to dissent. After eight years in which dubious legal theories meant that citizens' rights were not always respected, we call for the restoration of the broadest protection of First Amendment as well as all other constitutional rights.

Many of us have witnessed firsthand or understand from our family members' and friends' first hand accounts, the indiscriminate, egregious police state brutality on display during the Republican National Convention in St. Paul. We fail to understand how pre-emptive arrests of the eight young organizers of the "RNC Welcoming Committee" that occurred in the Twin Cities even before the RNC began in September 2008 were in accord with this country's Constitutional freedoms of speech and assembly. We are in full agreement with the "RNC 8" that "Dissent is not a crime!" Charges against these eight young activists should be dismissed.

Thanks again, Mr. Seeger, for the great lesson.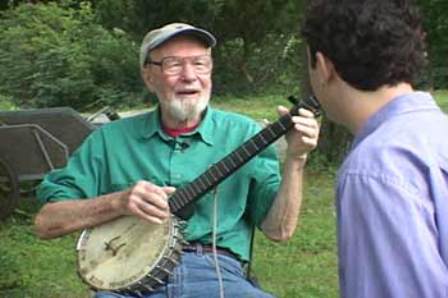 Related
Popular in the Community