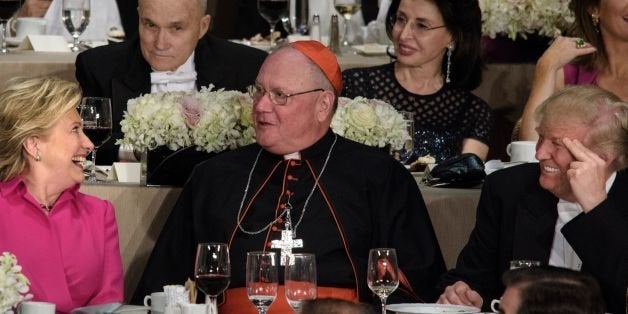 Hillary Clinton and Donald Trump on Thursday night, flanked by Cardinal Timothy Dolan and Trump's wife Melania. Clinton has vastly outraised Trump, but President Obama posted much bigger numbers in both of his elections. (AP Photo/Andrew Harnik)
September's fundraising and spending by Hillary Clinton and Donald Trump outpaced the numbers the candidates posted in any month so far. No surprise there.
But the candidates' activity was still pretty punk compared to the previous two presidential races.
Clinton compounded her well-documented fundraising dominance as the race turned down the home stretch. In September, the Democrat collected more than $73.8 million in total contributions, exceeding Trump's haul of $54.7 million - a sum that included more than $2 million of the Republican's own money, bringing his self-funding to about $56.1 million, or a quarter of his total haul for the race.
Throughout the summer, both Clinton and Trump steadily increased their receipts and expenditures as they wrapped up their respective party nominations and prepared for the general election. August saw previous highs in fundraising - $59.5 million for Clinton, $41.75 million for Trump - and expenditures.
Four years before that, Obama collected a whopping $153 million in September, more than twice as much as he'd raised the month before. With $135.5 million left in the bank, the then-senator was able to cruise to victory.
At this point in the race, spending may be more important than fundraising, as candidates buy ads and shore up support in key states. Both candidates spent more in September than they raised. Clinton scattered more than $82 million last month around the country. Trump really boosted his spending, laying out $70.2 million -- $40 million more than in August.
At the beginning of October, Trump had $34.7 million in cash on hand, down from the more than $50 million he had at the end of August after his spending surge last month. Still, with the end of the contest looming, the Republican has less left in his campaign account at this point in the cycle either of his predecessors in the last two elections. Romney was sitting on more than $63.1 million at the end of September.
For her part, Clinton trails in cash-on-hand totals, too: She had more than $59.6 million in her coffers going into October, but Obama had almost $99.3 million to play with at the start of the same month in 2012.
Where the candidates are spending matters as much as how much they have raised. In mid-October, Trump's campaign chose to pull its resources out of Virginia, choosing to focus, as NBC News reported, on swing states where the Republican is closer in the polls. Clinton, on the other hand, will be spending $2 million on ads to try to win Arizona, a state that has only voted for one Democratic presidential nominee since 1948: Bill Clinton.
None of these numbers take account of the sums being raised and spent by the pro-Clinton and pro-Trump super PACs. But there, too, the forces backing Clinton have packed much more of a punch than those behind her rival.
Clinton's lead in the polls has increased in the past months. In a four-way race with Trump, Libertarian candidate Gary Johnson and Green nominee Jill Stein, RealClearPolitics found Clinton leading the field by an average of 6 percentage points nationally. At time of writing, FiveThirtyEight had Clinton in front in every swing state, including Florida, Pennsylvania, North Carolina, Ohio and Virginia, and found the Democrat to be ahead in traditionally-red Arizona.
The reports filed yesterday show the last full month of data that will be released before the election, though the candidates will report their financial activity for the period between Oct. 1 and 19 next week, on Oct. 27.
REAL LIFE. REAL NEWS. REAL VOICES.
Help us tell more of the stories that matter from voices that too often remain unheard.