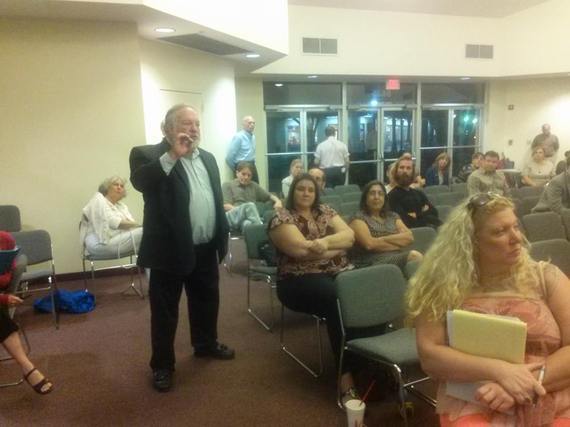 Longtime Miami investigative reporter and nearby resident Al Sunshine blisters Walmart developers with questions, Leslye Jacobs who started a 9,000 person signature petition against Walmart sitting bottom right
*********************************************************************************
Ever since the Miami Herald issued a stunning report this past July announcing that a Walmart anchored, mixed use development had been approved in south Miami-Dade County, residents have been scratching their heads how such a plan could've moved through the county process without attracting attention.
The "Little House" itself is a product of a land use fight.
About 80 very upset residents and a dozen Walmart developers touting their plans to manage endangered species peacefully shared the room for over 3 hours of presentations, and questions, but no definitive answers.
KFHA's outstanding president Michael Rosenberg impartially ran the proceedings. Rosenberg failed to exactly enforce five minute limits on speakers, but succeeded tremendously in revealing the contour of what promises to be another multi-year "Citizens versus Walmart battle".
At the meeting, Pete Cummings wisely faced the assembled crowd with the poise and thick skin of a veteran real estate developer with his unwise "Manage Nature and Build Walmart" plan.
Ram Realty of Palm Beach County, led by Mr. Cummings, purchased the property from the University of Miami, raising the ire of local residents. University of Miami in turn had acquired the environmentally sensitive property for free from the Federal Government, decades before and created a south campus and the C-stars installation.
The Coral Reef Commons project raises a great many concerns, but two stand out in particular.
Firstly, can we trust a real estate developer and Walmart to protect fragile ecology, while raising land use intensity to maximum levels?
Cummings started the meeting bragging about his track record of conservation, based on building in Martin County, which I can neither confirm nor deny. He said that we should trust him, because of that track record. His firm, Ram Realty would manage Nature itself along with Walmart.
Under direct questioning, freely and without a subpoena at the meeting, Mr. Cummings admitted that his firm did not conduct the highest level of due diligence before concluding the $22,000,000 purchase with a loan from Wells Fargo Bank.
I've been a licensed mortgage brokerage business owner since 2005. In my experience every commercial transaction requires the "Phase 1" screening that Ram Realty employed which determines up to 100 years of land use with photos & public records along with an environmental engineer's conclusion.
The "Phase 1" environmental study that Ram received - according to Mr. Cummings last night in direct response to my question at the podium - DID inform him of at least some endangered species - however, the developer candidly admitted that his firm failed to recognize the need for secondary environmental screening or interpret the listed species in that report as endangered.
The "Phase 2" environmental study is a $25,000 and up report that may include testing soil samples, hiring of ecological experts and extensive research into existing land use of the entire property. Ram passed up on this pricey survey for a cheaper boundary survey, which merely measures the size of the property and fixes its outer limits.
Intentionally or not, Ram Realty disregarded some pretty important red flags that careful inspection would've turned up.
If they're not even good stewards of their own capital, why should Miami-Dade residents trust Ram Realty at all?
Secondly, is it wise to build a high intensity, 24 hour land use into an ecology that requires periodic "prescribed burns"?
Yes. Walmart's so desperate to get a cheap deal - one that comes at the expense of retaining the very last remaining shred of natural Florida in this city - that they plan to locate near periodic uncontrolled forest fires every few years.
Yes. Miami-Dade publishes a primer on pine rocklands called: Born of Fire. The spanish language version rings better on the tongue: Nacidas del Fuego! (note: author added the exclamation)

ZooMiami sent a staffer with an outstanding presentation on pine rocklands - explaining that there are 7 main risk factors to managing these lands and Fire Suppression is at the top of that list.
Yes. While Anti-Walmart activists probably dream of burning down unwanted Walmart stores - as if life was South Park - any properly prescribed land management plan will include possibly setting Walmart on fire in the process.
Do you want to live next door to Walmart and have a forest fire next door every 3 to 7 years?
Sadly, this Walmart developer seems to view commercial contracts as somehow unbreakable, while our fragile ecosystem is something he can manage.
*********************************************************************************
REAL LIFE. REAL NEWS. REAL VOICES.
Help us tell more of the stories that matter from voices that too often remain unheard.