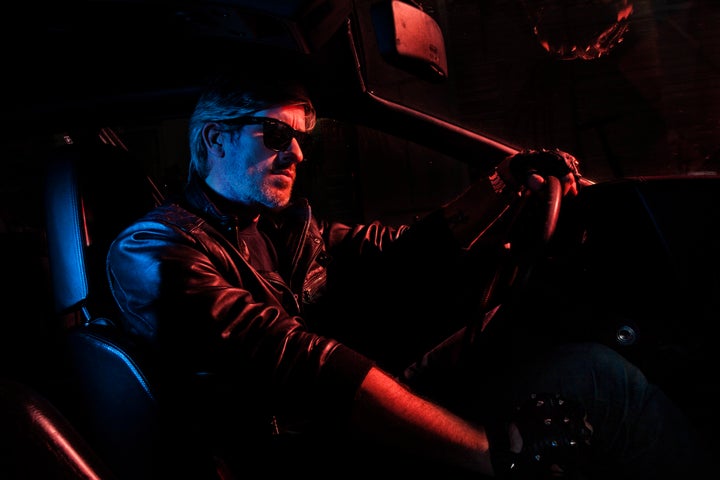 Kavinsky has cut a famously mythic figure in the world of French electronic music, folding himself into his alter-ego, a Ferrari Testarossa-driving zombie from a bygone decade.
It helped that he is perhaps only known to wider American audiences by a song on a movie soundtrack, "Nightcall," from the Ryan Gosling and auto-porn vehicle "Drive." That haunting tune also offers the centerpiece for Kavinsky's own soundtrack, though its corresponding movie has yet to make it out of the producer's mind. "OutRun," Kavinsky's debut studio LP, landed in stores Monday.
In person, however, Kavinsky (born Vincent Belorgey -- he changed the name because he didn't think it fit the whole zombie-DJ-producer narrative) is disarmingly casual. He freely dispatches electronic dance music poster-boy David Guetta as a horrible reference and says Guetta -- also French -- ruined Kid Cudi's career, but does so in as not-flashy a manner as possible.
"OutRun" offers a similar picture: It incorporates bouncy electro-pop vibes, horror-inspired tension fit for a car chase, tempered, vocal laden vignettes and even a dash of Mobb Deep (Havoc appears on "Suburbia"). It's worth a listen, even if "Nightcall" -- included again here -- remains its high point.
HuffPost Entertainment grabbed a drink with Kavinsky in advance of the album's release to discuss his overall vision for "OutRun," the weight of Daft Punk comparisons and why he's always been "a Queensbridge guy."
This album has a lot of range, when taken together. You have a songs like "Rampage" which may remind you of Justice, and "Suburbia" which blends in some hip-hop. Was that diversity a goal?
Yes, but I think it's a continuation. They're not really that different -- they have the same guts behind them. I want it to be like a soundtrack for a movie. I wanted a ballad, like "Nightcall," and then something rough. I try to have all the tracks in the right place, so it's like you see a movie.
You've said many times that you're influenced by movies. When you write music, do you actually see a film in your mind?
Yes, totally.
So you'd say you work in images, more than sound?
Absolutely, that's the only way for me to work. I can't make something from nothing and just create music like this [snaps]. It really helps me a lot to get some images in my head. Then I can work. And I prefer to make an image with my own story, rather than someone else's. So that's why I made the story.
When did you finish the album? Obviously some of the songs have been released for some time, but when did it all come together?
Clearly not so long ago. It was about one year ago or eight months ago.
By that point "Nightcall," was extremely popular. Did that change how you thought about the album?
Yeah, it kicked my ass a little bit, to finish it.
Some people thought there never would be an album.
Even me! Of course Sebastian did a lot for me to get a vision for my work and a new look at what I already had on the table. He would say, "OK, maybe that track, or this one." But me, myself and I, just by myself in the studio? I would never know what to do more or do less. I really needed -- and he is one of my best friends -- I needed help. So when I asked him and he said yes, he helped me finish the work from 2005 until now.
From 2005 until now, you could always tell yourself you were working on the album. Is it hard not to have that excuse now?
I really decided to work on the album after "Nightcall." Until then I was just trying to keep my work on EPs. People still seemed like they were listening to my music, so I wasn't really sure why I needed an album, to be honest. I can say now, that it's better to finish my album, because of "Drive." But it could be bad for me, because now everybody has been waiting for it. And if it's bad or they don't like it, they will kick my ass, I think. They'll be like, "This is what we were waiting for? What the fuck!"
It was interesting because since "Nightcall" came out, a lot more Americans have discovered the music of you and your friends, like Pedro [Winter] and Mr. Oizo. Is that something you realized, in Paris?
I know people listen to Justice. Daft Punk, maybe? [Laughs] I did a lot of DJ sets here with my label here with A-Trak, Fools' Gold, with my boy DJ Mehdi.
Right, but when you were doing those shows, there was a strong base, but now A-Trak is doing shows for 25, 30,000 people, so the scene has gotten a lot bigger.
Yeah, of course. Even for my friends like Justice, we're a really small circle of good friends.
You even lived with Gaspard [Auge, of Justice].
Yeah, you know about that? I was with my girl and it was a big mess, so I grabbed my bag and said, "OK! That's what you want? I'm leaving." And she said, "Where are you leaving to?" "Oh." So I called Gaspard and they [said to go over and live there]. And I lived there for one year. It was a big time.
I just interviewed Justice and we spoke about how they're frustrated when their music is labeled as "dance music." I know you were frustrated when your music was labeled as "electro" by iTunes. Do you think people in America still think of you as a dance outfit?
My point was really to say that my music is definitely not for clubs. If you put it in a club, everyone is leaving. I really wanted to say, "OK, I play DJ sets but my music will definitely not be club music." I prefer you put my music on at home, or the best is in a car. You get that submarine sonorisation, it's the best way. But yeah, if my music was labeled as dance? That would be a nightmare for me.
But still, a lot of people who book acts like Justice in America will put you guys at a festival with, say, Kaskade.
Then maybe this album will be the way to say, "No!"
One thing that I read over and over was folks saying your album will be "the best since Daft Punk's 'Alive.'" Is that funny for you, as someone who knows the guys, that any French artist has to be compared to Daft Punk?
For me, it's not a problem. I prefer that than David [Guetta]. [Laughs] Of course, I have Twitter and when I read this, I'm like, "wow, what are they going to think about my album when they're waiting for some Daft Punk." So I'm freaking out a little bit, because Daft Punk is still playable in clubs. I really don't know shit about their albums. I don't want to ask them to have me listen, and I don't even know if they would make me listen. I'm honestly very flattered that people can make these comparisons.
You're really into hip-hop, especially the classics. Are you interested at all in the blends of hip-hop, trap and other dance movements?
It's good to see that hip-hop can be everywhere. We have one of the most famous guys in France, Patrick Bruel. He's a big acoustic guitar guy. I really hate his music. It's shit like you can't even imagine. And everybody loves it. Even that kind of guy is featuring French rappers on his album. So rap isn't like before, when it was like "Oh, you listen to rap?" Now your mom, your dad, everyone is listening to rap and they don't even know it. It's cool and not cool.
The culture is a bit diluted.
Yeah, yes yes. I agree with this.
Did you see the Skrillex and A$AP Rocky song "Wild For the Night" by chance? A-Trak peformed it with Rocky on Letterman.
Skrillex … is a cool friend of mine. A$AP Rocky … I don't know. I know the name. I bought his stuff just to see what the fuck this is, because everyone is telling me about him. At the time I was thinking about who I should feature on the rap songs on the album, and everybody was telling me, A$AP Rocky, Kanye or Kid Cudi -- well, no, I have no idea where Kid Cudi is, maybe he did too much [Guetta].
But it became clear to me that I didn't want some guys of the moment, but some guys from my heart, some guys that were with me for all of my youth. So I asked A-Trak, who knows everybody, so I asked him to check with Mobb Deep and he said, "Well, I can check with him," because Prodigy was in jail. So we got Havoc.
Didn't he get out of jail while you were making the album?
Fifteen days! Fifteen days after we finished the track. I thought about trying to get Prodigy on it but it was good as it was, so I was just frustrated as a little kid. I just wanted to be able to say "Mobb Deep" on my album, so I asked if we could say Havoc of Mobb Deep, and they said it's too long. But I'm proud of it. The guy did an effort to write in my sense, with the story of the man and the car.
Did you have any preference between New York and West Coast rap, when it came to the classics?
I'm not too into West Coast rap. I like "The Chronic," of course. I'm always a QB guy. I'm not from Queensbridge, but I always listen to stuff from New York, like Biggie, Nas, stuff like that.
A lot of producers like "The Chronic" because it's an especially clean-sounding record, production-wise.
For me, I didn't know about samples. So I thought they were playing everything. One time someone played me something and I said, "What about that funk behind there?" And they said, "It's a sample, man." And I was like, "Oh yeah? What's a sample?" So it's great. That hip-hop took me to all that George Clinton, and everything.
So because of hip-hop, I fell in love with the samples. It showed me so much music I didn't know. So it keeps my iTunes library and guides my influences, so thanks, to rap.
PHOTO GALLERY
Kavinsky Songs
REAL LIFE. REAL NEWS. REAL VOICES.
Help us tell more of the stories that matter from voices that too often remain unheard.
BEFORE YOU GO