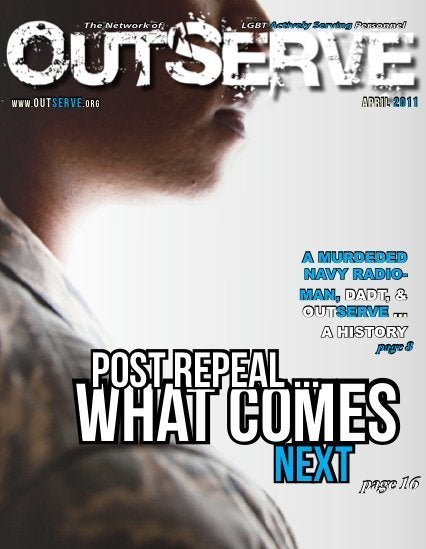 WASHINGTON -- With repeal of the military's "don't ask, don't tell" policy moving steadily forward, an LGBT organization has launched a new magazine for gay service members.
The publication is being put together by OutServe, an organization that describes itself as an underground network of more than 2,900 LGBT military personnel. The bimonthly magazine will cover the implementation of DADT repeal, and the activities at OutServe chapters, among other issues.
"Our first objective with the magazine is to let all the gay, lesbian, bi, and trans members currently serving know that they are not alone," said OutServe's co-director, an active-duty officer who goes by the pseudonym JD Smith, said in a statement. "And we also want to communicate to all troops that there are capable gay military members serving honorably, and that accepting that and moving on will make our military stronger."
Smith said that the plan is to have the next version of the publication out in print at some of the larger military bases.
"Visibility is key," he added. "We are not about highlighting our differences, but demonstrating how LGBT troops are proud soldiers, sailors, airmen, Coasties, and Marines just like everyone else."
As the Defense Department works to implement repeal of the military's policy banning openly gay service members, LGBT organizations have warned people to not yet come out, and gay men and women trying to enlist or reenlist are not yet able to do so.
In an email to OutServe members, board member and former West Point graduate Katie Miller wrote, "This not only symbolizes the repeal of DADT and the subsequent end of our silence, but for heterosexual service members, the magazine will help to build acceptance of gays and lesbians in the military, reduce the stigma associated with us, and begin deconstructing negative stereotypes that divide us rather than unite us. In the future, service members, gay or straight, will peruse the magazine in waiting rooms as casually as they pick up The Military Times, and they will finally come to realize what we've said all along: being gay is no big deal."
Popular in the Community