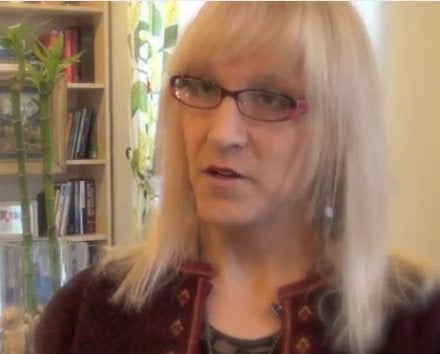 This week our LGBT community helped make history, as voters across the nation rejected homophobia practically en masse to protect our civil rights and affirm our humanity. We've listed our wins so often since Tuesday that they now roll like a litany off our tongues: President Obama, reelected; marriage equality's disheartening record of defeat at the ballot box, reversed; America's first openly gay Senator on her way to Washington and a cadre of lesbian, gay and bisexual representatives stepping up to take her place in the House. (By the way: well done, LGBT community.)

Some commentators declared that I'd made history myself just two weeks ago when I was named the first Executive Director of the new OutServe-SLDN, the nation's advocacy organization for LGBT service members, veterans and their families. When asked how it felt, becoming the first transgender person to lead a national LGBT civil rights organization, all I could say was that it was unbelievably humbling, a little overwhelming, and that I was glad to be joining a team that has become accustomed to making history.

Servicemembers Legal Defense Network (SLDN) emerged in 1993 to defend service members against the "Don't Ask, Don't Tell" law, with all its career- and life-shattering implications. Since then, the organization has assisted more than 12,000 LGBT troops who have had legal issues related to their sexual orientation or gender identity. SLDN's established presence in Washington and its deep connection to so many who were hurt by DADT made it the perfect organization to lead the fight for the law's repeal.

Then, as that fight began to heat up, OutServe came on the scene with its own brand of history-making chutzpah. What began as an underground network of enterprising LGBT service members using Facebook to connect with one another quickly grew into a driving force behind the movement to end the law, joining SLDN and other allies in the fight. OutServe lent the movement a moral power that was undeniable and helped all America to feel the shame DADT had brought upon our country.

Together, SLDN and OutServe helped lead our community and its allies in the execution of an incredibly complex battle plan -- a textbook lobbying, grassroots and messaging effort that culminated in what the New York Times called one of the most important civil rights votes of our time. With the help of a broad coalition of LGBT, civil rights and veterans' organizations, we didn't just repeal an unjust law; we changed the way America thinks about LGBT people forever. (Again: great work, everyone.)

Now, OutServe and SLDN have become one organization, with more than 6,000 LGBT troops as members. We represent approximately 67,000 who can be "out" in today's armed forces, but who are anything but equal. LGBT service members lack the basic non-discrimination protections the military offers other minority groups -- protections that have been the standard in corporate America for years. The Defense of Marriage Act prevents the Department of Defense from even acknowledging the legal spouses of LGBT military personnel, and forbids those spouses and children from receiving the benefits and services offered to opposite sex families -- things like health insurance and survivor benefits. And qualified transgender patriots who desire to serve are forbidden from doing so by military medical regulations that have become ridiculously obsolete. Despite the historic victory that the repeal of "Don't Ask, Don't Tell" represents (once again: great job, everyone), we are nowhere close to a military that lives up to America's promise of equality for all.

Those of us who worked long and hard for DADT's repeal have done our celebrating; we've received our congratulations and we've had our victory lap. But that historic victory is now just that -- history. If my own service as an Army officer taught me anything, it's this: you don't win the next battle by talking about the last one. You win it by digging deeper, pushing harder and sacrificing more, or else you don't win it at all. For LGBT service members, veterans and their families -- and for those who care about them -- the repeal of DADT was not the end; it was just the beginning.

And as this election week comes to a close and our community celebrates some historic gains, we must remember that we can't linger here long. Our journey toward a better America is not over; it's just getting started. The days ahead represent the best opportunity we've ever been given to secure full LGBT equality in our country, including in our military. But we won't get there by patting one another on the back. We'll get there by rolling up our sleeves and marching right back into the fight.

It's time to make some history -- again.