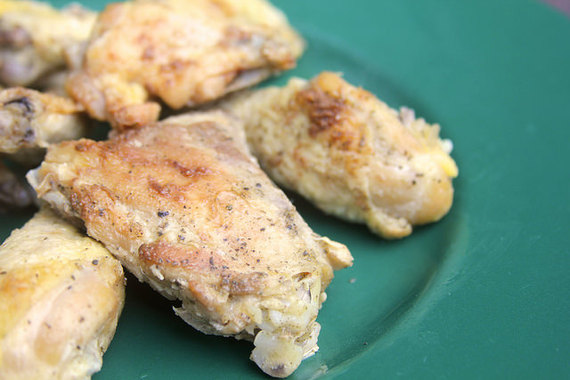 My grandfather, father and brother all went to Cornell University, for very different things. My grandfather for Pre-Med. My father for Asian Studies. And my brother for a double-major in Music and Computer Science (hello, Asian blood now in the family). Going to my grandparents' place in Upstate New York in the summertime growing up usually involved a platter of grilled chicken with Cornell sauce.
We were far from the only family to follow suit. "Cornell sauce" chicken is a niche homestyle recipe of the Finger Lakes area. It's the type of thing that was spoken of in this region in the same way as pancakes or baked ham--just another family meal on frequent rotation. I've never seen nor heard of the specialty cooked outside of its region. I've never heard of its being exalted by foodies or "elevated" by some nostalgic chef. I've never actually heard about it from anyone outside my family and their friends. And certainly, we haven't seen it catapulted to a national staple like its neighbor, Buffalo chicken.
On paper, the recipe is quite pedestrian. It doesn't look like too much in the end, either. But its taste is pretty addictive--plus it's easy to make, and saves you from buying bottled sauces or marinades. And it has a pretty good backstory.
According to What's Cooking America, it was developed by Dr. Robert C. Baker, a professor of poultry science at Cornell, in 1946. Baker had been researching and developing methods of using chicken for the burgeoning field of "food sciences" and helped devise the techniques for what would eventually become McDonald's Chicken McNuggets, poultry hot dogs and more. He did this at the University of Pennsylvania until he was hired by Cornell with a mandate to help come up with ways to promote state's poultry industry. He presented his marinade for chicken, which was quickly embraced and became known as barbecued chicken with Cornell sauce (or sometimes, "State Fair Chicken").
It's really a marinade, and the chicken is really grilled, unlike slow-cooked and smoked barbecue.
But "barbecue" and "barbecue sauce" mean very different things to very different people. Growing up, I thought the latter was sha-cha sauce, a sweet and fishy Taiwanese condiment that was always in the fridge, often translated in English as "barbecue sauce" on its label. Most people think of this term as a sweet, thick, ketchupy slurry that you brush on meats while they grill (or dunk Chicken McNuggets into little cups of). Barbecued chicken with Cornell sauce works a bit more like these bottled barbecue sauces that you baste on the pieces while you grill. But it should also be used to marinate the chicken well in advance. Without allowing enough time to this pre-cooking chore, the chicken wouldn't really be flavored too much and it wouldn't really be Cornell Sauce Chicken.
Contrary to our typical brand of bottled barbecue sauce, Cornell Sauce bears no sweetness whatsoever. It's tangy and herbal instead. In composition, it has shares most with North Alabama-style barbecue sauce (a singular variety indeed), in that it has oil and vinegar beaten into a raw egg, giving the sauce body and a weirdly white pallor. (North Alabama-style barbecue has mayonnaise, an emulsion of egg, oil and vinegar.) Baker must have been hinting toward a very tangy mayonnaise when he created the sauce, as it has twice as much cider vinegar as oil.
Last but not least, the sauce has a generous dusting of "poultry seasoning"--a fine powder of dried herbs like sage and thyme. (This blend of spices goes back much farther than Cornell sauce, invented by Bell's Seasoning in 1867 New England.) There is not much finesse required in mixing it all together, and frankly, that suited my grandparents and any folks I've seen make it.
Eating my paternal grandparents' food always sorta gave me a sense of culture shock as a kid. It was very plain, very waspy, white-bread kind of stuff--literally. Sandwiches with as much mayonnaise slathered onto the bread as cold cuts. "Lobster" Newberg, which was really imitation crab stick bobbing around in pink mayonnaise and poured on a piece of bread. And their arsenal of food science-produced products in the fridge--bottles of thick, opaque salad dressings, tubs of margarine and logs of Velveeta--was all very alien and unpalatable to me, a kid who could not understand the point in mayonnaise if it did not have an identifiable flavor.
But Cornell sauce chicken was the lone exception in their canon of cooking. It was actually very tasty. You could even grill it poorly, get no char at all, and the dish would still turn out tasting good. Similar to the sweet corn or tomatoes my grandfather would grow in his garden you can't really do bad by it. And it's about as good as summertime eating gets.
Grilled Chicken with Cornell Sauce Marinade
(makes 8-10 servings)
4 lbs whole chicken, cut to bone-in pieces or halved
1 egg
1 cup neutral oil, such as vegetable
2 cups cider vinegar
1 tablespoon poultry seasoning
2 teaspoons salt
Whisk together the egg and vinegar in a mixing bowl. Drizzle in the oil slowly as you whisk to incorporate. Stir in the poultry seasoning and salt. Place the chicken in the marinade, cover, and chill for at least 2 hours (or up to 1 day ahead of cooking). Grill the chicken, brushing the remaining sauce on the pieces as you turn them.
Support HuffPost
A No-B.S. Guide To Life
Related
Popular in the Community