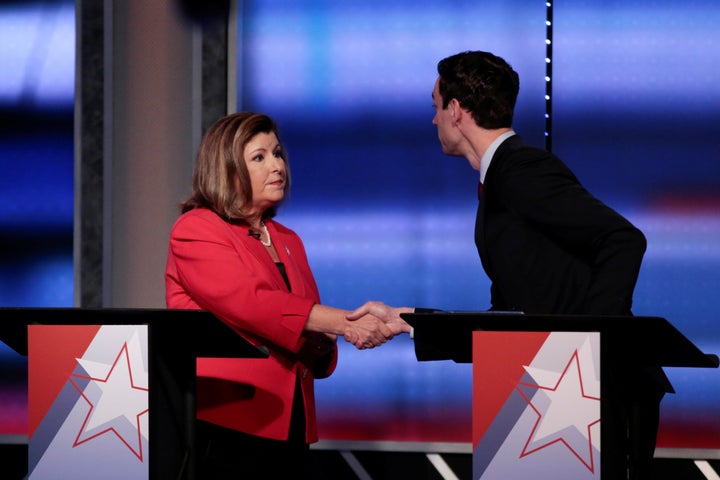 On Tuesday, voters in Georgia's 6th Congressional District will vote in the most expensive House election ever. A staggering $56.7 million (at least) has been spent on the special election, including $51.9 million on the two candidates left standing after the primary. The race between Democrat Jon Ossoff and Republican Karen Handel is the most expensive congressional race in history, easily overtaking Florida 18's 2012 election, which cost $29.5 million.
The money supporting Ossoff and Handel comes from different sources. Ossoff's campaign has a massive war chest thanks to his popularity with small donors, whereas Handel has had to rely on the aid of super PACs and other outside groups. 
Ossoff's immense success in raising money from individuals, especially small donors, started before the primary. He received about $8.3 million by April 18, and reported raising nearly double that again on his most recent FEC report. Through May 31, he has received about $23.6 million, with almost 65 percent of those funds coming from donations of $200 or less. He raised an additional $400,000 in the first week of June, bringing his total to at least $24 million. Although Handel also saw a significant increase in donations after the primary, her total of $4.5 million through May 31, with 35 percent coming from small donors, is dwarfed by Ossoff's fundraising. Handel raised an additional $173,000 in the first two weeks of June.
Where Handel has Ossoff beat, however, is in outside spending totals. Super PACs have not been shy about showing their support for either candidate, but Handel has been the beneficiary of twice as much outside money as Ossoff. Outside spending boosting her campaign or attacking Ossoff totaled $18.2 million as of June 19, against just under $8 million by groups backing Ossoff or opposing Handel. 
Including only expenditures since the April 18 primary, groups on Handel's side spent $12.2 million, versus $7 million for Ossoff.
Why are both parties so heavily invested in one special election? Ryan Bakker, an associate professor of political science at the University of Georgia, said it comes down to a reaction to President Trump. The Republicans have held this seat since 1979, so losing this election would be a "really hard hit," Bakker said. It would also reveal fractures between Republicans who align themselves with Trump and those who don't, he added. (Handel so far has not made any indications on how she feels about the president.)
For Democrats, Georgia's 6th district is appealing because it is a chance to flip a Republican seat. Recently, the north side of Atlanta (which is part of the district) has seen huge growth in its population of minorities and more liberal young people, Bakker said. This explains why Ossoff, a young (30), charismatic and moderate Democratic candidate, has a shot in a typically red district.
"If Ossoff had not come so close to winning the district in the primary, you wouldn't see this kind of money being spent on the election," Bakker said. "Democrats know the importance of flipping a historically red district so their thought process is: 'If they can flip Georgia 6, they can flip anything.'" He added that winning this district would give Democrats momentum for the 2018 elections.
In the April 18 primary, in which both Republicans and Democrats competed on the same ballot, Ossoff won the most votes — 48.1 percent — but came up just short of the 50 percent necessary to win the seat without a runoff election. With the Republican vote divided between several candidates, Handel came in second place at 19.8 percent. The winner of the runoff will replace Republican Tom Price, who vacated his seat after being appointed President Donald Trump's Secretary of Health and Human Services in February.
So how have Ossoff and Handel spent all of this money? Ads, ads and more ads.
The two candidates together have spent about $25.6 million, according to their combined disbursement totals for the pre-special and pre-runoff FEC filings. Most of this money has been dedicated to TV ads.
"Handel has really been on the attack (with the ads), putting Ossoff on the defensive," Bakker said. Ossoff has made ads attacking Handel as well, although not as many. In one ad, breast cancer survivors criticize Handel for cutting grants to Planned Parenthood (which helps women get referrals for mammograms) while she was at the Susan G. Komen Foundation.
The vast majority of outside spending has also been on media, primarily TV ads. The Congressional Leadership Fund alone has produced at least 15 ads attacking Ossoff, according to their YouTube account. The videos criticize Ossoff's ties to Minority Leader Nancy Pelosi (D-Calif.) and call him dishonest.
Fewer attack ads have been made about Handel, but the DCCC has produced several, including ones that criticized Handel's budget cuts and called her a "self-serving politician."
Over in South Carolina's solidly red 5th congressional district, the race to replace Trump's budget chief Mick Mulvaney in the House has attracted far fewer dollars. Republican Ralph Norman, a former state representative and real estate developer, faces off against Democrat Archie Parnell, a tax attorney whose resume includes Goldman Sachs.
Through May 31, FEC reports showed that Norman's campaign had raised almost $1.3 million and Parnell's just over $763,000. A good chunk of this comes from the candidates' own wallets: The May filings show that Norman loaned his campaign $495,000, or close to 40 percent of his total. Parnell also pitched in almost 40 percent of his total fundraising, by donating $100,000 of his own money and giving a $205,000 loan to his campaign. 
Some may recognize the 5th district of South Carolina as Frank Underwood's district in the hit Netflix series House of Cards. Parnell has taken advantage of this connection by mimicking the fictional character in his campaign ads.
Spending by super PACs and political nonprofits in both the primaries and general election has totaled just over $2 million, nearly all directed toward Republican candidates. Since Norman eked out a victory over the more moderate Republican Tommy Pope in a primary runoff, outside spending has totaled just $85,000. The biggest spender during the primaries was an organization called CLA Inc. Newly registered with the FEC, it spent nearly $400,000 backing Pope, who also got help from the U.S. Chamber of Commerce, among other groups. Support for Norman came primarily from the conservative Club for Growth and the Senate Conservatives Fund, a super PAC founded by former South Carolina Republican Senator Jim DeMint.
Democrats — light spenders in South Carolina's 5th — view that money as better spent elsewhere, like in neighboring Georgia. Jamie Carson, a political science professor at the University of Georgia, said Democrats see Georgia as more winnable. "Certain races become high profile," Carson said. "If people see a race as competitive, they are more likely to spend money on it."
Reporting intern Kennett Werner contributed to this post.
Calling all HuffPost superfans!
Sign up for membership to become a founding member and help shape HuffPost's next chapter
BEFORE YOU GO