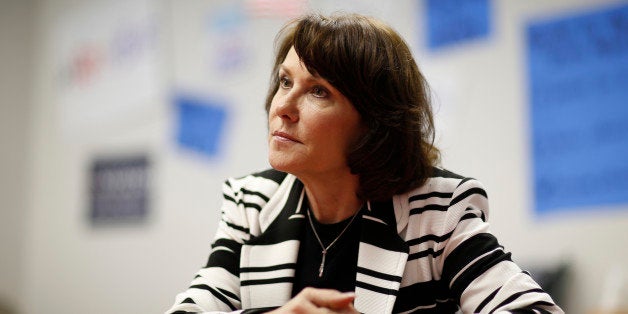 Democrat Jacky Rosen is facing off against Republican Danny Tarkanian in the Nevada 3rd, a fight that has drawn record levels of outside spending for a House race. (Photo By Bill Clark/CQ Roll Call) (CQ Roll Call via AP Images)
By SOO RIN KIM
Nevada is on fire, but it's not the desert heat.
Senate Minority Leader Harry Reid's upcoming retirement has led to an inferno of outside spending -- about $80 milliion so far -- in the contest for the open seat.
With the advantage in name recognition, Tarkanian -- who hasn't shied away from openly endorsing GOP Presidential nominee Donald Trump -- has outraised his Democratic counterpart by about $400,000 so far this cycle, and outside spending also favors the Nevada Republican by a little. But Rosen was hand-picked by Reid, the big dog in state politics, and that means she, too, has a lot of help.
The Democratic Congressional Campaign Committee has made it clear that supporting Rosen is a big priority for the party by dropping a hefty $3.6 million in independent expenditures into the district. Liberal House Majority PAC -- in effect a super PAC extension of the DCCC --has invested another $1.9 million in ads attacking the Republican candidate.
On the other side of the partisan divide, one group has flipped its allegiance. Conservative 501(c) nonprofit Ending Spending spent about $1.6 million supporting Republican candidate Michael Roberson in his failed bid to defeat Tarkanian in the district's GOP primary, with about half of that going to attacks on Tarkanian. Post-primary, however, the affiliated super PAC Ending Spending Action Fund has spent an additional $1.5 million attacking Democratic nominee Rosen on behalf of Tarkanian.
In total, super PACs, political nonprofits and party committees have plowed a record-breaking $14.7 million into the House race already in their efforts to seize this rare vacancy. Last election cycle, outside groups spent only about $1.9 million in the district.
This is also the first time post-Citizens United that a House race has placed among the top 10 congressional races for outside money. The biggest outside money hub at the House level in 2014, California's 7th District, attracted $13.8 million in such spending by the end of the cycle, but it ranked below 11 Senate races.
Meanwhile, in the Senate match between Heck and his Democratic counterpart and former Nevada Attorney General Catherine Cortez Masto, the candidates have raised $26.7 million so far this cycle -- ranking it No. 7 among Senate races -- and have also drawn the third-largest level of outside spending in congressional contests. About $43.6 million of it has been spent to benefit Heck and about $36.4 million for Masto.
Expect those numbers to rise every day till Tuesday.
REAL LIFE. REAL NEWS. REAL VOICES.
Help us tell more of the stories that matter from voices that too often remain unheard.