Food is the new rock, and if you needed any confirmation of that, the recently-concluded Outside Lands Music Festival in San Francisco, Calif., serves up plenty of proof.
Consider the festival's newly installed GastroMagic, an "Interactive Culinary Stage" which featured some of San Francisco's best chefs, restaurants, butchers, mixologists doing what they do best -- to the tune of some freshly mixed beats, of course.
The "sets," intimate, whimsical and heavy on the wordplay, delighted the (relatively) small crowds of people who decided to post up at the GastroMagic stage, nestled in between the main Land's End stage and ChocoLands (a group of festival stands that served only chocolate-flavored desserts. Told you this music festival was a must for food lovers).
Some of GastroMagic's more delicious performances include a set from the first day, featuring Donald Wressell, in-house pastry chef to Guittard Chocolate company, as he constructed a towering chocolate sculpture. Synthpop duo Holy Ghost! performed as Wressell worked, and hype men and women in gold lamé suits handed out full-sized Guittard chocolate bars to the crowd.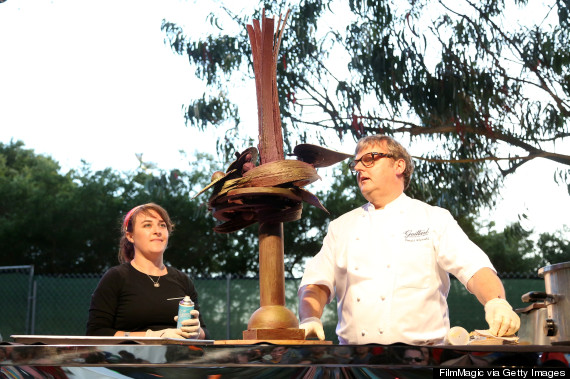 SAN FRANCISCO, CA - AUGUST 08: Chef Donald Wressell (R) performs Chocolate Gold Rush with Holy Ghost! and Guittard Chocolate Company at the GastroMagic Stage during day 1 of the 2014 Outside Lands Music and Arts Festival at Golden Gate Park on August 8, 2014 in San Francisco, California. (Photo by FilmMagic/FilmMagic)
On the second day of the festival, local chef Brandon Jew made duck nuggets on the GastroMagic stage while A-Trak of the DJ duo Duck Sauce spun beats alongside him. A merry band of people dressed in fluffy yellow duck costumes danced on the stage and in the crowd, and at the end passed out little takeout boxes filled with duck nuggets and sauce to a cheering, dancing, eating audience.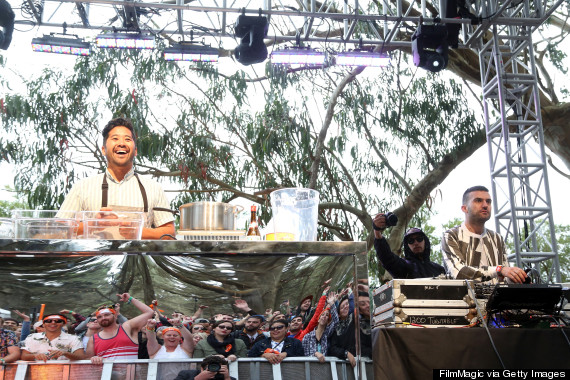 SAN FRANCISCO, CA - AUGUST 09: Chef Brandon Jew (L) and DJ A-Trak of Duck Sauce prepare food during the Duck Sauce Soiree at the GastroMagic Stage during day 2 of the 2014 Outside Lands Music and Arts Festival at Golden Gate Park on August 9, 2014 in San Francisco, California. (Photo by FilmMagic/FilmMagic)
But even if you didn't sit through a single GastroMagic performance, the more than 200 food and drink options showcasing the best of Northern California cuisine were enough to cement Outside Lands as the best summer music festival for serious gourmands.
As fun as it was for me, scarfing my way through the festival with fried chicken, gourmet cotton candy and fresh oysters, it seems like the restaurants have an even better time.
"All the different restaurant crews live together for over three days in the middle of Golden Gate Park," wrote Chamin Mills, the marketing manager of Pacific Catch Fresh Fish Grill in an email to HuffPost. "There is a true sense of community that makes the long days and nights enjoyable. Not to mention the amount of food we give back and forth to each other. We for sure eat well for three days."
Alicia Villanueva of Alicia's Tamales Los Mayas agreed, adding that the festival exposure was also a boost for small businesses like hers.
"To be completely honest I love coming to Outside Lands because it is a great opportunity to grow my business," she wrote in an email to HuffPost. "People come here to have fun and enjoy the music, what better way to promote my food than to help them refuel their tamale tanks?"
Of course, none of this would be worth writing home about if chefs didn't strive to churn out the same quality dishes they serve in their restaurants. To wit: these photographs depict all of the dishes that made me rub my eyes in awe: while my eyes and ears had me planted firmly in the grass at a music festival, my tastebuds told me I was seated at a chef's table.
All photos by Anna Almendrala.
Baconland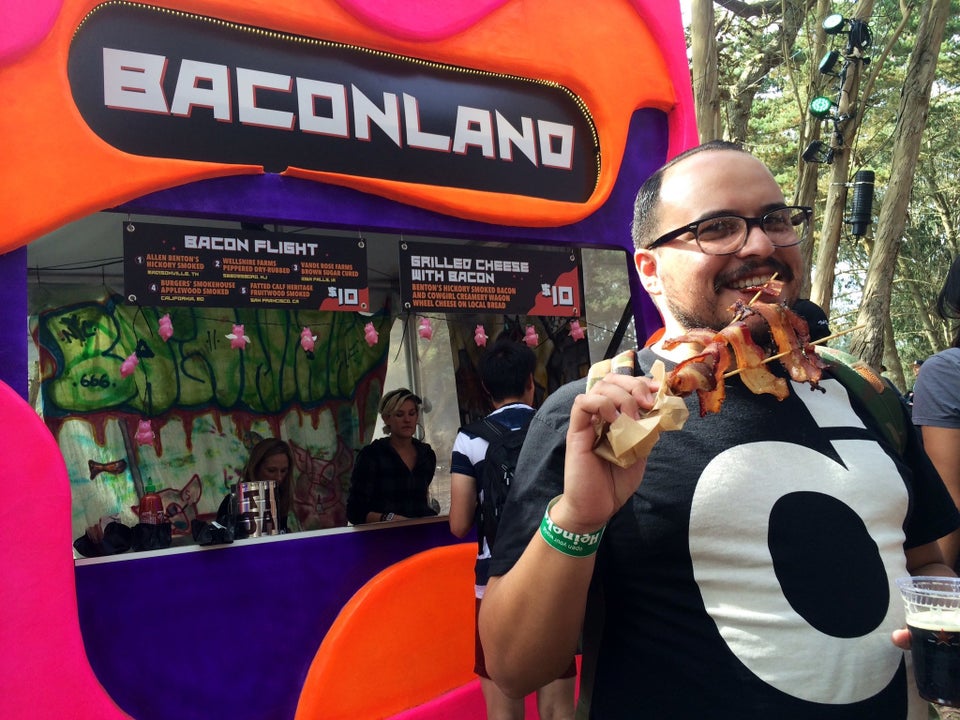 Farmer Brown's Little Skillet Fried Chicken And Waffles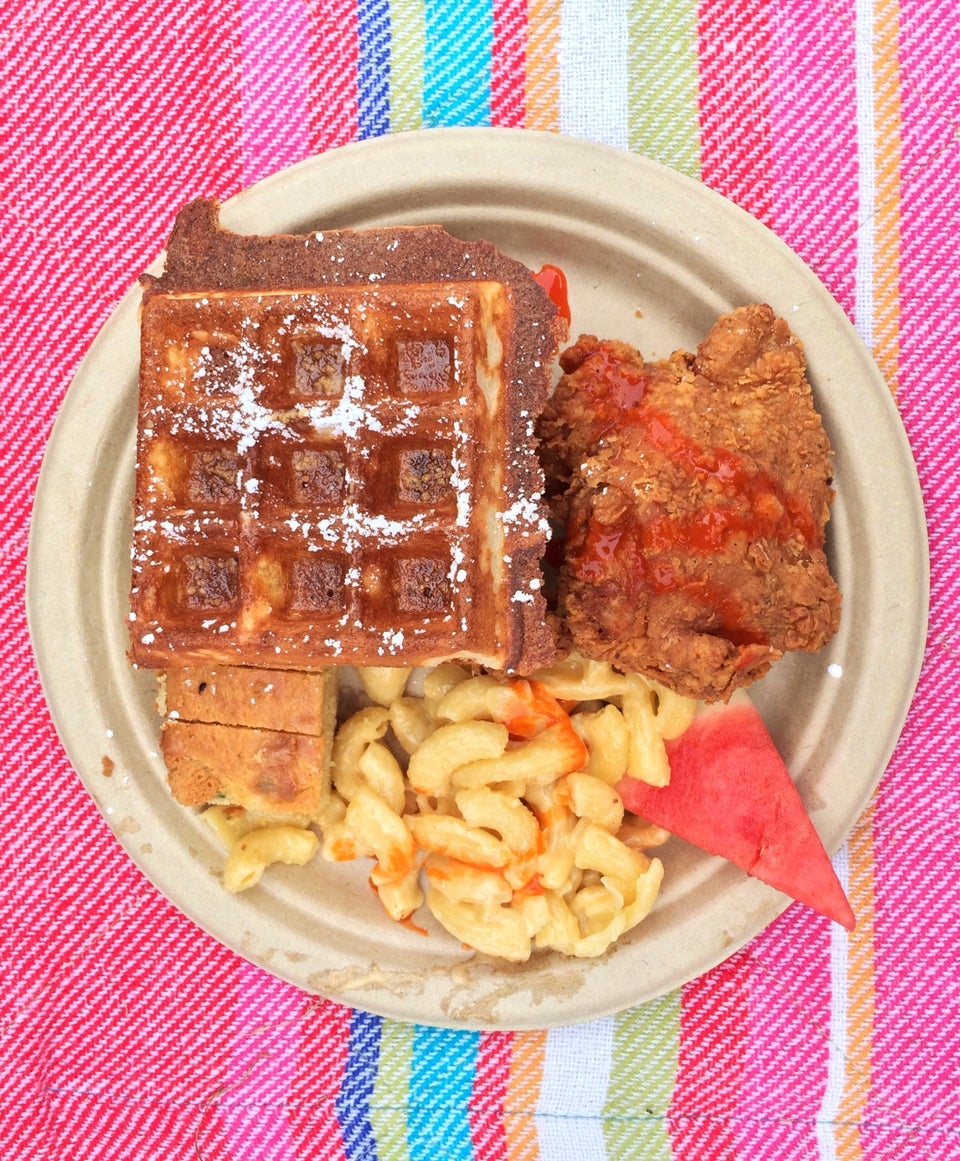 Del Popolo's Margherita Pizza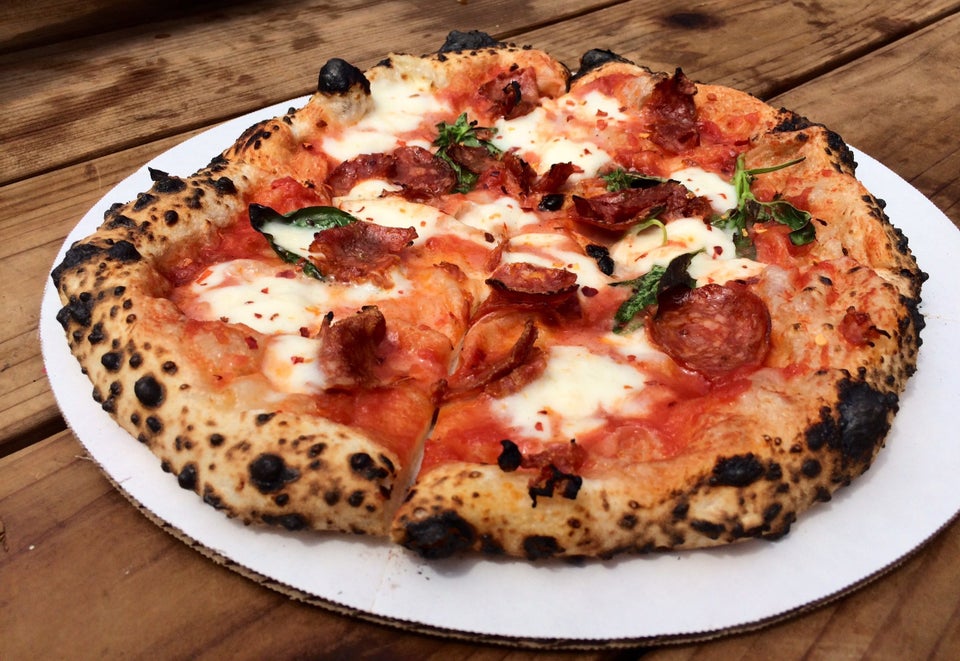 Woodhouse Fish Co. BBQ Oysters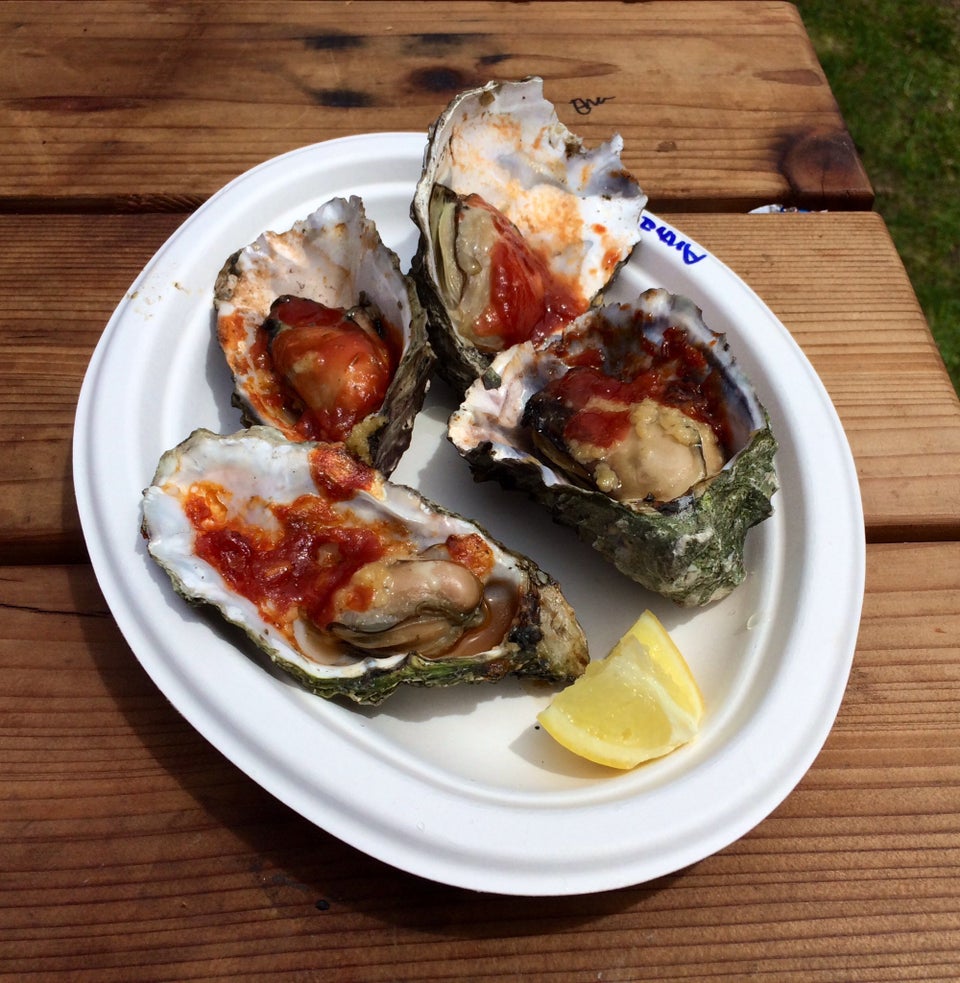 Woodhouse Fish Co.'s Fresh Oysters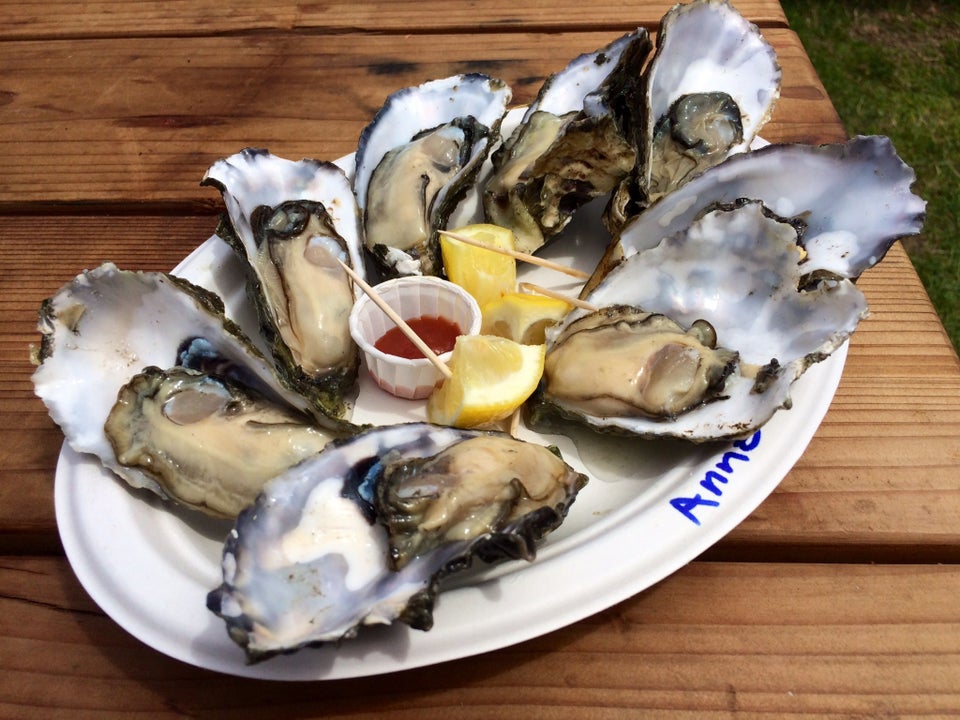 Woodhouse Fish Co.'s Lobster Roll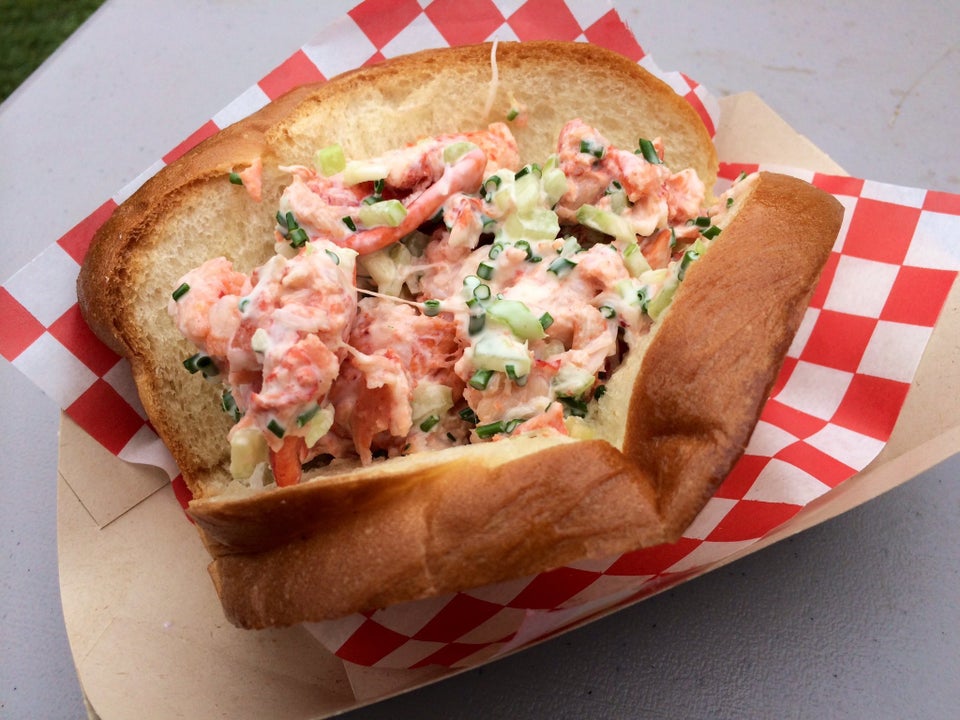 4505 Meats' Chimichurri Fries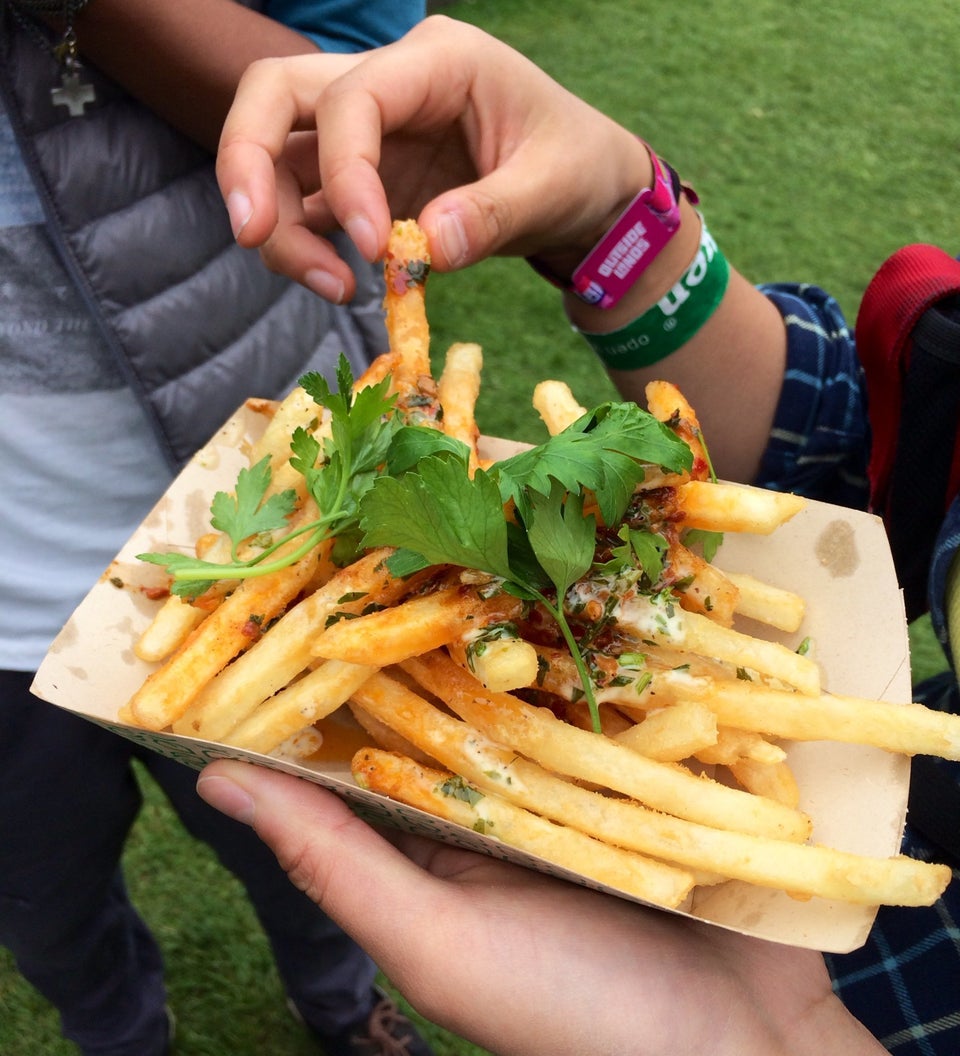 Guittard Chocolate Company's Melted Milk Chocolate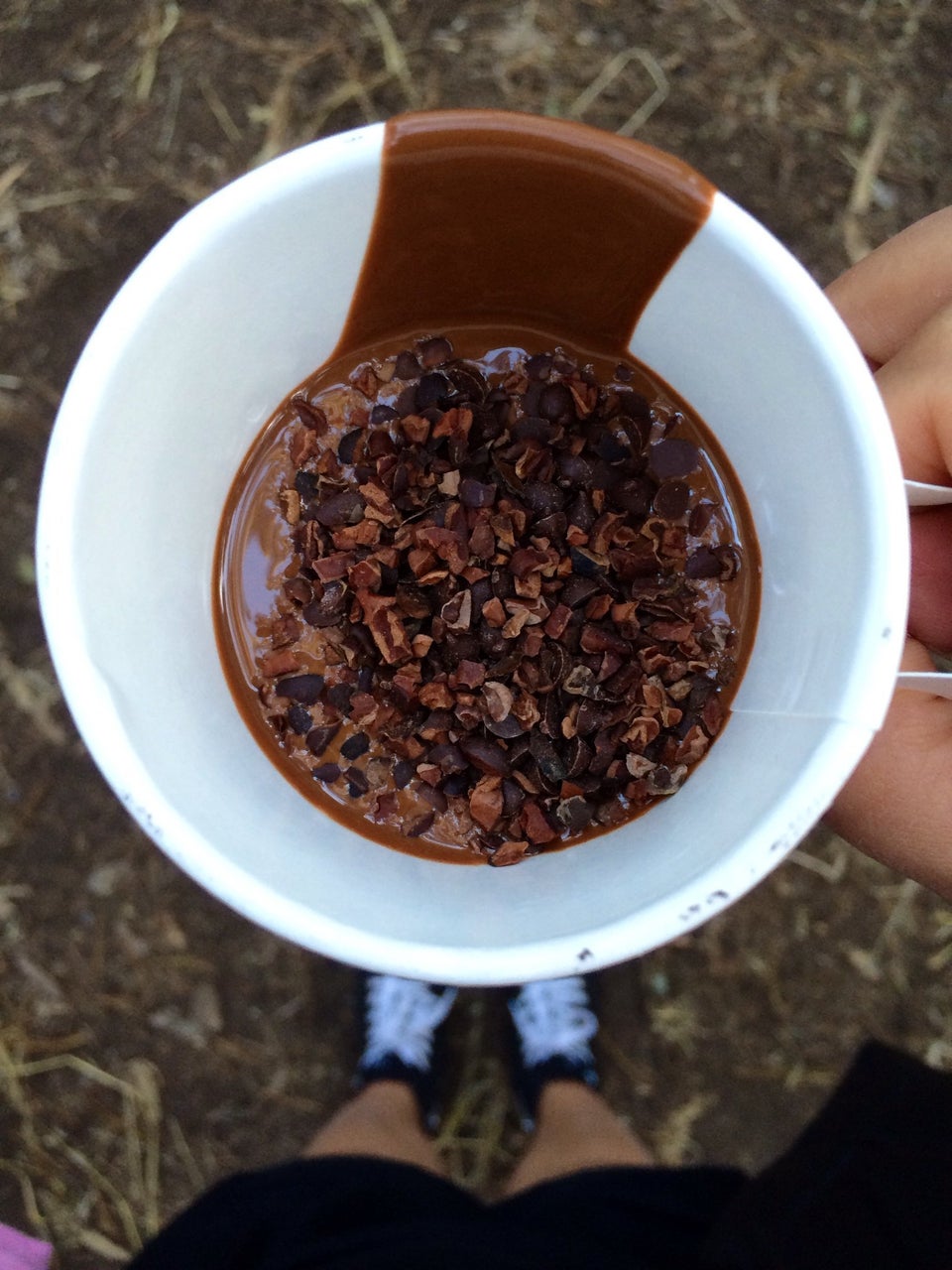 Rich Table's Dried Porcini Donuts With Raclette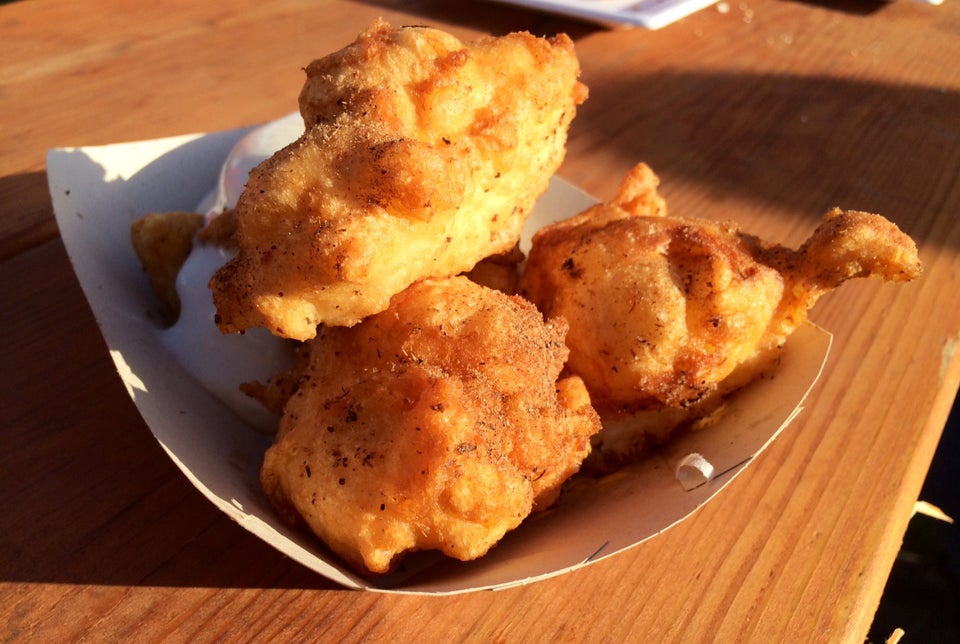 AQ's Spaghetti Sloppy Joe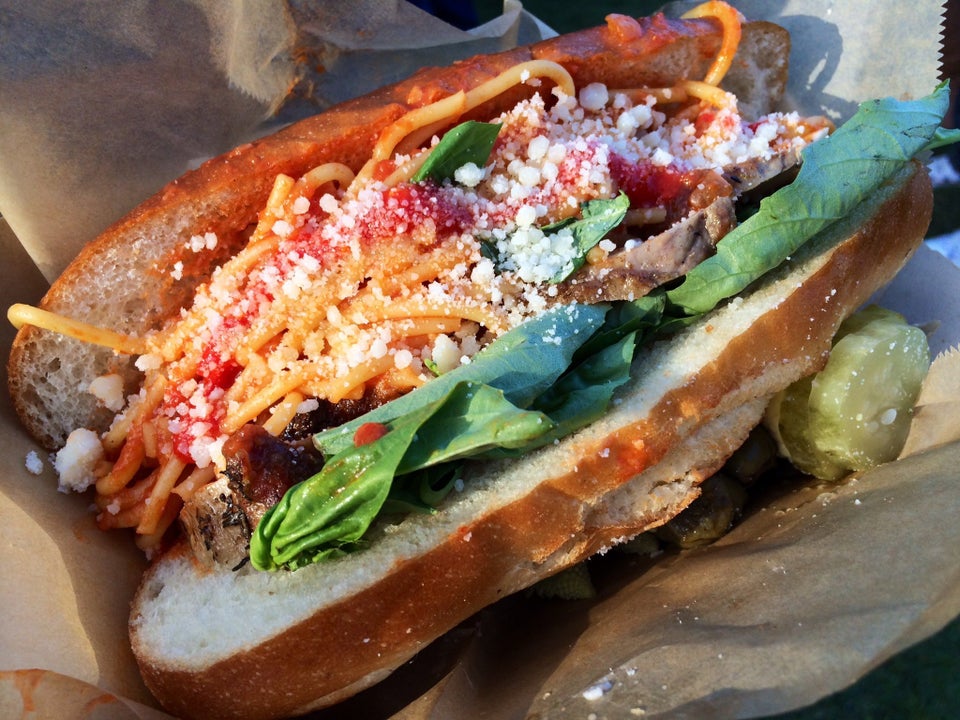 Sugar & Spun's Fruitella Cotton Candy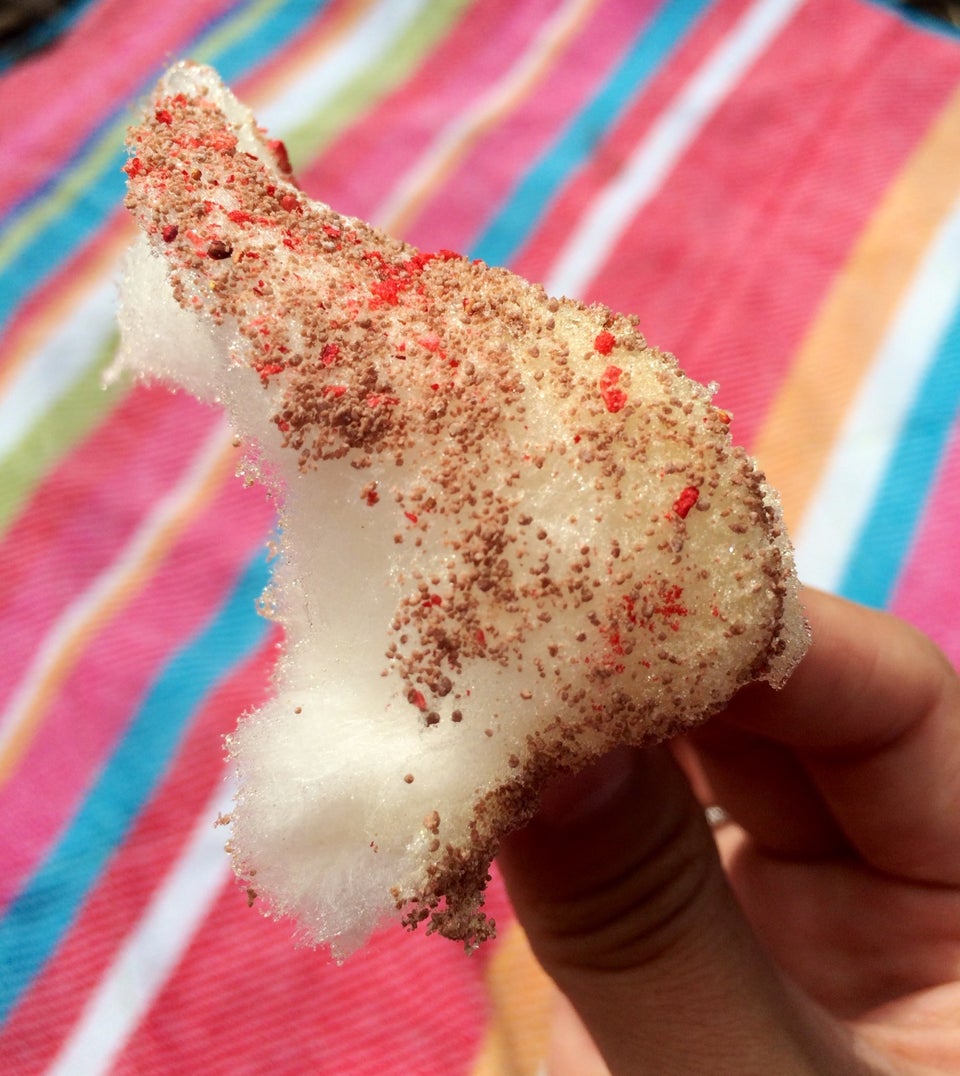 Nombe's Ramen Burger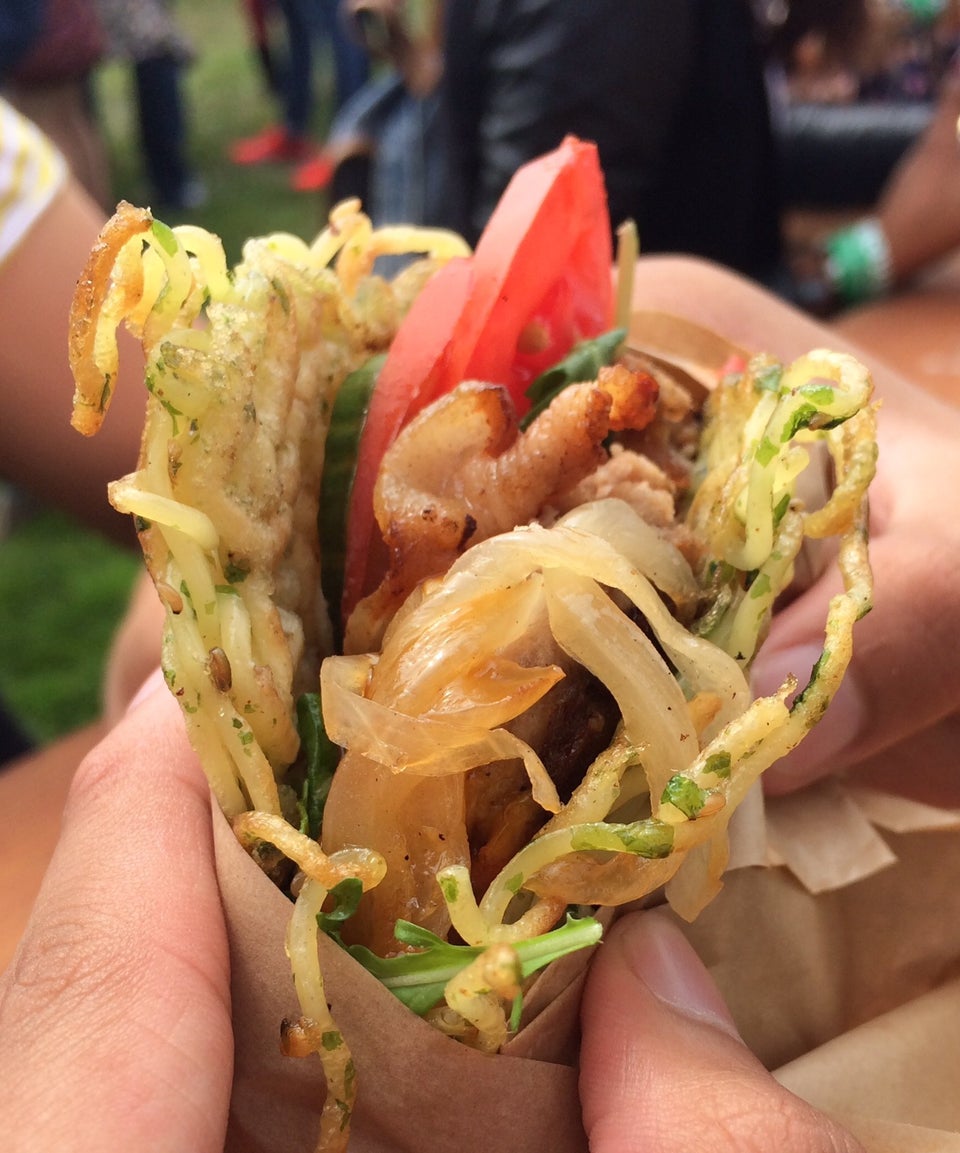 Straw's Donut Burger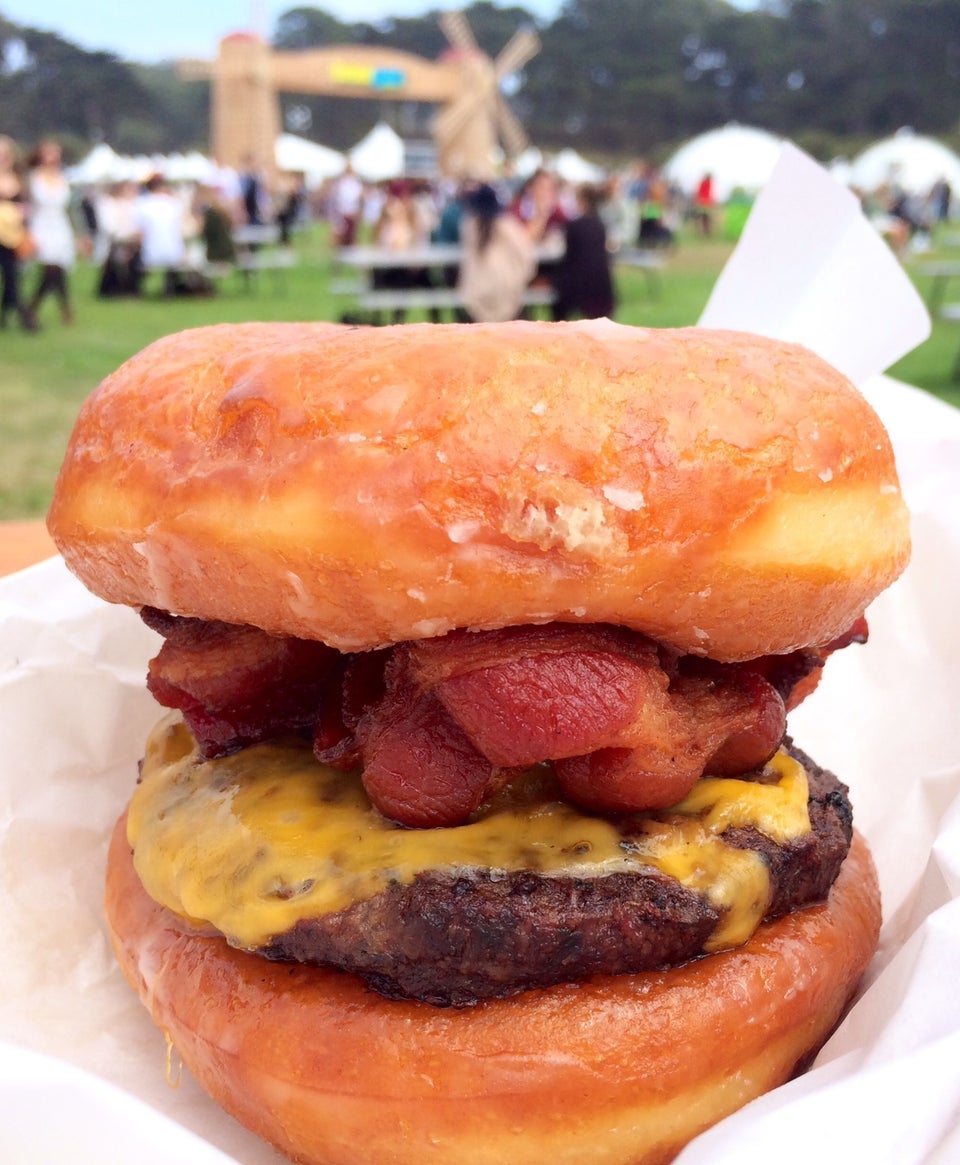 Senor Sisig Tacos