Biggest mistake of the weekend: Seeing Kanye West over Arctic Monkeys. Kanye was universally a disappointment -- his show lacked presence (the lighting and graphics were cheesy and minimal), involved one too many monologues, and, perhaps most importantly, did not include Gold Digger. I felt like I chose to see a Kanye West TED Talk over an actual musical performance.
Most absurd wardrobe decision: Tie between Kanye's silver mask and Macklemore's velvet mariachi outfit. If pressed, I would give this one to Macklemore -- Kanye's masks are kind of his thing (ya know, besides being ½ of the most narcissistic couple on the planet), whereas Macklemore's mariachi outfit was both unexpected and unexplainable.

Biggest dance party: Tiesto. Unlike many other music festivals, Outside Lands makes a distinct effort (and is largely successful) at distancing itself from hardcore EDM music. Tiesto was the only headliner that would fall into the EDM category, and he was able to achieve harmony between his high-energy music and Outside Lands' signature casual vibes.

Most underestimated: Flume. Just like at Coachella, it was clear that Flume's appeal and fan base were underestimated -- we thought ahead and got there an hour early, yet still weren't even that close to the stage. The crowd was awesome, however, and it was worth being packed in to get to see his adorable Australian self in person.
Most OL-esque food: Rich Table's Porcini Mushroom Donuts. As far as music festivals go, Outside Lands is the hipster of the pack -- craft beer, Doc Martens instead of flower crowns, and a solid artisanal food presence. I was fascinated by this San Francisco restaurant's porcini donuts -- savory fried dough rolled in porcini mushroom dust, and accompanied by a raclette cheese dipping sauce. They. Were. Delicious.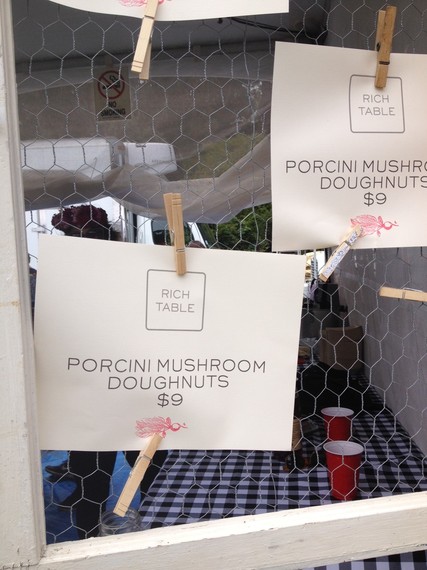 Worst acoustics: Twin Peaks stage. The second largest stage at the festival unfortunately had the worst acoustics of them all -- and with artists like Tiesto and Macklemore, it was virtually impossible to get close enough to actually listen to the music.

Best transportation idea: Let's just say that by now we all know that taking a 5x surge pricing Uber was not it, am I right? Taking the muni was by far the superior choice, even if you did have to walk a bit to get to a less-swamped bus station at the end of the day. It was even easier (and more fun) taking it to the festival during the day -- shoutout to the bus friends in cat costumes that shared their wine bag with us on day 1!

Biggest rip off: Unlike Coachella, HARD, or literally any place that has a water fountain, water refills were not free. Not cool.
Most judged decision: Macklemore over Tom Petty. Not that I don't agree that Tom Petty and the Heartbreakers are far superior in many ways than Macklemore and Ryan Lewis, but that's no excuse for the music-shaming hipsters I saw shunning people who left to see the radio rappers.
Most distinct feature: Beer Lands and Wine Lands (along with Choco-lands, etc.) completely set this festival apart from others. It's not only about the music -- which is great in and of itself -- but about the entire cultural experience, which ended up being a bit like a real-life Candyland.


Most noted absence: Chvrches. Due to some border-crossing trouble, only half the band and gear made it from Vancouver to San Francisco, forcing them to pull-out last minute. As bummed as I'm sure they were, festival attendees felt their pain -- theirs was a set people were clearly looking forward to.
Coolest side attraction: Digital Detox. An adult version of summer camp, this enclave in the woods was designed as a device-free zone. Attendees were required to shut off their phones and recite an oath before entering, where they were able to type postcards or letters on a typewriter, watercolor, play board games and more.

Worst drunken idea: Crowdsurfing. It would've been nice to make it through a single show without seeing girls flailing above the crowd -- or having boots kick me in the back of the head. Save the crowdsurfing for the pros, guys.

Best introduction: The Killers introducing Danielle Haim. The Sunday night headliners brought Danielle Haim onstage to play drums for their song 'On Top,' but not before Brandon Flowers showered her with some serious musical praise: "People keep talking about how dance music's taking over and people are playing music anymore [...] one of the bands that came out and dropped a record on us in 2013 and gave us hope for people playing music was Haim." Considering how phenomenal she sounded playing with them, I can definitely get behind this collaboration.

Worst lines: Any and all bathrooms around 7 pm. It seemed that every single person at the festival had to use the bathrooms at the same time, which made for some serious lines. On the plus side, I made some great friends in the bathroom line -- almost peeing your pants while waiting in line for an hour is apparently a bonding experience.

Most Californian set: Local Natives. This band's slightly-redundant name says it all -- they're California bred (originally from Orange County, and then settling in Los Angeles) and clearly were in their comfort zone playing at the Lands End stage Saturday afternoon. They were full of California pride -- especially Kelcey Ayer, a San Francisco State University alum, who was particularly happy to be back in the city.

Most karaoke potential: The Killers. At the risk of sounding cheesy, there really is something special about seeing live music that includes songs that every person in the crowd knows the words to. It was like a thousands-of-people-big karaoke party, except with much better vocals and no loss of dignity.
Most diverse crowd: Tom Petty and the Heartbreakers. The Saturday night headliner brought in the most diverse crowd of the weekend, hands down. It seemed that no matter your musical preference, age or style, everybody wanted to see this legend live.
REAL LIFE. REAL NEWS. REAL VOICES.
Help us tell more of the stories that matter from voices that too often remain unheard.