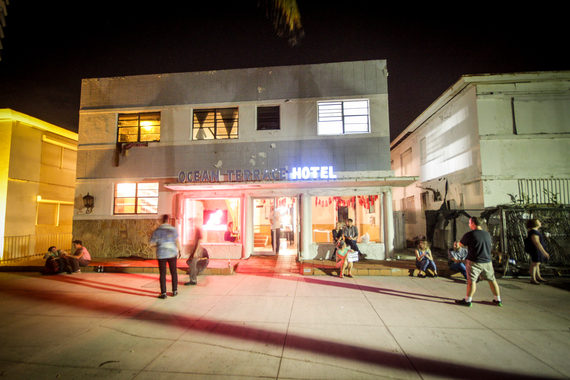 As 267 leading galleries from North America, Latin America, Europe, Asia and Africa kick-off the mammoth Art Basel 2015 fair, featuring some of the world's most desired art, a lot is happening just down the street.
There are actually hundreds of significant and very serious art shows coinciding with the main event all across Miami.
On the official first day of the 2015 Art Basel in Miami, one venue stood out on North Miami's beach front in what appeared to be a decaying old motel trapped in Florida's rich retro past.
The show Artist-Run, which was held by Tiger Strikes Asteroid in partnership with The Satellite Show Miami Beach, and produced by Art Market Productions, took over the Ocean Terrace Hotel, which will cease to exist following Art Basel 2015.
Various artists from Europe and the US rented out all of the rooms and had their way with them, installing various art displays.
One room that stood out, and should not be missed, is the Stupid Bar, which is curated by Open Space, out of Baltimore.
Upon entering the roaring, wasted-Wonkaesque bar/art installation one may see various drag queens chatting in corners, an unusable stripper pole, young people screeching the lyrics to various 90's tunes while wearing nothing but animal print bikini bottoms.
"The show is a play on bar culture of Baltimore and New Orleans and using the slightly familiar to showcase the absurd" said Brendan Sullivan, co-founder of Open Space and one of the curators of Stupid Bar.
The bar features a trapdoor that tilts the entire bar table, causing patrons' drinks to spill off the table, an unusable bathroom, peep holes, and ongoing secret performances by actors throughout the bar. To add to the absurdity, the only beverages offered are unlabeled beers and cocktails - so literally no one knows what they are drinking.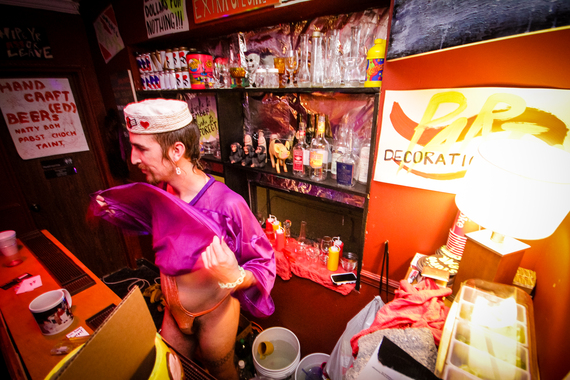 "Drink specials also include paying to watch people hook-up via a peephole in the bathroom to smashing bottles on the head of the bartender," Sullivan said.
The Artist-Run show in North Miami Beach at the Ocean Terrace Hotel, should not be missed. It's open from 12PM-9PM Wednesday through Saturday and 12PM-6PM on Sunday.
The Ocean Terrace Hotel and the various galleries within can be found on 7410 Ocean Terrace in North Miami Beach, Fla.
Popular in the Community