The overlap may seem like unusual timing, on multiple accounts. Much of the art world has opted to participate in the J20 Art Strike, which encourages museums, galleries and other cultural institutions to refrain from conducting business as usual in an effort to resist the normalization of Trump's rhetoric and ideas.
However, many other art establishments are choosing to stay open, providing free or discounted admission and relevant programming in solidarity with the protests. In this vein, the OAF instituted "The Barack Obama Readings," inviting fair attendees to read aloud excerpts from Obama's iconic speeches throughout inauguration weekend. It's a fitting gesture for the current political climate, though perhaps an unorthodox one for the venue, given the idea that outsider art is made by artists who are somehow removed from the traditional structures of everyday life ― i.e., politics.
In theory, outsider artists create work that is unmediated by the trappings of contemporary life, including cultural or political trends. The work, then, probes deeper, revealing what the mind looks like when it's left alone, when internal visions run rampant like overgrown weeds. The most famous outsiders have used creative practices to bring order to a chaotic mind, find an outlet for deviant fantasies, or forge some connection to the world at large.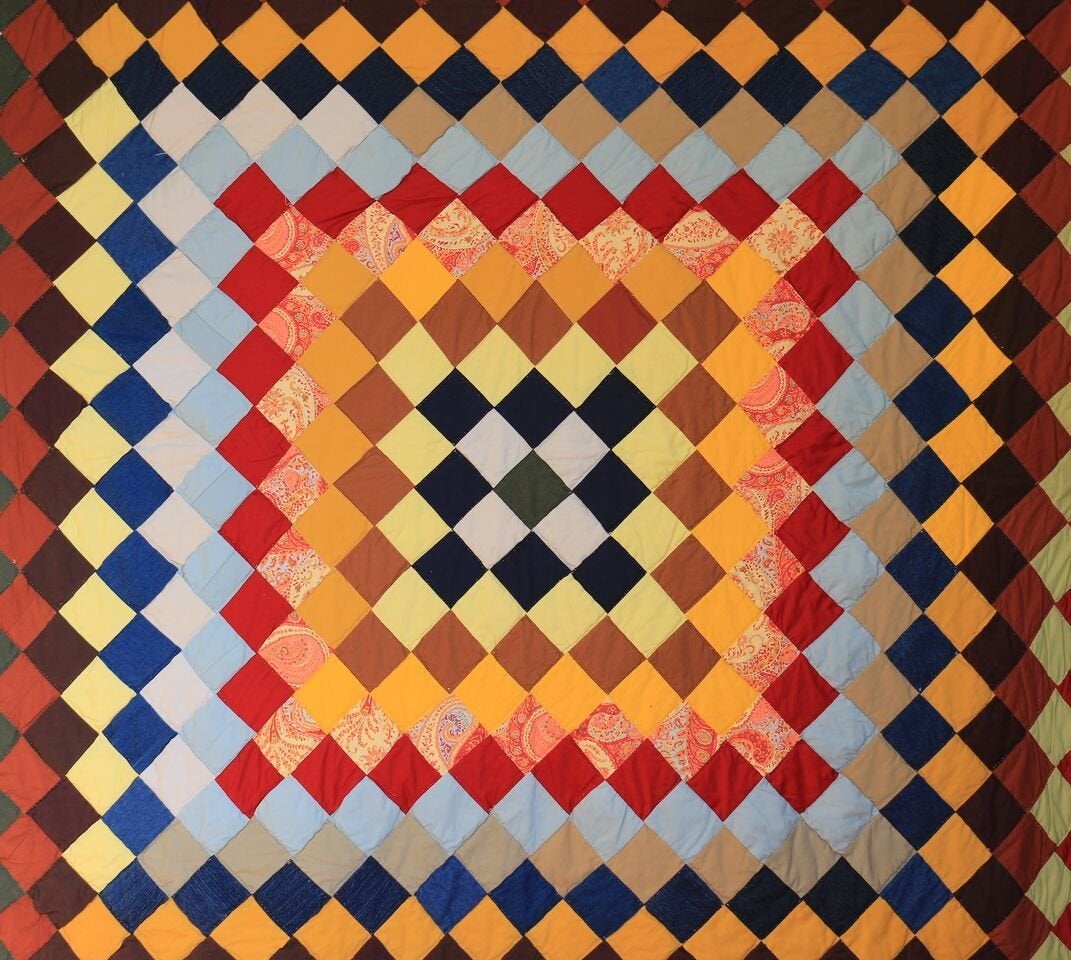 And yet, the 2017 OAF shows that this understanding of outsider art is, and has always been, incomplete. Just as it is impossible to exist fully outside the realm of cultural influence, it's unavoidable that politics would seep into the outsider art conversation.
This year's fair, for example, includes the curated booth "The Quilts of Gee's Bend," a collection of quilts handmade by the women of a small Alabama town called Gee's Bend, all of which date from the early 20th century to present day.
The tradition of quilting in Gee's Bend has origins in the 1800s, when the region was a cotton plantation owned by Joseph Gee. The female slaves on the premises made blankets that would keep their children warm in the unheated shacks they inhabited. The tradition was passed on from one generation to the next, with many of the most well-archived quilters making work during the civil rights era, including Annie Mae Young, Loretta Pettway, and Lucy Mingo.
In an interview with The Smithsonian, Young, who was imprisoned for attempting to march for racial equality in Alabama in the 1960s, recalled a time when the ferry connecting Gee's Bend to Camden was disconnected, denying citizens ― mostly descendants of slaves ― of the means to register to vote. For Young and the quilters of Gee's Bend, physical isolation, a common characterization of outsider work, was directly tied to racial discrimination and political oppression. These women illustrate so clearly that making apolitical art can be a privilege, one that marginalized artists often responsible for outsider work are not privy to.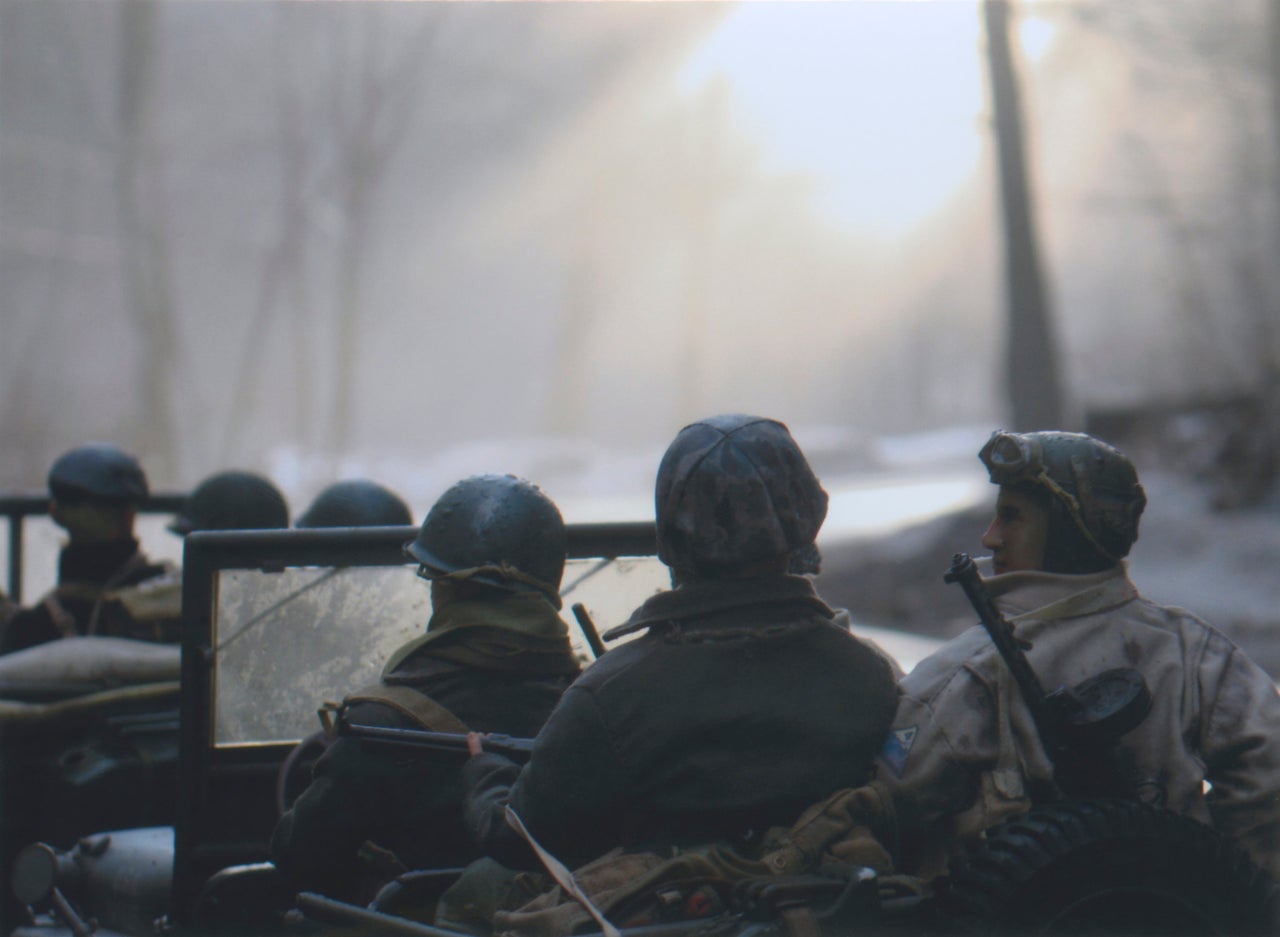 Another artist featured in this year's OAF is Mark Hogancamp, an artist who builds and then photographs an incredibly lifelike miniature world born of his imagination. Hogancamp's practice began after he was nearly beaten to death by five men outside of a bar in 2000, after he divulged his passion for dressing up in women's shoes. Lost in a coma for nine days, Hogancamp awoke with no memories of his former life.
After relearning to walk and speak, Hogancamp forged a new life with Marwencol, a fictional World War II-era town he built in his garden. He meticulously modified Barbies and other dolls; adding handmade military gear, making them properly scuffed up and bloodied. In Marwencol, they enact cinematic scenes that he memorializes in photographs. The artist is free to use this world to socialize, find love, and even seek revenge on his attackers (who take the form of Nazis).
"It surprises me when people react to a photo that I've taken, because they see some form of art and I don't," Hogancamp explained in an interview with The Huffington Post. "All I see in the photo is my struggle through life right now ― the rage and the hate, and the love and the compassion, all in one photo. And there are over 50,000 photos that I've taken, non-stop, for over 13 years."
"What makes Marwencol so universal, I think, is that there's a little bit of everything thrown into my story, emotionally," he continued.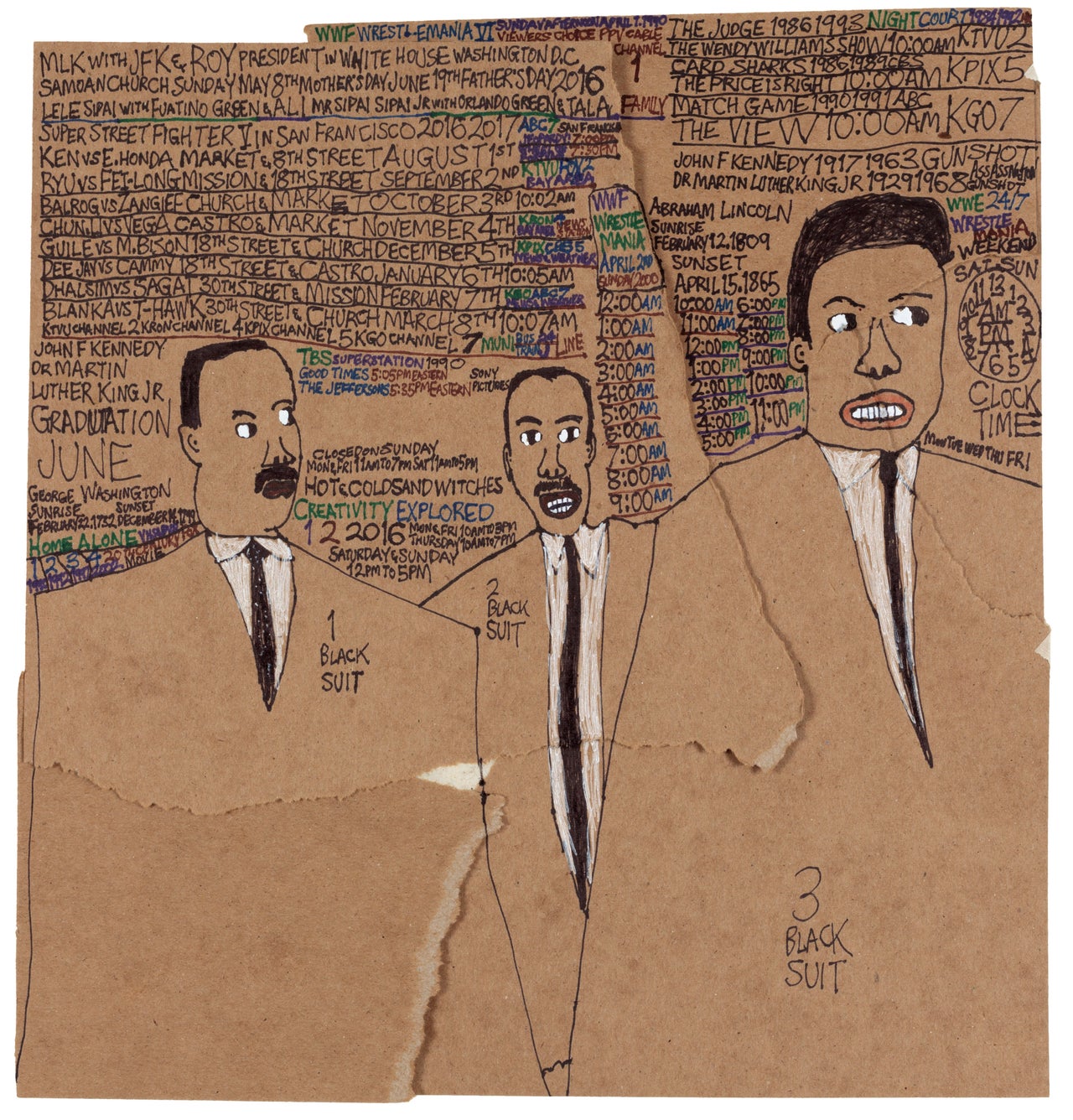 Other contemporary artists featured at the fair deal more blatantly with civic matters, creating portraits of iconic political figures. Artist Daniel Green, for example, made a marker-on-paper piece depicting Martin Luther King Jr. alongside John F. Kennedy and civil rights activist Roy Wilkins. The background teems with text that collapses time and subject matter, the words "Abraham Lincoln" existing alongside "Hot & cold sandwiches" and "The Price is Right."
Green, who was born in 1985, works at Creativity Explored, a San Francisco studio and gallery that serves adult artists living with developmental disabilities. His teacher Eric Larson, in an earlier interview with The Huffington Post, compared Green's style to William Burroughs' cut-up technique, using juxtaposition to allow unlikely connections to emerge.
He also addressed how Green often deals with aspects of contemporary life in his work, both in terms of its subject matter and form. "I think Daniel's work is actually very contemporary," he said. "You look at it and it captures the spirit of the times as far as multiple screens competing for your attention: video games, TV shows, computer screens. He naturally kind of represents that in his art."
Spaces like Creativity Explored exist all around country, providing individuals with disabilities a path to become professional working artists. Most of them, understandably, are uncomfortable with the term "outsider," and the way it further marginalizes a population of artists already facing barriers to the art world.
Not only do these studios challenge the distinction of their artists as "outsiders," they also call into question the themes traditionally associated with "outsider" work. In particular, not only are many artists working in these spaces familiar with mainstream culture, they're obsessed with it. Brooklyn's LAND Gallery, for example, features artists whose work compulsively depicts iconic cultural figures including The Kardashians, Beyonce, Miss Piggy, and the candidates of the 2016 presidential election.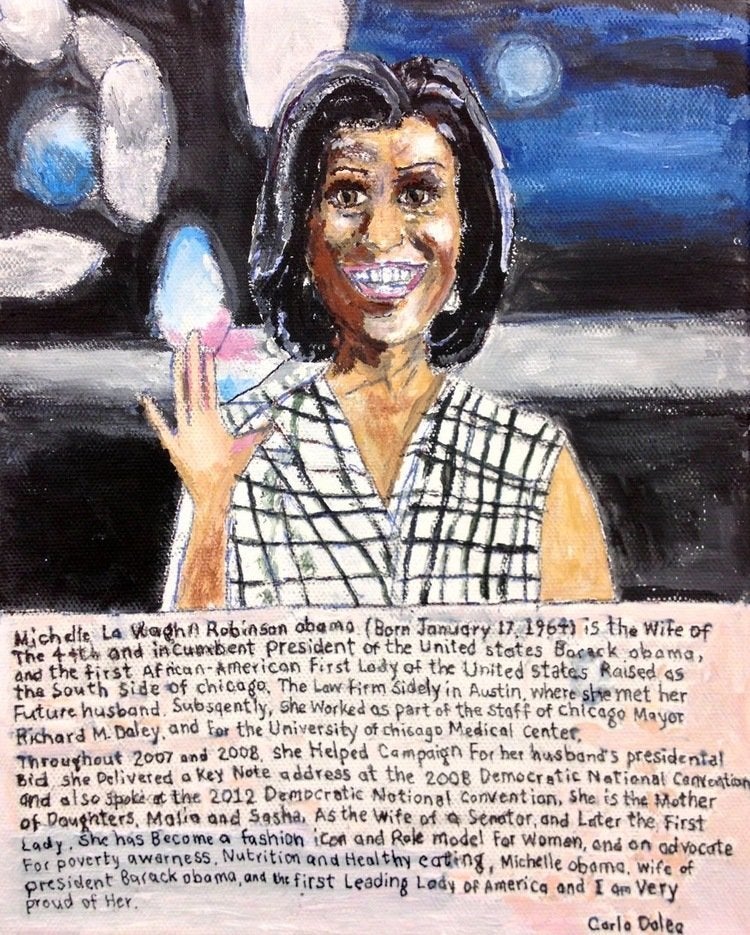 Another such studio, YAI Arts, currently has its artists' work on view at New York's Museum of Modern Art, in the exhibition "Dear Mr. President." Under the guidance of teaching artist Rebecca Goyette, the YAI artists made drawings and paintings that address the 2016 presidential election, including portraits of Barack and Michelle Obama, Hillary Clinton, and Donald Trump. Accompanying their images, the artists also addressed handwritten letters to the former and incoming presidents.
The political perspectives of the YAI artists were all unabashedly on view. One letter by an artist named Jimmy Tucker, addressed to President Obama, read: "In 2008 when you ran for the President seat and won I felt a sense of accomplishment and overwhelming joy because seeing the first African American president at such a young age made me feel that if you can be the first African American President then I have no excuse to follow my dreams and achieve the things I want in life. I honestly think you winning was bigger then Christmas."
Another, by an artist named Jennifer Quinones, calls out Trump in a scathing note accompanied by a stunning drawing of the Hindu goddess Kali holding up the president's bleeding head. "I am a person who is disabled and I have friends who are also disabled. Don't ever talk or mock about people who have disabilities! P.S. If you want to make America so great please show every single race some respect!"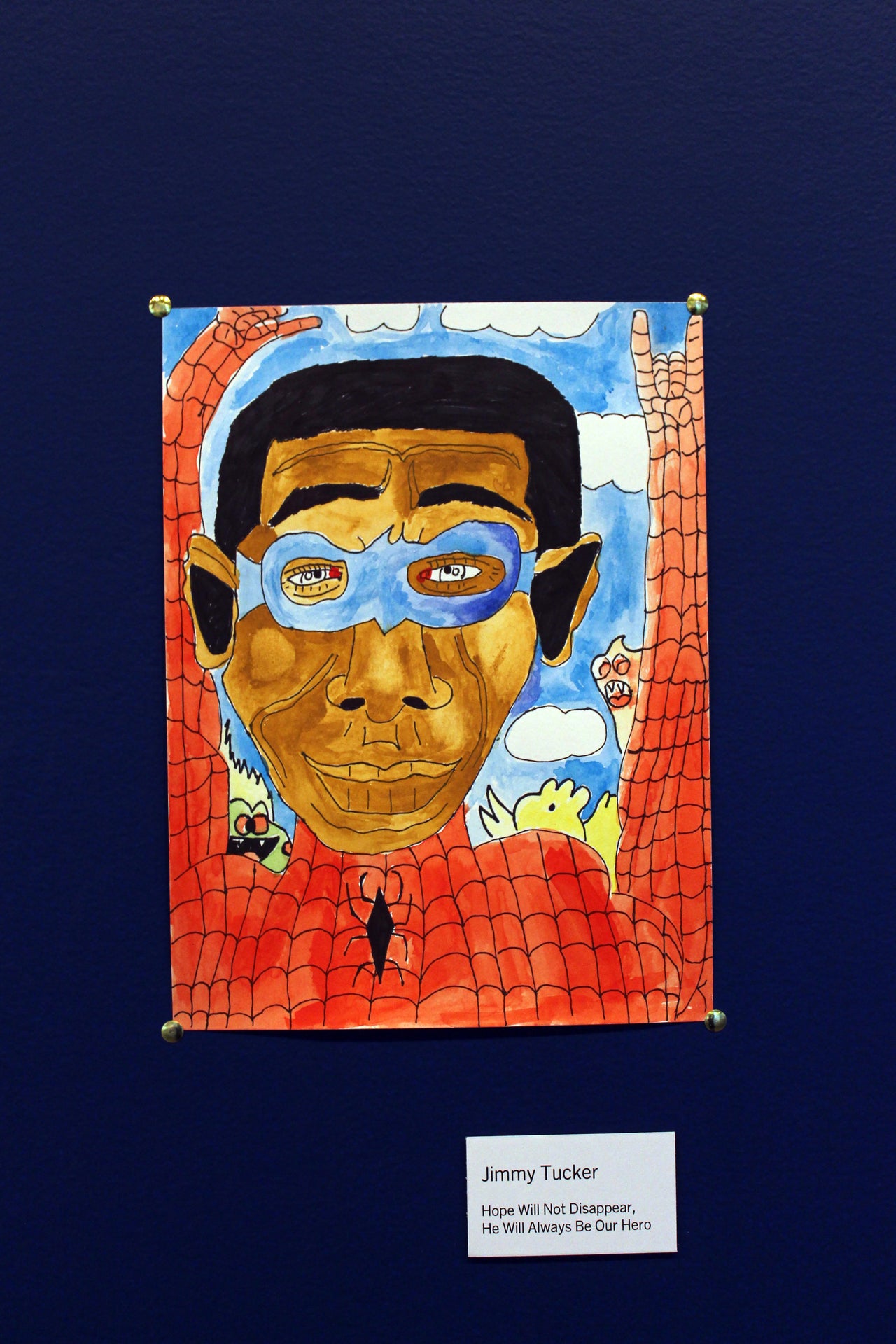 Quinones' note is pointed. In the past, respect and concern for individuals with disabilities has been a bipartisan issue. Yet Trump's actions have not so tacitly endorsed an unprecedented level of disregard for an extremely vulnerable community. Given the large percentage of outsider artwork made by individuals living with disabilities, it's not so surprising that the OAF has become another venue for challenging bigotry and bullying.
Outsider art has long amplified voices that are often ignored. Although the genre is known for producing work that is disconnected from society's greater concerns, the art made at studios like YAI and Creativity Explored shows just how false that assumption is today. At the same time, artists like the women of Gee's Bend show just how false the assumption has always been.
Politics isn't just a matter of who is running for office. For many, politics is something infused in their flesh and blood, their sexual desires, their ability to work and exist in the world. For many outsider artists, being bound up with politics is a given, not a choice. Making art for art's sake is a luxury they do not have.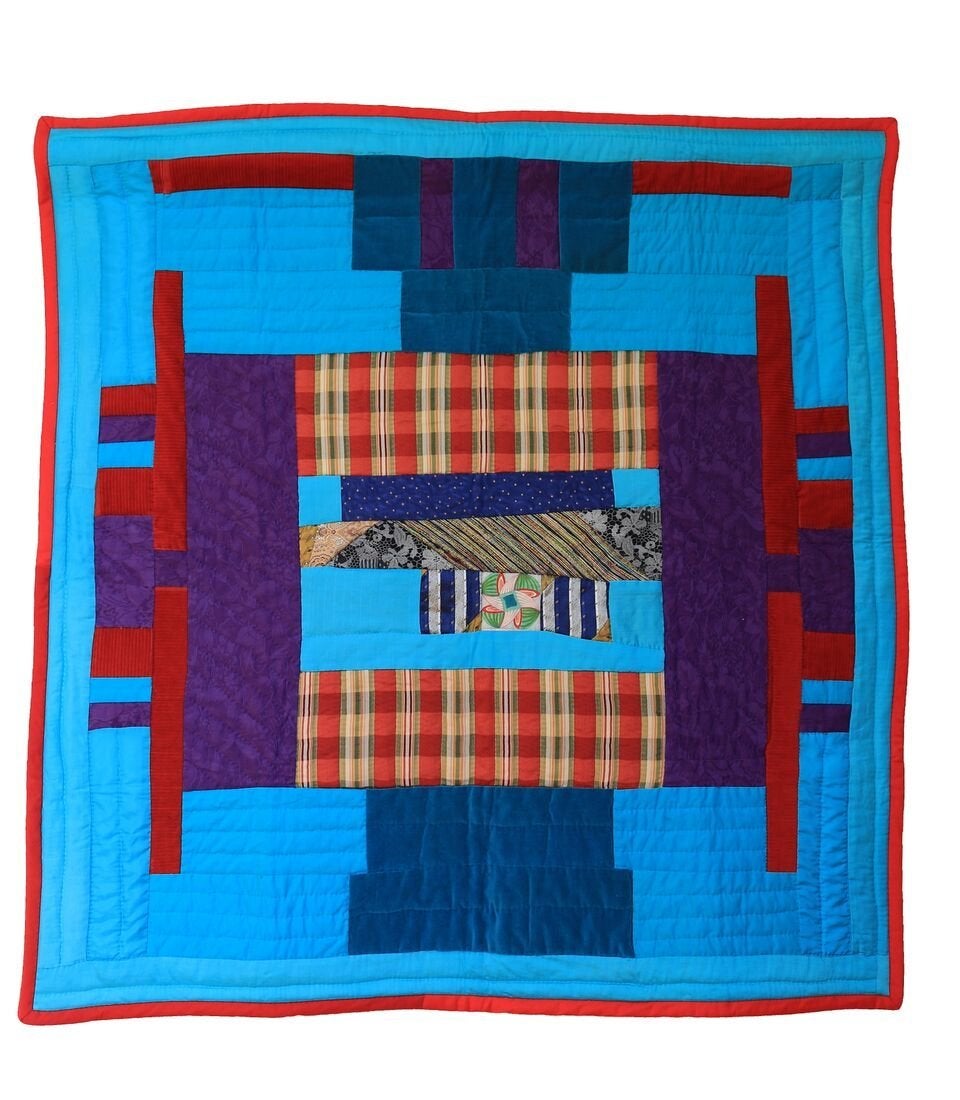 Before You Go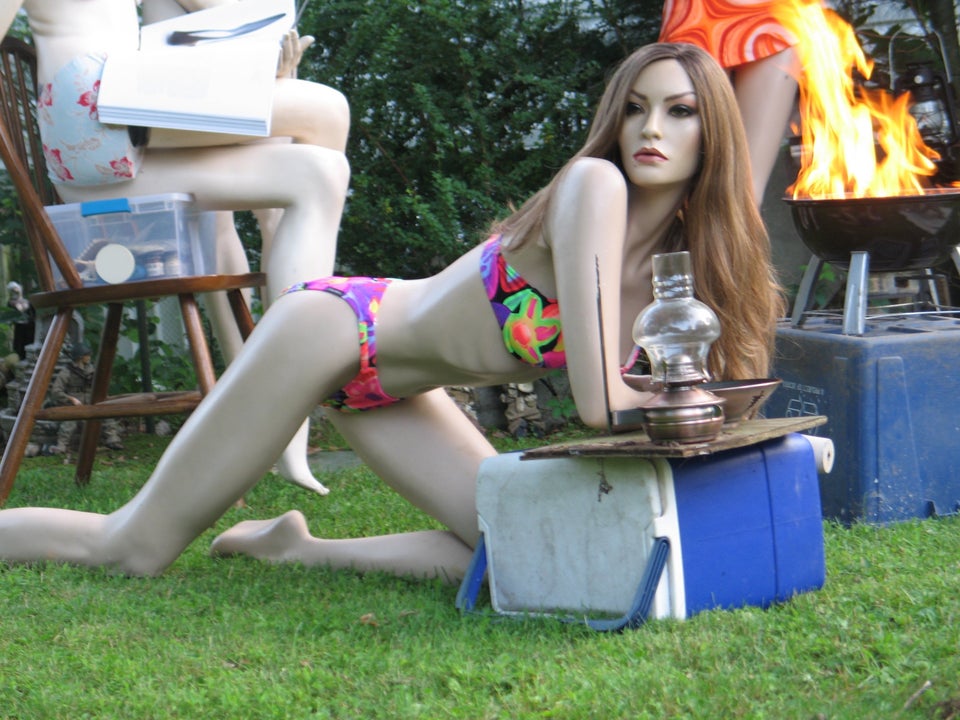 Outsider Art Fair 2016
Popular in the Community