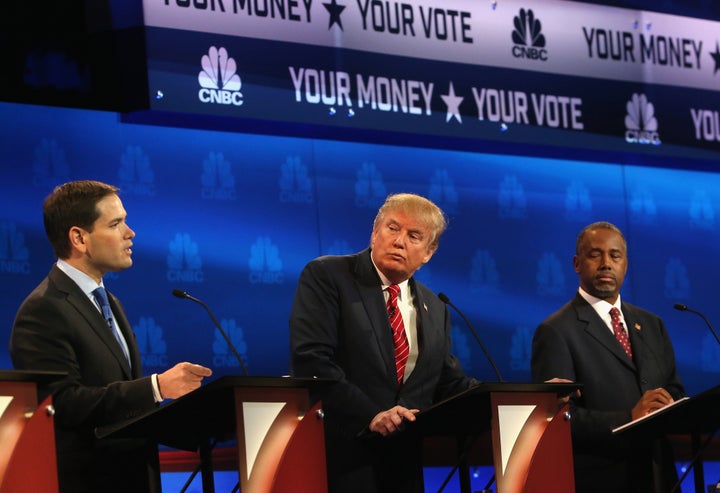 BOULDER, Colo. -- Since early summer in the 2016 Republican presidential primary, insurgent candidates with little to no experience in government have dominated the polls and the conversation. On Wednesday, at the third GOP presidential debate on the economy in Boulder, Colorado, outsiders Ben Carson and Donald Trump took a back seat to establishment favorites who demonstrated why polish and experience matter in the race for the White House.
Carson and Trump, the two front-runners, hardly seemed to be present. Trump went long periods without speaking. Carson struggled to explain his association with a controversial nutritional supplement company and squabbled with the moderators. Both candidates complained about the questions and accused CNBC, a business news network, of operating under a liberal bias.
"I don't mind tough questions, but it just shows there's such a big difference," Carson said of this month's Democratic presidential debate, following the GOP event.
Trump said he thought he did "fine." But he, too, grumbled about the moderators.
"It was much tougher than Hillary's questions," the businessman told reporters after the debate, referring to inquiries put to former Secretary of State Hillary Clinton.
The establishment-friendly candidates of the GOP were only happy to pile on.
An angry and animated Ohio Gov. John Kasich, who has struggled to find traction outside of New Hampshire, took the lead by unleashing a tirade against the "fantasy" tax proposals pushed by both Trump and Carson.
"These plans would put us trillions and trillions of dollars in debt. ... Folks, we have got to wake up. We cannot elect somebody that doesn't know how to do the job," Kasich said. By the end of the debate, Kasich had managed to elbow his way into the conversation for a large chunk of precious speaking time.
New Jersey Gov. Chris Christie wasn't as present. But, like in the last GOP debate in Cleveland, Ohio, Christie managed to appear like the adult in the room by bashing the CNBC moderators for bringing up allegations of misconduct in daily fantasy sports websites.
"Carl, are we really talking about getting the government involved in fantasy football?" Christie asked a moderator. "Wait a second. We have $19 trillion in debt. We have people out of work. We have ISIS and al Qaeda attacking us. And we're talking about fantasy football!"
"Enough on fantasy football! Let people play! Who cares!" he added, as the audience erupted in cheers.
Perhaps the best performance came from Sen. Marco Rubio (R-Fla.), who showed once more why Democrats ought to be nervous about his candidacy. And his standout moment came at the expense of former Florida Gov. Jeb Bush, who was under the highest pressure to put on a breakout performance in hopes of reviving his struggling campaign. Unfortunately for Bush, who in recent days has trimmed payroll and cut staff, he swung and missed.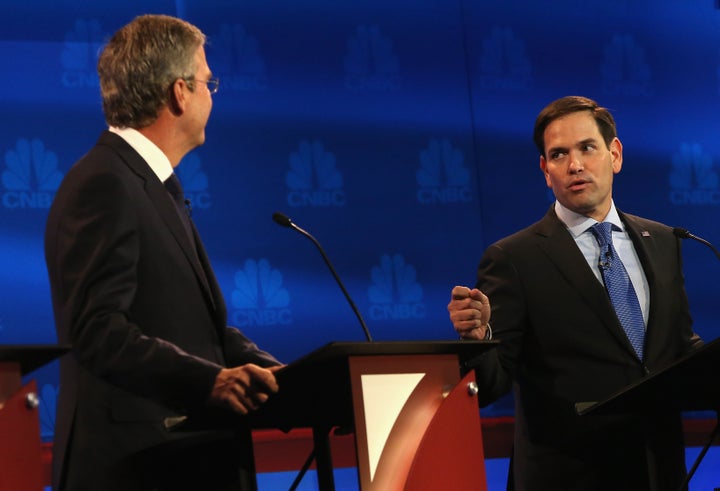 That's not to say Bush came unprepared, or that he bombed. But his performance won't be enough to stanch the flow of blood, or calm worried donors who are keeping his campaign alive.
For weeks, Bush and his campaign had telegraphed a coming attack on Rubio, his young protoge -- considered one of the front-runners for the GOP nomination -- for his missed votes in the Senate. On Wednesday, Bush finally got a chance to confront Rubio in front of millions of voters in an exchange that will be remembered as a seminal moment in the race.
"This was a six-year term and you should be showing up to work," Bush told Rubio, who stood immediately to his side. "The Senate, what is it like a French work week?" he asked, mocking Rubio for not showing up to the lax three-day work week in the Senate. "Or just resign."
It was a well-practiced, but predictable swipe. Rubio parried easily, and shut Bush down in the process. He quickly noted other candidates who ran for the White House had missed votes like he had, including Barack Obama and Sen. John McCain (R-Ariz.).
"I don't remember you ever complaining about John McCain's voting record. Someone has convinced you that attacking me is going to help you," Rubio said, with a hint of sadness in his voice.
Sen. Rand Paul (R-Ky.), who has vowed to "defeat the Washington machine," was barely an afterthought on Wednesday night. He struggled to edge out speaking time, showing once more why he belongs in the undercard debate, along with other candidates polling at the bottom of the pack.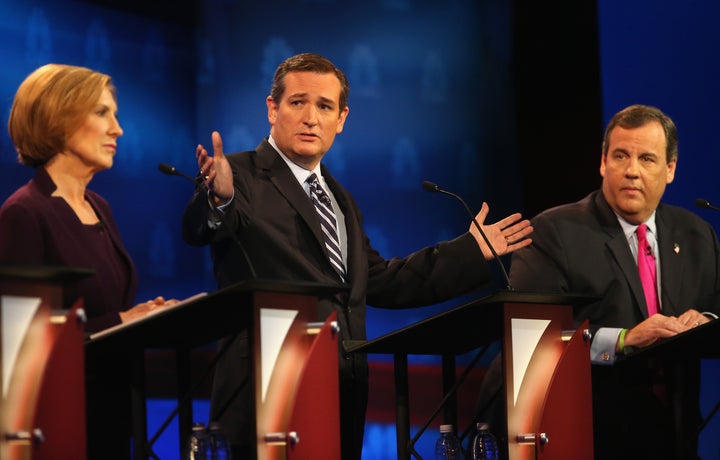 Former Hewlett Packard CEO Carly Fiorina and Sen. Ted Cruz (R-Texas) put up the most fight among the anti-establishment crop of candidates. Fiorina was solid and as confident as she was in the last two debates, but she didn't have the clear standout moment she needed to resuscitate her flagging campaign.
Cruz, on the other hand, proved why he could potentially pose the biggest challenge to an establishment favorite like Rubio. The Texas conservative ably riled the crowd with multiple digs against the media, at one point even offering critical questioners some "famous Colorado brownies."
"How about talking about the substantive issues? Nobody believes the moderator will vote in the Republican primary. It shouldn't be about tearing into each other," Cruz said, eliciting a thunderous round of applause.
Perhaps as a sign of how haphazard the event turned out, Republican National Committee Chairman Reince Priebus issued a statement immediately following the debate slamming CNBC. He said the network "should be ashamed of how this debate was handled."
"While I was proud of our candidates and the way they handled tonight's debate, the performance by the CNBC moderators was extremely disappointing and did a disservice to their network, our candidates, and voters," Priebus added. "Our diverse field of talented and exceptionally qualified candidates did their best to share ideas for how to reinvigorate the economy and put Americans back to work despite deeply unfortunate questioning from CNBC."
For the latest updates on tonight's debate, visit our liveblog.
PHOTO GALLERY
Moments From The CNBC Republican Debate
REAL LIFE. REAL NEWS. REAL VOICES.
Help us tell more of the stories that matter from voices that too often remain unheard.