I have been enamored with Outstanding in the Field's dinners since the first photograph I saw of one of their 200-person-long outdoor dining tables. Breathtaking, right? And the more I learned about these dinners, the more I knew I had (no, not just wanted) to attend one myself. Fresh food, a truly farm-to-table experience, sustainable eating and sharing a meal with a ton of new food-loving friends? Sign me up.
Founded in 1999 in Santa Cruz (the first dinner was hosted at Andy Griffin's Mariquita Farm), Outstanding in the Field hosts outdoor, farm-to-table dinners at some of the most scenic settings across the country. In the words of founder Jim Denevan, the idea was born from a desire to create a "feast in celebration of the farmer and the gifts of the land." He hoped to create an environment that inspired conversation about "food, community and the meaning of place" both within the confines of the dinner table as well as beyond it.
Fifteen years later, Denevan's vision has come alive and has undeniably been a success. OITF has achieved a balance between their grassroots integrity and increasing popularity; a majority of the 2014 dinners have already sold out -- some within 24 or 48 hours of opening. But if you're lucky enough to snag a spot at one of the Outstanding in the Field dinners, you'll find out why they're so highly sought after. I was finally able to attend a dinner at Temecula's Crows Pass Farm, and I genuinely can say it was one of the most memorable dining experiences of my life.
The place: Crows Pass farm is nestled between the miles of vineyards that make up Temecula's wine country. Named after the crows that skip over the farm and head for the grapes, the family-owned grounds have been in business for 24 years. Their most fruitful (and profitable) crops include cherry tomatoes, apples, and Temecula honey onions. The vast majority of their produce goes directly to restaurants, so this dinner was an especially rare opportunity to catch the produce before it even leaves the farm. The farm itself was nothing short of picturesque, with sprawling fields, rows of orchards and gardens, and views for miles. I'll admit my first time on a real farm had my reconsidering the city life I know and love... albeit momentarily.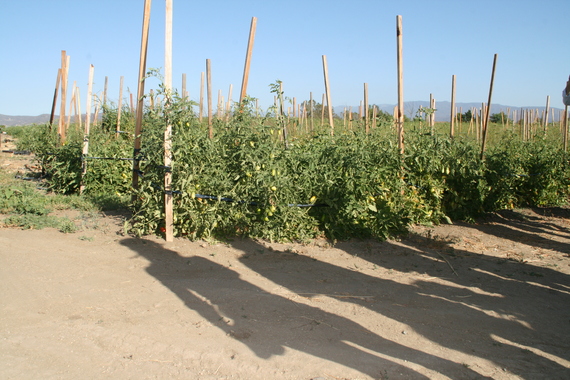 The people: While I admittedly had high expectations for the food, I was completely unsure of what to expect from my fellow diners. A group of over 100, it was undeniably a mixed batch: older, younger, professional, rustic (and by that I mean cowboy-esque) and everything in between. But there was one thing that every single person I bet had in common: a deep, overwhelming and often life-affirming love of food and wine. And as it turns out, these food enthusiasts and aficionados were some of the most interesting I've ever met. Just a small sample of the attendees included:
- A female diplomat, who recently returned from Trinidad and Tobago.
- A producer/director of theater that focuses on plays written by and/or about women.
- A stand-in on Grey's Anatomy.
- A sommelier-in-training.
- A PR representative for GoPro (who yes, brought a GoPro to the dinner -- if you see this, please send me some footage!).
One of my favorite people from the night was an older Irish woman who studied math at Boston College in the 1960s. She talked about how hard she had to fight for a job that wasn't a math teacher, and told me how lucky I was to have the opportunities I do. Have I mentioned how badass these people were and how completely in love with them I fell?
The food: From the goat-cheese-cherry-tomato-honey crostini to the peach s'mores and everything in between, there was not a single thing on this menu that wasn't phenomenal. Chef Billy Deaver from the Ace Hotel & Swim Club was responsible for the cuisine, and I've never had a meal that tasted quite as fresh as this one. The term 'farm-to-table' is thrown out a lot these days, but there is something truly special about eating food on top of the grounds from which it was grown. Highlights of the meal included: whipped honey butter; grilled fig & Temecula honey batard with goat cheese and San Marzano tomatoes; California white bass with kaniwa, grilled squash, radish and dandelion greens; San Marzano tomato sauce; peach s'mores and more.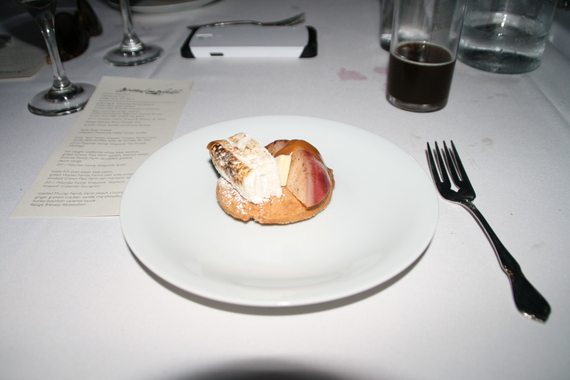 The beverages: One of the coolest things about OITF dinners is that they are a collaborative effort: the chef, the farm, the company, the hosts, and the beer/wine providers all contribute to making the night a truly local experience. For the dinner I attended, Refuge Brewery supplied the beer and Palumbo Family Vineyards headed up the pairings. Both are local to Temecula and both did a superb job at keeping us well intoxicated over the course of the five-hour event. Come to think of it, maybe that's why I made so many friends...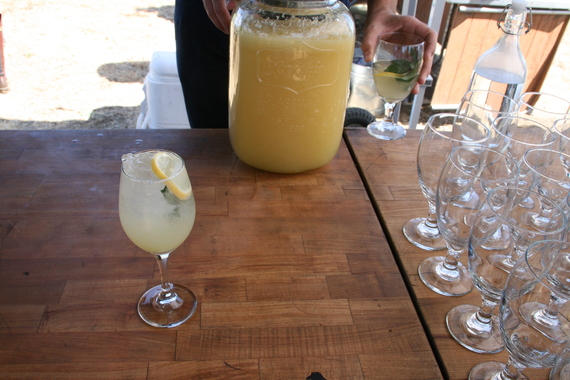 My personal favorite selection was actually the beer pairing accompanying the peach s'mores dessert -- the Refuge Brewery Mystourbon. A dark, deep brew with cocoa, caramel and maple undertones, this beer felt like a dessert in and of itself. But alas, I of course ate the s'mores as well.
All in all, it was a night I will absolutely not forget -- and one I am hoping to have the opportunity to repeat.
For the full set of photos, see the slideshow below.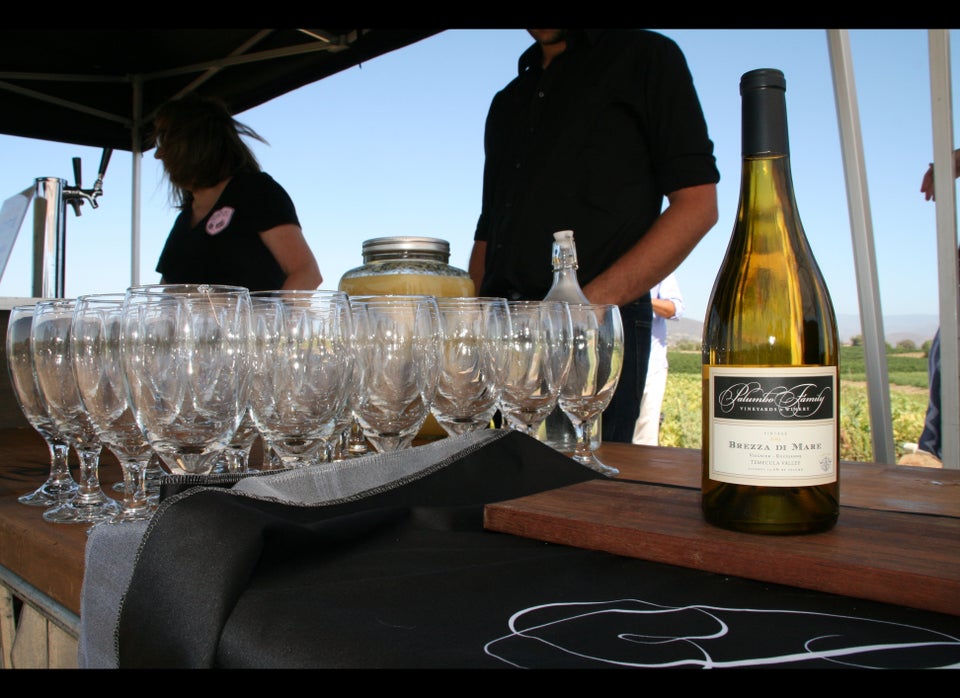 Outstanding in the Field