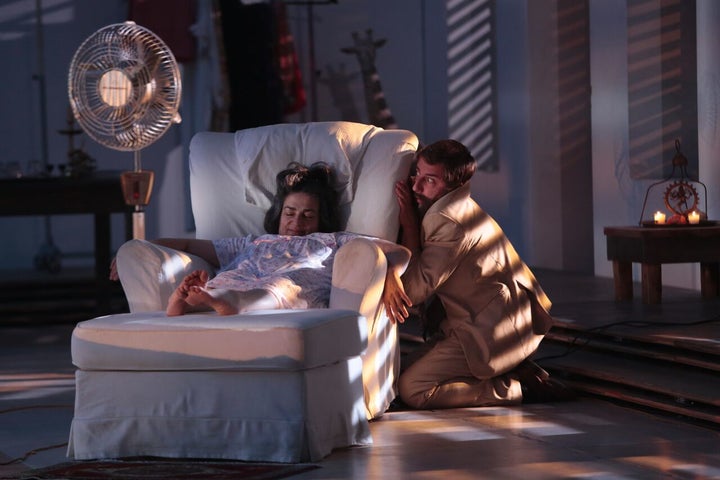 The Park Avenue Armory is currently presenting the work of sublime theatre collective Théâtre du Soleil. I am only sorry that I have never seen this miraculous ensemble of virtuoso performers before. Their genius director, Ariane Mnouchkine is unequaled in her visionary take on our current historic cyclone. Realized through multiple dreams after intermittent phone calls that wake (could it be?) her doppelganger up in the middle night; each unexpected dream alerts her to the subconscious reality of her fears disturbing her sleep in "A Room in India". This is in many ways a response to the awfulness that took place in the Paris attack of 2015 where 130 people were murdered and in so many ways the piece is a reflection developed through the international members of her posse from 17 different countries, who, by the way, she asked to think about what it would be like if the theater company staying in a former French colonial town in India, found out that its director, appropriately called Lear, has lost his mind and left the ensemble to accomplish the goals of their residency without him, leaving it in the hands of the administrator for the company? The objective of the ensemble is to create a refreshing take on the Mahābhārata, one of the two major Sanskrit epics of ancient India.
It is the police who share the news of the downfall of the company director to hurly burly assistant Cornélia, played beautifully by (Hélène Cinque), who is charged with taking over and directing the ensemble. As one actor says "Why her? The least creative among us?" Having never done this before she is daunted by the task and so everyone from bumbling terrorists to Shakespeare and Chekov visits her dreams. Monkeys, bandits, Indian princesses arrest her in the night and we the audience are captivated by the extraordinary turns of fear, humor and imagination her sleeping mind takes, as she invents what she cannot in waking life.
This vivid, brilliant tour de force of nightmares materializing speak tomes, while our perspective is awakened to our very troubled world. Transgressive forces make our everyday landscape seem like we are in a dream, but it is all taking place in our waking lives. I have little criticism of this magnetic piece of art, except, cut it a bit! The sweetness of the apple begins to turn a little sour. One must know when to exit while the audience is spellbound by the freshness of enchantment, lest things become flat. It was however, a stupendous production laced with the abandon of vibrant imagery, outstanding storytelling, and performance. Bravo! Don't miss this boundless theatrical event at the Park Avenue Armory.
Related
Popular in the Community