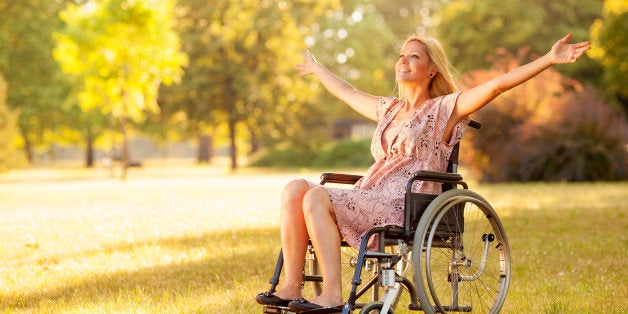 I walked into my living room and was shocked to see a chunk of black metal, on wheels, parked alongside my coffee table. The monstrosity, also called a wheelchair, was something my husband and I had talked about buying for me, but I thought he meant in the future. Some day. Down the road. Not now. I thought he understood I'd rather spend the money on something more practical, like the gold hoop earrings I'd had my eye on.
For some reason Mighty Marc had anticipated that his gift would generate squeals of joy from my lips. My lack of enthusiasm puzzled him. After all, it wasn't an ordinary wheelchair. It was battery-run and controlled with a joystick. He said it would bring me a modicum of independence, because he wouldn't have to push me, which sounded more like it would bring him some independence.
"I would have no problem using it if I needed it," he said. I know he meant it, but that's because he doesn't need it.
I ignored the wheelchair for weeks. I wanted nothing to do with it. It was a reminder that I am no longer an active, agile young woman accustomed to flitting hither and yon under my own steam. To acknowledge and accept it meant I was officially ancient and disabled.
Over the weeks, pain from arthritis and sciatica intensified, making it increasingly difficult to walk without the aid of something to lean on. A cane or a walker were fine for around the house, but my condition had exacerbated to such an extent that it interfered with my ability to enjoy certain activities, like shopping, and wandering through cruise ships, where I have been known to go missing for days as I walk from bow to stern to bow to stern, with no idea how to get where I'm going.
One Sunday, during the height of Christmas shopping season, my husband suggested it might be fun to go to the mall, and while he searched for a specific style shirt he wanted, I could test drive the chair, which was fully charged and waiting for me to hop on and ride.
I had a number of excellent responses for why his idea was a bad one: 1) I had no experience driving it. 2) I might accidentally kill someone. 3) I had no experience driving it. 4) I might accidentally kill someone.
My pleas fell on deaf ears. Literally. He had left his brand new hearing aid on the bed stand.
As predicted, the mall was mobbed. I can't remember ever feeling so stressed. The wheelchair had a sensitive joystick that overreacted to my every touch. It was like learning to drive in the center of Times Square, on New Years Eve. Trying to dodge people was impossible. I bumped into an elderly man pushing a walker. I separated a young couple holding hands. I made a toddler cry when I ran over her foot.
In The Gap, I rammed into the same wall four times trying to get around a pole that had no reason being there. A sales clerk who had been watching me make an idiot of myself pointed out that I had two flat front tires. Flat tires? Who puts inflatable tires on a wheelchair?But he was right. They were flat as flapjacks. As I stumbled along people felt obligated to point and tell me I had two flat tires. I smiled graciously and suggested that they'd be wise to get out of my way.
It appeared my husband's plan to shove me into the crowd to see if I was made of the right stuff had backfired. It reminded me of when my son, Andy, was 10 months old. We were in the Air Force and Sergeant Anthony had a fine reputation for teaching toddlers to swim. I stood at the edge of the pool with my precious bundle. "Please teach him to swim," I said. Sergeant Anthony lifted my pride and joy from my arms and, in one fell swoop, tossed him into the 10-foot deep pool. To this day, my screams are legendary throughout San Antonio and parts of Mexico.
Mighty Marc had had enough. He pointed to an exit and asked me to wait there while he walked back to get the car. Then he left me to plow my way through to the exit. Had I been on a bowling team, my score would have been a perfect 300.
Calling all HuffPost superfans!
Sign up for membership to become a founding member and help shape HuffPost's next chapter