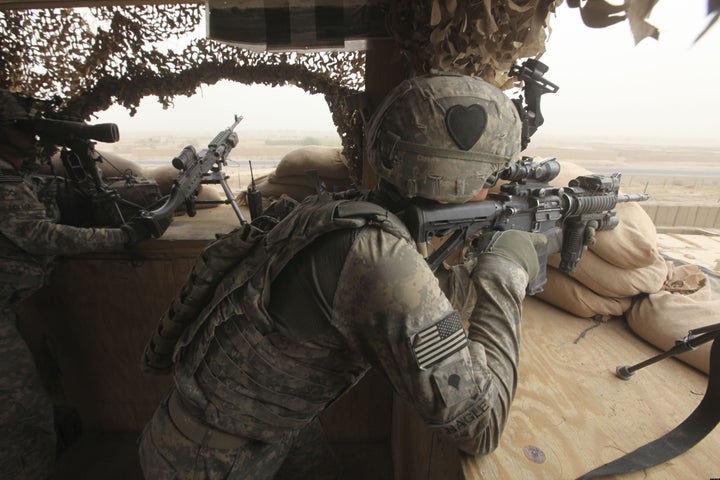 On August 31, 2010, President Obama declared the "end of our combat mission in Iraq." President Obama said, "Like all Americans, I am awed by [U.S. troops'] sacrifice, and by the sacrifices of their families."
What were those "sacrifices"?
As I reflect on my time as a Marine in Enduring Freedom and Iraqi Freedom, I cry small tears. Nine years ago I was in the same places the current fighting forces are at now.
I think about my good friend, Navy SEAL Jeff Taylor. We were in Operation Enduring Freedom together. We were first boots on the ground after 9/11. While deployed, we used to talk about the good life in the US. We used to discuss McDonald's, motorcycles, and, our favorite-hobby, skydiving. When we returned in 2002, we were glad to return safely, and we were proud of our work. However, Jeff's story did not end like mine.
Today, Jeff rests inside his coffin. He returned to Afghanistan in 2004, and he died in a helicopter crash in 2005.
God rest his soul, but I want to know how many more will die. How many more brave young people will go to war? How many more of my friends are going to pay the ultimate sacrifice? When will Washington, D.C., be satisfied with the lives lost propping up the corrupt government in Kabul?
Afghanistan President Karzai safely sits in Kabul, and President Obama sits ensconced in Washington. Do either of them really care about my friends? Obama and Karzai cooperate to send thousands of Americans to war, yet they never have to worry about the blood we shed or the scars in our heads. Presidents can send their children to Harvard, Yale, and Stanford while American security rests in the hands in ordinary people like my friends and me. We suffer from PTSD, sleepless nights, and bad memories. Meanwhile the president says, "Thanks, I have a new war for you to go to."
President Obama is moving ahead for more war in Afghanistan. He has a list of reasons why. He has said, "Afghanistan is vital to American security." I wonder, if the war were so necessary, would the President be willing to send his two daughters to Afghanistan? Likewise, if President Bush's daughters were in the military, would he have been so willing to send them to Iraq? No one can know the truth, but it is a needed and fair question for the Commander-in-Chief.
As a Combat Marine of Iraq and Afghanistan, I struggle with President Obama's tribute to us. I do not think he will ever know about our sacrifices unless his own children go to war. President Obama will probably never know about our nightmares and our post-war anxiety. President Obama and his family won't struggle with memories of American, British, or Iraqi blood that covered our fighting vehicles. President Obama will never know about our own moral crises and our moral injuries incurred during war. Most Presidents never will.
No one will know about our sacrifices except for those of us who have been in the trenches.
The president indicated he wants more war in Afghanistan, but his speech failed to really grapple with the national social for this war. Indeed, the most damaging costs to Americans at large are the social costs, yet President Obama said not a word about them.
More than 4,500 American soldiers are dead and 40,000 wounded because of the war.
The U.S. taxpayers paid more than a trillion dollars, with some estimates exceeding 3 trillion dollars.
Iran has grown in strength.
Jihadist terrorist attacks increased around the world seven-to-ten fold in the three years following the 2003 invasion.
At least 100,000 Iraqis killed. Some estimates into indicate there are millions dead.
4 million displaced Iraqi refugees.
Indeed, Iraq no longer carries extreme-sectarian violence, but still lacks a stable government. The most recent elections were stolen from the Iraqis. As the recent Afghanistan elections showed, governmental corruption is the norm in both locations.
Indeed, the "surge" did not produce what President Bush intended. Many "surge" proponents believed the US could perform counterinsurgency and build an Iraqi government, yet the mission is not accomplished. My prediction: The scariest events are yet to come.
President Obama is using the "surge" strategy of counterinsurgency to build Afghanistan. Like a Broadway musical, counterinsurgency is the Pentagon's sexy headlining act. The advertisement sounds good, but those of us who went to war know counterinsurgency is more war chatter that is counter-productive. Counterinsurgency needs another name, "Counterproductive, Expensive, Indeterminate, Nation-State-building Exercises."
When does the President call it "game over"?
All Americans need to wake up to the giant canard.
Presidents pay nothing for the wars, but the rest of Americans pay for all of it.
The wars are too expensive, too damaging to the warrior, and too costly for the families with dead children.