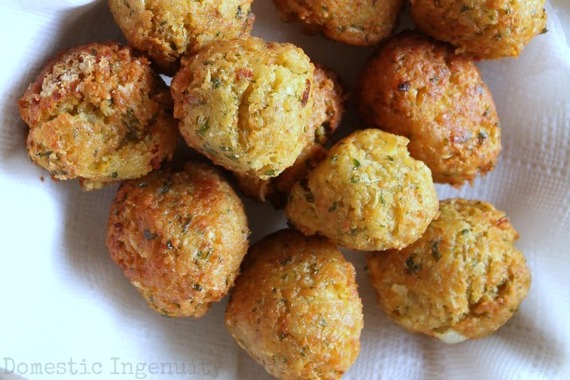 Last month as I was strolling through the local farmers' market I came across a booth with authentic Middle Eastern products. Tabbouleh, hummus, mutabbal, falafels, and kabebs were just a few of the delicious items adorning the shelves, but as soon as I saw the falafels I knew I had to pick some up. Of course they were absolutely amazing so the other week when I was craving them I decided to make my own. Since the main ingredient is chickpeas, they are very inexpensive to make and I love how dense and flavorful they are. I make mine and serve them over salads, in wraps, served with breakfast or simply just dipped in homemade tzatziki. I chose to oven bake mine but authentically they are deep-fried so it's all in your preference.
2 cups dry chickpeas
1 small onion, cut into quarters
1/4 cup chopped fresh parsley
1 Tbsp fresh cilantro
4 cloves garlic (optional: roast garlic first to make flavor more subtle)
1 1/2 Tbsp flour
1 3/4 tsp salt
2 tsp cumin
1 tsp ground coriander
1/4 tsp black pepper
1/4 tsp cayenne pepper
Pinch of ground cardamom
1. Place all the ingredients in a food processor and blend until a paste forms. Refrigerate for 1-2 hours for easier handling.
2. Roll into balls and place on parchment paper. Bake 10-15 minutes at 375. (Optional to deep fry)