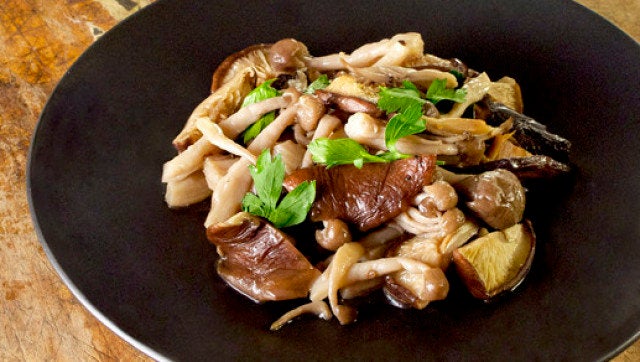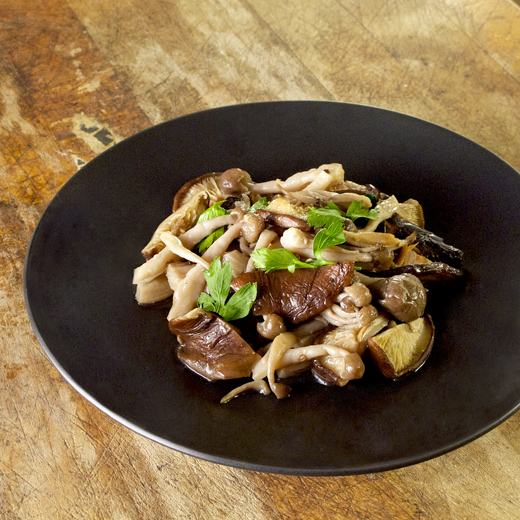 Wrapped in foil while cooking in butter and their own juices, oven baked mushrooms have a deep earthy flavor that's hard to resist. Sprinkling a little fresh parsley on top and adding a dash of soy makes this side dish delectable enough to stand on its own. This dish pairs extremely well with a basic fried rice or a piece of fish.
Oven Baked Mushrooms
Yield: 2 servings
Ingredients
1 lb mushrooms. My favorites for this recipe are bunashimeji, shiitake, enoki, and/or portobello
2 tbsp salted butter, cut in 1/2
dash of soy sauce
few leaves fresh parsley
salt and pepper to taste
Cooking Directions
Preheat oven to 350 degrees.
Wash and dry the mushrooms. For *dried shiitake mushrooms* read below. Use 2 sheets of aluminium foil (enough so you can fold the top) and lay them on top of one another (double layers). Put 2 tbsp butter and lay the mushrooms on top. Fold and close the foil wrap. Put in the oven and cook for about 15 minutes.
Sprinkle fresh parsley leaves and about 1 tsp soy sauce. Season with salt and pepper and serve while still hot.
* Dried Shiitake Mushrooms*
Soak them in a little water, just enough to barely cover them. Soaking them in too much water will take away a lot of their flavor. Let them soak for about 10 minutes. Squeeze excess water and save water to use in a mushroom risotto, spaghetti, soup, etc.