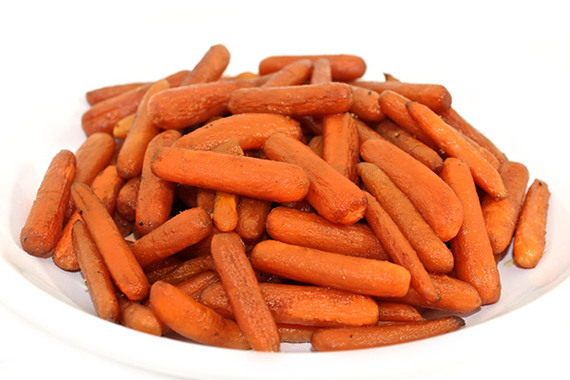 This carrot recipe is so good! The vinegar makes naturally sweet carrots, even sweeter. I love them so much, I've been making them several times a week. Each ¾ cup serving has just 57 calories, 2 grams of fat and 1 Weight Watchers POINTS PLUS. Such a simple and delicious vegetable dish to serve with any main course.
Prep Time: 5 minutes
Cook Time: 35 minutes
1 (16 ounce) bag baby carrots or 2 (8 ounce) bags
A little salt and pepper, to taste
1. Preheat oven to 425 degrees. Coat a baking pan with cooking spray.
2. Spread carrots out over the pan. Drizzle olive oil over them. Toss with hands to coat. Spread out again over pan. Sprinkle with a little salt and pepper.
3. Bake in oven until tender, about 20 minutes. Sprinkle balsamic vinegar over the carrots; shake the pan to coat evenly. Return to oven and bake until the liquid is absorbed, about 8 minutes. Serve hot.
Makes 6 servings. Each serving ¾ cup

Weight Watchers (old points) 1
Weight Watchers POINTS PLUS 1
SKINNY FACTS: for ¾ cup
57 calories, 2g fat, 0mg chol, 9g carb, 1g prot, 2g fiber, 110mg sod, 4g sugar