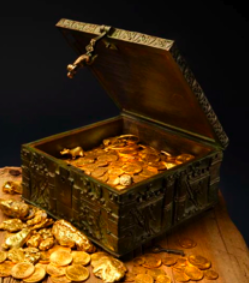 Photo Courtesy of Forrest Fenn
What's a mere $100,000 compared to a treasure trove well over $1 million? Remember when Canadian Club hid cases of whisky and consumers competed to win $100,000.?
Forget that. Forrest Fenn, a legendary 80-year-old Santa Fe art dealer and collector, has written a memoir in which he gives clues to finding a real treasure chest (worth well over $1 million) that Fenn has hidden in the mountains north of Santa Fe. The treasure includes gold coins, nuggets, pre-Columbian gold animal figures, a Spanish 17th century gold-and-emerald ring and an important bracelet with turquoise beads excavated in 1898 from Mesa Verde, which Fenn won much later playing pool.
"Lost treasure" books he read as a boy influenced Fenn, who has always loved mystery, intrigue and adventure. But the real reason he buried this treasure is because he developed cancer, and after a long bout of chemo and radiation, the doctors told him the cancer could come back. Fenn, worried the cancer would recur, said to himself, "If it comes back, I'm going to grab a pocketful of sleeping pills, take a treasure chest filled with treasure and a copy of my bio; and I'm going to walk out into the desert. Sometime they'll find my bones and the treasure, but my bio will be inside the box, so at least they'll know who I was."
The cancer remained in remission so Fenn, who said, "I just got tired of waiting," decided to go ahead and bury the treasure somewhere in the mountains north of Santa Fe. Fenn won't say how much the treasure is worth because the price of gold fluctuates. Some insiders have said it's worth much more than one million dollars.
The treasure has not yet been found. Says Fenn, "It's difficult so it won't be found right away, but it's easy enough so that it's not impossible to find it." Fenn chuckles and says, "I want sweaty bodies out there looking for my treasure -- they just have to find the clues." The clues can be found in Fenn's self-published memoir, The Thrill of the Chase, available only at Collected Works Bookstore in downtown Santa Fe ($35).
The book not only tells the story of Forrest Fenn's life, but offers clues to the treasure's location. Fenn is donating all the proceeds from The Thrill of the Chase (as well as a substantial private donation) to help cancer patients who can't afford their treatments.
Forrest Fenn, who flew more than 300 missions in Vietnam, retired from the Air Force in 1970 and created an art gallery in Santa Fe that he and his wife ran for 17 years. Fenn's friends and clients included everyone from Jackie Kennedy (who stayed in one of his guest houses) to Robert Redford and the Rockefellers. In 1988, Fenn retired from the art gallery and re-directed his energies toward excavating a large Indian pueblo and writing books about art and exploration. The Thrill of the Chase is his eighth book.
I emailed Forrest Fenn, who sent this poem, which he promises gives NINE clues:
As I have gone alone in there
And with my treasures bold,
I can keep my secret where,
And hint of riches new and old.

Begin it where warm waters halt
And take it in the canyon down,
Not far, but too far to walk.
Put in below the home of Brown.

From there it's no place for the meek,
The end is ever drawing nigh;
There'll be no paddle up your creek,
Just heavy loads and water high.

If you've been wise and found the blaze,
Look quickly down, your quest to cease,
But tarry scant with marvel gaze,
Just take the chest and go in peace.

So why is it that I must go
And leave my trove for all to seek?
The answers I already know,
I've done it tired and now I'm weak.

So hear me all and listen good,
Your effort will be worth the cold.
If you are brave and in the wood
I give you title to the gold.

If you happen to be in Santa Fe on February 26, Forest Fenn will be doing a book signing at Collected Works Bookstore and maybe you'll get some more clues. If not, when you do get to Santa Fe, and if you find the treasure, please let me know!
Related