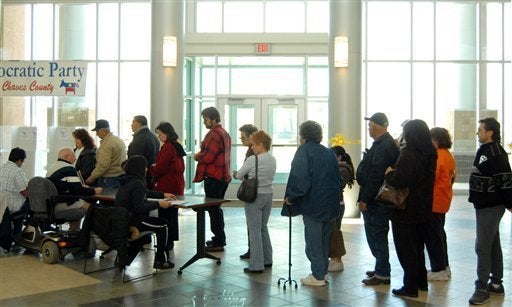 UPDATED at 7:30 P.M. on November 3:
Today, Barbara Anwine of the Election Protection Coalition (1-866-OUR-VOTE), a nonpartisan group, told MSNBC about voter suppression tactics they have witnessed around the country.
- Pittsburgh, Pennsylvania: Callers have reported receiving robocalls telling them that Election Day is November 5th.

- Ohio: Voters have been falsely told that they can send in absentee ballots as late as November 14th.

- North Carolina: Fliers were left on cars at a shopping mall instructing Republicans to vote on Tuesday, Nov. 4th (actual Election Day) and Democrats to vote on Wednesday Nov. 5th.

- Louisiana: People who moved out of their damaged homes after Hurricane Katrina are reporting confusion about their registration status and voting precinct.

- New Jersey: The state registration database is operating too slowly to update with the names of recent registrants.

- Maryland and Virginia: Voters report receiving calls from the purportedly from the Obama campaign with inaccurate polling place location.

- Indiana: Early voting centers are closing at noon and many people left standing in line have been sent away without getting to vote. Election law is unclear about this situation.

- Michigan: Many registered voters' names are not appearing on the state web site that verifies registration status. This also means that people can't find their polling location on the site.

- Kansas City, Missouri: Reports are coming in from voters at a largely African American polling location, who are being warned of a 6-8 hour wait to vote (despite the line being short) and forced to put their names on a list while in line to vote.
Popular in the Community