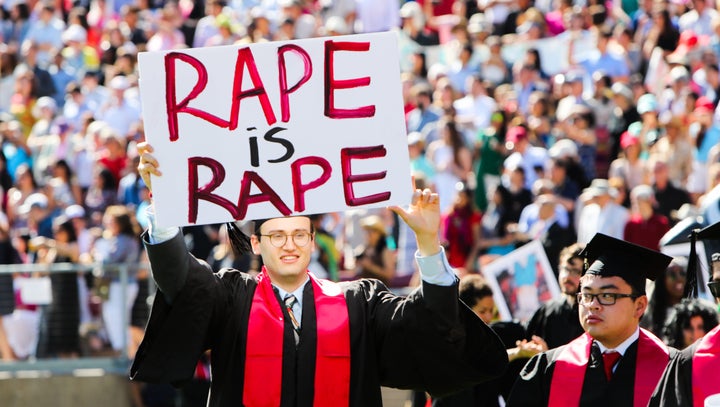 Early Friday morning, more than 90 national organizations published a letter to President Trump's administration demanding the federal government enforce Title IX.
Title IX is "a comprehensive federal law that prohibits discrimination on the basis of sex in any federally funded education program or activity," according to the United States Department of Justice. While Title IX is best known for demanding equal treatment of female and male student athletes, it also offers other important protections in areas including sexual harassment, sexual assault, and protections for trans and parenting students.
Addressed to U.S. Secretary of Education Betsy DeVos and Attorney General Jeff Sessions, the letter details specific requests including prevention programs for gender-based violence, implementing proper channels for survivors to get justice and protecting undocumented students from being targeted for their immigration status.
The letter was released on Friday which the group is calling a national day of action in support of Title IX. The campaign titled #CantTrumpOurTitleIX will be accompanied by rallies on over a dozen college campuses across the country.
"As students, faculty members, and advocates for survivors across the country, we strive each day to reduce instances of gender-based violence, yet the number of students who experience violence is still too high," the letter begins. "Because it is our collective responsibility to work toward creating communities that will support survivors of violence, we urge you to strongly enforce Title IX."
The number of undergraduate college students who experience gender-based violence is astonishing: An estimated 24 percent of trans students, 23 percent of female students and 5.4 percent of male students report being sexually assaulted on campuses across the country.
Emily Dunlap, a University of Kentucky student and organizer for the school's Feminist Alliance, explained to The Huffington Post why her university's Feminist Alliance program co-signed the letter.
"We want all survivors of sexual assault to feel comfortable and be protected when reporting to the proper authorities," Dunlap said. "We want to make sure survivors receive proper accommodations, both medical and educational, and do not feel punished in any way for coming forward; we want no report to go without an investigation."
"We want to make sure survivors do not feel punished in any way for coming forward."
Most of the organizations that co-signed the letter are feminist groups and/or anti-sexual violence programs on college campuses. Colleges and universities on the list include Columbia University, Duke University, Notre Dame, Louisiana State University, George Washington University, University of Pennsylvania, University of Kentucky and many more. Other national organizations outside of colleges include Trans Youth Equality Foundation, Safehouse Progressive Alliance for Nonviolence and One Billion Rising.
"No student should experience gender-based violence, nor should schools ignore threats to a student's safety or ability to learn," the letter reads. "We will not rest until the rights and protections of all students, especially survivors of gender-based violence, are guaranteed."
The demands included in the letter are particularly relevant now, as the Trump administration has begun to roll back protections originally included in Title IX.
In February, Trump announced that his administration will no longer bar schools from discriminating against trans students in K-12 schools and college campuses across the country. The level of Immigration and Customs Enforcement (ICE) arrests in the past few weeks has also been unprecedented, with law enforcement detaining multiple undocumented college students in February. Just last week, a second year student at Columbia University sued the school for violating her rights under Title IX.
Sarah Gutman, a Harvard Law student and member of the graduate program's Harassment & Assault Law-Student Team, told HuffPost she hopes DeVos takes note of their demands.
"We hope the administration, and Secretary of Education Betsy DeVos in particular, realizes the fundamental importance of Title IX and its promise," Gutman said. "Every student deserves equal access to education and that can only happen through the enforcement of Title IX."
Brandee Blocker, an organizer for No Red Tape and third-year law student at Columbia, told HuffPost she became involved in the anti-sexual violence organization after Columbia allegedly mishandled her sexual assault case in April 2015.
When she joined No Red Tape in October 2015, Blocker says she felt empowered to call out the very systems that failed to bring her attacker to justice. Now, she's leading the charge to demand that Title IX ― and all of its protections ― stay intact.
"When universities fail to protect and adequately respond to these crimes, the impact reverberates beyond the incidents of sexual violence themselves."
"When universities fail to protect and adequately respond to these crimes, the impact reverberates beyond the incidents of sexual violence themselves, into students' academic, economic, emotional, and physical lives and wellbeing," Blocker told HuffPost.
Blocker said she hopes the Trump administration is listening and acknowledges the 90-plus organizations demanding that Title IX be enforced.
"By asserting the right to be free of gender-based discrimination and harassment early on," she said, "college students are in the best position to create and promote a future world and culture, where sexual violence is not tolerated."
Read the full letter and list of demands here.
Popular in the Community