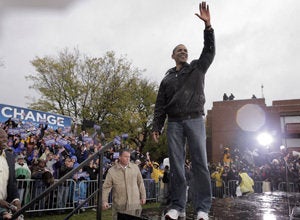 Requiring tickets for the election night rally serves an important purpose beyond crowd control, Lynn Sweet notes:
The Obama campaign [...] is using the event to collect names and contact data to be used for future voter contact, fund-raising and political or issue organizing. That will let Obama, win or lose the White House next week, build on what are already the most valuable political lists in the nation to use to help his causes and candidates.

One of the ways the Obama campaign has built its mailing lists for its relentless voter contact efforts is through requiring tickets for events, with i.d. information needed to get a ticket.
[..]
Requiring tickets--and giving a priority to volunteers and VIP treatment to donors--there is an entire high end VIP donor election night program--is another way for the Obama Machine to squeeze more out of the event.
There are no more tickets available to Obama's Grant Park rally, according to a message on the campaign's ticket request web site.
On Tuesday, the same url allowed visitors to sign up for the event's wait list. Now a message reads:
Thanks for your interest

There are no remaining tickets for this event.
The Tribune's John McCormick notes that the "campaign has declined to answer repeated questions on how many tickets it distributed or how many people it plans to accommodate at the site it is building at the south end of Grant Park."
"Mayor Daley predicted today that more than a million people would descend on Grant Park for
Barack Obama's election night "celebration" -- but that was before the Obama campaign disclosed that only those with tickets would be allowed to attend," the Sun-Times reports.

The decision to require tickets is designed to bolster security, but it's almost certain to reduce attendance.

Earlier today, Daley predicted that more than a million would attend the $2 million Obama extravaganza.
Daley also said the city would not be screening people coming into Grant Park. A Secret Service spokeswoman would not detail any planned security measures, telling the Sun-Times:
Any event that is covered by the Secret Service for a [presidential] nominee is typically secured and swept prior to the arrival of the protectee. That's standard procedure.
The Associated Press has more on the ticket plan:
You'll need a ticket if you want to attend Barack Obama's outdoor Election Night event in Chicago.

The campaign sent an e-mail Tuesday inviting only supporters from Obama's home state of Illinois. To get tickets, people need to sign up at a Web link for a printable ticket that'll be e-mailed before the Nov. 4 event in Grant Park. Only one request per person is allowed. Each ticket admits two people.

As of late Tuesday afternoon, it appeared there already was a wait list for tickets.

Gates open at 8:30 p.m. Nov. 4 for the event, which will take place in a field at the south end of the lakefront park.

It's unclear how many people are invited, but city officials have said the area can hold between 60,000 and 70,000 people.

Chicago officials say the event could cost at least $2 million and the Obama campaign has assured them they'll pay for it.
Click here for tickets to the event.

Click here for more coverage of the rally
Calling all HuffPost superfans!
Sign up for membership to become a founding member and help shape HuffPost's next chapter