Flourless desserts . The most popular kids on the block these days as far as treats go.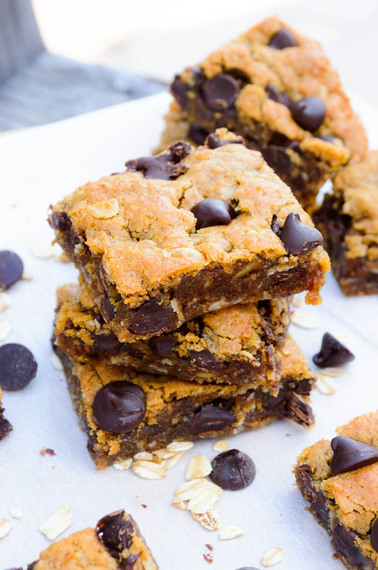 Of course this is nothing new. Gluten free flourless baking has been taking over our generation for quite awhile now but I wouldn't be myself if I wasn't late to the popular party.
Another little quirk about me: I tend to go big or go home. There is no reason to pursue something unless it is full throttle, 120% of my best energy and effort. Otherwise BYE FELICIA.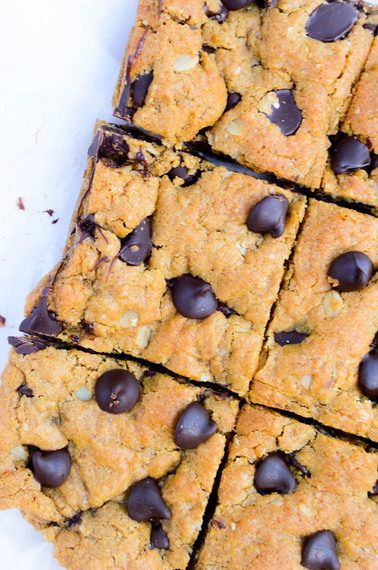 Flourless baked goods may be nothing new or exciting to the world but that doesn't mean these bars aren't bonkers awesome, insanely delicious.
Because that's how I do things. Over the top or nothing at all. It's a blessing and a curse. In this case it's working in your favor because now you have a dessert to make this weekend that is super simple, healthier than most and will earn you major hostess points at your Sunday BBQ.
Plus they only have 8 ingredients, are completely gluten free and acceptable for breakfast because oats = breakfast food. Happy baking HuffPost readers.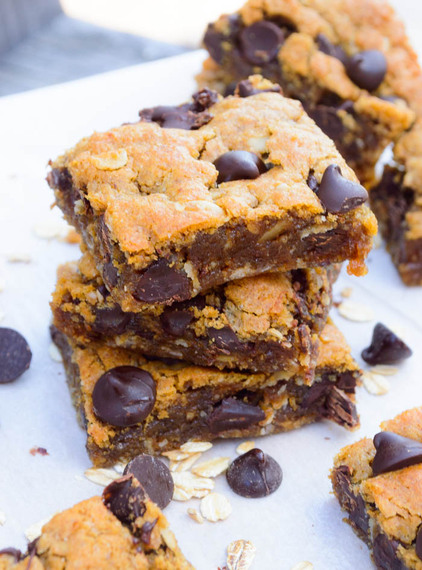 Ingredients
1/4 cup almond meal
1/4 cup rolled oats
1 tsp baking soda
Sea salt + cinnamon to taste
3/4 cup brown sugar
1 cup peanut butter
2 eggs
1/2 cup chocolate chips
Directions
Preheat oven to 350 degrees fahrenheit. Line an 8x8 baking dish with parchment paper.
Combine almond meal, rolled oats, baking soda, sea salt, cinnamon and brown sugar in a large bowl. In a separate bowl whisk together the peanut butter and two eggs until well combined. Mix this into the dry ingredients until a dough has formed. Fold in the chocolate chips then press into the parchment lined dish.
Bake for 15-18 minutes then allow to cool in dish for at least an hour before slicing into bars. It helps to place in the fridge and cut into squares after they are completely cool.
*Makes 9 large bars or 12 small bars.