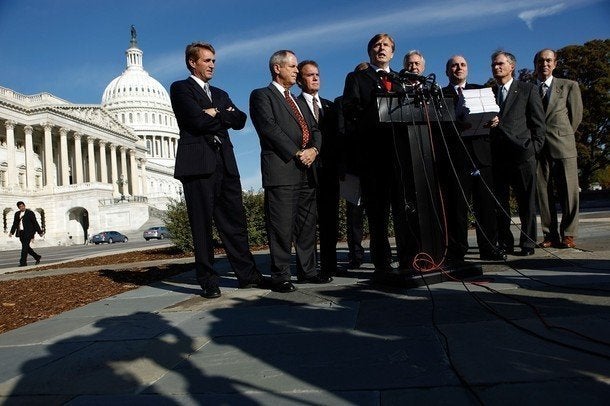 According to a study of personal financial disclosure reports by the CRP, the median wealth of members of Congress dropped nearly 5 percent in 2008 compared to the previous year.
Don't feel sorry for them: Despite the drop, 237 members of Congress are still millionaires.
Senators' median worth currently stands at $1.79 million, down from $2.27 million the year before. House members' current median income is $622,254, down from $724,258 in 2007. Fifty lawmakers have an estimated wealth of at least $10 million.
"Generally speaking, members of Congress are wealthy by comparison with the vast majority of Americans. That doesn't mean they're immune to the effects of this ailing economy -- they're not," said Sheila Krumholz, the CRP's executive director, in a statement. "But they are much better positioned to withstand financial pressures than the people they represent."
The members of Congress who have lost most amid the economic downturn are Sens. John McCain (R-Ariz.), John Kerry (D-Mass.), Dianne Feinstein (D-Calif.) and Mark Warner (D-Va.). Bucking downward trends, however, are Sen. Daniel Inouye (D-Hawaii), Mitch McConnell (R-Ky.), James Inhofe (R-Okla.), and Richard Shelby (R-Ala.), who experienced a rise in their wealth.
But because members of Congress are only required to report their wealth and liabilities in broad ranges, it's impossible to precisely determine how much their assets are worth, or how much they've gained or lost. CRP found that twenty-three members of the House recorded an average wealth in the negative territory, with Reps. Alcee Hastings (D-Fla.) and Harry Teague (D-N.M.) disclosing the lowest amounts of personal wealth.
Related
Popular in the Community