While recent headlines hastily declare the death of King Coal, a powerful new film documentary based on seven years of investigation poignantly captures the complexities and largely overlooked stories of the enduring trauma of the coal industry on miners, their families, affected neighbors and the ravaged communities and Appalachian mountains they call home.
As one of the most timely, poetic and informed film documentaries released this year, Overburden: Two Women and the Mountain Between Them, chronicles a quintessential American journey--amid the tragedy of lawlessness in the workplace and the environment--of two courageous women, formerly divided, who shed their fears and find common ground to begin the painful process of dealing with their grief, seeking terms of justice, and healing their damaged communities and mountains.
"We've all become family," Betty, a once fervent pro-coal supporter tells Lorelei, a coal miner's widow and vocal mountaintop removal mining organizer, in the film. "Don Blankenship has put us together," she adds, referring to the notorious former Massey Energy CEO. Recognizing the loss of Betty's brother in the 2010 Upper Big Branch mine disaster, as well as her own suffering, Lorelei responds: "Too high of a price to pay, though."
As featured in Overburden--a chilling mining term that refers to the overlying rock and soil displaced, like besieged residents and miners, to reach underground coal resources--these two former adversaries will stand together when Blankenship finally goes on trial on Oct. 1 in Charleston, West Virginia, for charges of conspiracy to violate mandatory federal mine safety and health standards relating to the Upper Big Branch Mine disaster, which took 29 lives.
To be sure, Lorelei and Betty will not only stand together in solidarity for mine safety and economic diversification.
"There's a desperate need for healing in the community," Lorelei says, in one of the most poignant moments in the film, as she packs up her belongings to move away.
Healing between families, communities and the plundered mountains in central Appalachia -- and in so many other strip-mined communities in southern Illinois, Wyoming and Montana, and on Northern Cheyenne, Crow, Navajo and other indigenous lands.
Embedded for years in West Virginia, Overburden director and University of North Carolina professor Chad Stevens is not only one of the most talented filmmakers of his generation, but one of its best storytellers, who has done the tedious and indefatigable work behind the scenes to gain the trust of bitterly divided and traumatized communities, and allow his characters to speak for themselves and recount the process of such healing unfolding today. Stevens brilliantly balances the beauty of families and the mountains, amid the tension of its conflicts and demise; his footage of a bear cub, aimlessly wandering to the edge of a massive strip mine, in search of its mother, is singular in its power.
There are a lot of important film documentaries on mountaintop removal mining--a strip mining process that has literally detonated untold millions of tons of explosives to blow up the tops of more than 500 mountains and shovel up the coal with machines over the past half century. In the tradition of the Oscar-winning film documentary Harlan County, Stevens effectively transcends the "war on coal" political banter by capturing the human stories behind the daily operations of one of our nation's most misunderstood, complicated and devastating sources of energy.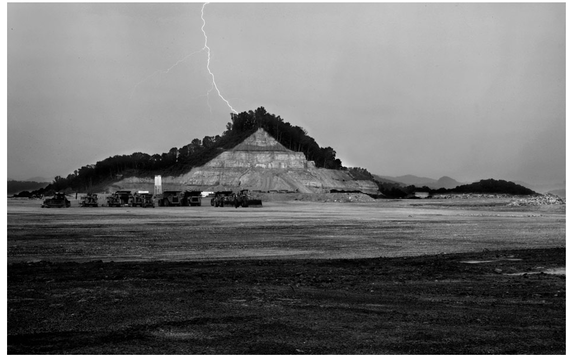 Photo credit: Chad Stevens, courtesy of Overburden film.
The portrait of Lorelei dispels many of the stereotypes of so-called "tree huggers" working to hold the coal industry and its sycophantic politicians accountable to various water and mining regulations. The widow of a miner who died from black lung disease, with a son-in-law in the mines, Lorelei joins a young community organizer, Rory McIlmoil, in a Coal River Mountain campaign for wind energy in an effort to draw attention for more sustainable economic development in the region. When a mining company launches its strip mining operations on Coal River Mountain, Lorelei travels to Washington as a representative of the affected residents, appealing to the Obama administration's "power to intervene."
Taking the viewer on a rare glimpse into the pro-coal circles, Betty is a matter-of-fact narrator who declares "coal is life here," and proudly posts a "Friends of Coal" sign. When the violation-ridden Upper Big Branch mine explodes in 2010, taking her brother's life in the process, Betty comes to the realization that "Massey Energy murdered my brother."
Joining efforts with Lorelei in a campaign to revoke Massey's corporate charter, Betty sums up the reality of both miners and all communities affected by reckless mining: "If we don't stand up and fight, who's going to?"
Years in the making, Overburden is ultimately an extraordinary story of transformation; of two brave women who recognize their fates no longer need to be divided by outside forces that have controlled the region for over a century through fear, deprivation and outright violence, and take action for a more viable future.
With Blankenship's historic indictment -- the first coal baron to be brought to trial for conspiracy charges in decades -- Overburden should be required viewing for President Obama, the Congress, and anyone who has ever depended on coal-fired electricity.
Related
Popular in the Community