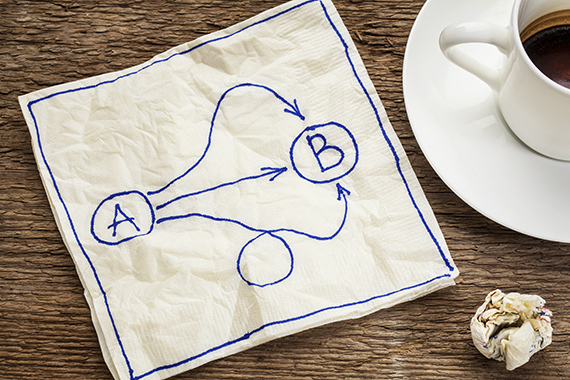 My clients are experienced professionals who are on the verge of burning out. We work together on how to live a Leadership Lifestyle.
I help them bring forward their leadership skills so they can realize true success. They are highly skilled, rich with experiences, and have a wide range of interests; however, they are often unsure which career path is right for them. With so many options to choose from, it's hard for them to make decisions. It's like being in a restaurant with a huge menu, and trying to decide what to order.
That's how I feel when I go out for dinner and look through a restaurant menu. I become indecisive. Everything looks great, but the longer I look, the more unsure I become about what I want.
When the service staff asks if I'm ready to order, I always ask for a few more minutes. And before I know it, the server comes around again. I feel pushed to make a decision, and I end up just ordering anything to take the pressure off. The problem is, I'm usually not 100 percent happy with what I order.
My friend takes a different route. Whenever we dine together I notice how she meticulously reviews the menu. She has a severe food allergy, so she takes her time and makes an informed decision. She knows exactly what she can and can't eat.
Wouldn't you want that confidence and decision-making skills at work and in every aspect of your life?
One thing I know for sure is that people who want to embrace a Leadership Lifestyle must learn to be good decision-makers.
Are you a decision-maker, like my friend? Or are you indecisive and unclear when it comes time to choose?
Here are three traits I've noticed that most decision-makers have in common:
1. Decision-makers trust their core values and belief systems.
They are guided by their inner wisdom to make choices that support their purposes. A Leadership Lifestyle is based on honoring your unique leadership style, and making choices that are aligned with it.
Do you know what your unique guiding principles are?
2. Decision-makers use decisions to get results.
Leaders are not born with good decision-making skills. The good news is that indecision is something you can overcome. Becoming confident in your decision-making skills takes practice.
Do you consciously make decisions every day?
3. Decision-makers take ownership and responsibility in their choices.
Making a decision means you are putting a stake in the ground. You show the world who you are, what you want, and what you stand for every time you make a choice.
Do your choices reflect who you are as a leader?
Do you want to learn to be a better decision-maker? I can help you stand in your power and become the leader you always knew were inside you. Set up a Clarity Call to learn more about my Leadership Lifestyle coaching, and how coaching may help you transform your life.
Nozomi Morgan, MBA, is a certified Executive Coach and the Founder and President of Michiki Morgan Worldwide LLC. Addition to coaching, she speaks and trains on leadership, career, professional development and cross-cultural business communication.
REAL LIFE. REAL NEWS. REAL VOICES.
Help us tell more of the stories that matter from voices that too often remain unheard.