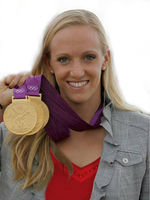 Follow the conversation on Twitter and share a photo of yourself wearing red #RedSelfie.
At a young age I was a swimmer with dreams of being an Olympian champion! Then my heart rate wouldn't slow down after races and workouts, and I knew it was something more than just overexertion, I knew that something was wrong. At age 14 I was diagnosed with anarrhythmia. Cardiologists informed me that I had an extra electrical pathway in my heart.
I was told that surgery would correct my quickened heart rate, and I was comforted knowing other swimmers in the area who underwent the same procedure. But still, heart surgery ... After the procedure, when my family thought that all was well, the doctor told me I had shown random signs of Long QT Syndrome. It is a condition when the resting period in the heart beat elongates and can cause an array of symptoms. During following stress tests I would feel faint, dizzy and short of breath upon conclusion.
Going from healthy elite athlete to learning I had a condition that can cause fainting, cardiac arrest, and even sudden death, was a lot to swallow and wrap my head around -- especially at 14. I didn't want it to stop my swimming career and my passion. I wanted to get back into the water, and with the support of my parents, I did. I pushed the diagnosis out of my mind and continued to train. In order for me to continue competing, my mom had to carry a portable defibrillator to every competition and practice just in case my heart stopped.
Because I had never shown symptoms swimming before, my coping mechanism was to act like there was nothing wrong and focused on my swim training. My mom and dad were much more worried than I was. My mom was the one who had to carry around the defibrillator to all of my competitions and practices -- I couldn't bear to touch the thing.
In my first Olympics at the Athens Games in 2004, I won a Gold Medal and set a World Record as part of the Women's 800m Freestyle Relay. It was amazing! The entire time I competed, my mom was in the stands watching and holding the defibrillator, ready to come to my aid if needed.
After my freshman year in college, I was retested and was relieved that I no longer showed signs of Long QT. The doctors were questioning the initial diagnosis. After multiple stress tests they didn't see any of the original signs of Long QT.
It's not an easy road to making the US Olympic Team. I didn't qualify for the 2008 Summer Olympics, and it was heart breaking. In one race I missed the team by three hundredths of a second. Looking back, I know this "setback" at the time made me a lot stronger. I continued to work hard, push myself, and learn from the challenges I encountered.
All of the hard work paid off in 2012. I not only qualified for the London Olympics, I won three Gold Medals and set an individual World Record in the Women's 100m Butterfly.
Setting the World Record and winning Gold in London was such an incredible feeling, especially after the intense training and challenges along the way. It's indescribable. I felt so fast, and I know I can go faster.
I know firsthand what it's like for challenges to jeopardize your dreams; it's why I share my story with as many people as possible -- I want to give them hope. It was after the London Olympics that I was contacted by the Texas Heart Institute in Houston, TX where I learned a great deal more on heart disease. I under went three days of extensive examination and testing where it was determined that I never had Long QT Syndrome. Research is rapidly progressing every year in terms of testing and understanding of the cardiovascular system.
Undergoing heart surgery followed by a diagnosis of Long QT Syndrome nearly denied me my Olympic Dream, which was an initial hardship on my family. The sacrifices we decided to make in order to keep that dream alive were an even greater hardship especially for my mom. Ten years later, finding out that none of those hardships were necessarily for my family to go through, has made me passionate about promoting research, heart awareness and overall health in women.
That's why I am a proud National Volunteer for the American Heart Association's Go Red For Women movement. Go Red For Women is a way for women to come together, learn about heart disease, and put their heart health first so they really can continue to chase their dreams.
As we celebrate this 11th National Wear Red Day, I want all women to be more aware of their bodies, how it feels, what they are putting into it, and how they are exercising. Your body is your engine, so treat it right!
This post is part of a series produced by The Huffington Post and the American Heart Association in recognition of National Wear Red Day (Feb. 7, 2014), the aim of which is to raise awareness that heart disease is the No. 1 killer of women. To read all the stories in the series, click here. And to follow the conversation on Twitter -- and share a picture of yourself wearing red -- find the hashtag #RedSelfie.
Related
Popular in the Community