Theodore Agranat popped into my world like a Jack-in-the-Box. He found me via my Summit at Sea blog post after we both attended the epic event. He greeted me with such enthusiasm and positivity that I could not help but adore him.
I quickly learned that the 34-year-old CEO of Leadix, a social business software company, is even more of a spitfire than you might guess from his outgoing, embracing demeanor and obvious business acumen. In fact, he has one of the most remarkable stories of overcoming adversity to attain a successful and balanced life that I've ever heard.
Agranat was born in Russia, but his parents emigrated with him and his little brother to Austria when he was 3 years old. Soon after, his sister was born. "We kids grew up fast," Agranat remarked flatly, as if commenting on the weather. "When I was 7, my mom left us. Our dad never explained why."
Tragically, Agranat's father was in no condition to raise three young children on his own. A child prodigy as a pianist from the time he was 5 years old, the man had become a chronic alcoholic by the age of 17. He would get drunk and rage at concerts or not show up at all. After awhile, no one would hire him. Agranat's father had to go on welfare, living off child support payments from the Austrian government.
When Agranat was 14, his father was committed to a psychiatric institution. Agranat arranged to have his little brother and sister placed with foster families, but he stayed alone in his family's apartment, taking care of himself. When his father was released from the hospital a year later, he accused Agranat of trying to steal the rent-controlled, government-owned apartment and threatened to call the police on his son. At age 15, Agranat made the decision to leave home.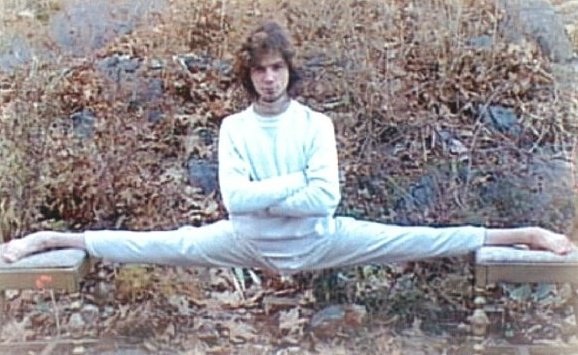 Agranat dropped out of high school shortly thereafter and began working as a freelance bike messenger to support himself. Soon he found well-paid work translating Russian plays into German for an Austrian television station. "I've never worked for anyone else a day in my life," Agranat said proudly.
At 17, Agranat decided to visit the US, where his mother had been living, and meet with her. "I wanted to figure out why she had left us," he explained. But his mother proved incapable of dealing with his questions and accusations. They got in a huge fight, and Agranat once again wound up on the streets, alone. He met by chance some friends of the family that lived one town over and arranged to stay with them in exchange for helping them out. He taught himself to fix cars and began fooling around with computers.
This proved a pivotal moment for Agranat. "I had been feeling bad about dropping out of school because I didn't finish, but also because in Europe you can't do anything without a degree. It's not like here, where you can hustle. I'd had nightmares about my situation for years. But in the US, I was quickly making five times as much money as kids in school, plus I was learning so much more." So Agranat decided to stay on in the US. His mother at least agreed to help him get a green card.
When he was 18, Agranat found out about "this thing called the Internet." At 21, he licensed a bunch of artists' designs off the web, borrowed a laptop from a friend and loaded it with the graphics, then set off door-to-door selling his services as a web designer. He made his first sale a few doors down, which turned into his first multi-million dollar business: a web design company. He has since started six companies in usability research, business software, real estate and e-commerce, all boot-strapped and profitable.
Having grown up very poor, Agranat had always longed to make enough money so his basic life needs were taken care of. But once he'd reached that point, he shifted his focus to giving back to the world. "I wanted to have a positive impact while also making money," he said.
In 2008, Agranat's "backyard" of Springfield, the third largest city in Massachusetts, was falling apart. "It was hit very hard with foreclosures," he explained. "The streets were boarded up and the druggies were moving in."
Agranat decided to take action. "I wanted to combine a profitable venture with something that would make a difference and would allow me to be connected to the 'end-user' benefits. So I put together a team to start buying up foreclosed properties, refurbish them and rent them out to low-income families. When we did that, we started getting all kinds of thank yous. One woman was sobbing because no one else would take her on as a tenant. You get one call like that and you feel fantastic about what you do."
Agranat's company also held educational programs for the low-income tenants, teaching them to be financially and socially responsible and to take pride in the rental units. As a result, the company not only helped people who needed it most but also saw rent collections increase by 20 percent. Agranat grinned, his wide, bespectacled eyes squinting, as he said, "There is nothing better than doing good for the world and making money."
Now that the Springfield venture is up and running, Agranat has moved with his wife and kids to Washington state to start an incubator with a friend. "We're going to find the most exciting ideas out there and start a bunch of new businesses," he remarked with his characteristic joy.
When I asked him what it means to him to live the "life out loud," Agranat said: "Live harder, love harder, be more and do more. Forget all this nonsense about bad habits, insecurities and fears. Just live from the heart, love as hard as you can and don't let anything in life distract you from your path. Help others, and accept help from others as well."
Like all of us Agranat has felt, at times, that he was straying from his path, but he always listens to his intuition to guide him. For example, he dealt with serious issues when he confronted his mother about leaving her kids. He said, "I knew that everything she'd done was wrong. So I had all this anger at her. Yet at the same time, I had this nagging voice that came from deep inside me saying, 'I have to forgive this woman.' The only path to being whole for me, and probably for her as well, was to forgive. But for years, I couldn't do it."
So in his mid-20s, Agranat turned to his physical body for help. Inspired by Jackie Chan and Jean Claude Van Damme movies, Agranat quit smoking and drinking. He began fasting on cold water, doing yoga, meditating and practicing martial arts. His goal was to learn to do the straddle splits between two chairs, just like Van Damme. It seemed impossible, given that he had never done any sports and was weak and often sick as a child. But after many years of stretching and training every single day, he succeeded.
Then one day when Agranat was on a fast, he got what he'd been searching for. "I saw that everything was connected," he said. "Tears of joy streamed down my face. I dug up my mother's number, which was huge because there was a time when I said she'd be the last person on the planet I'd ever call. But I called her up and said, 'I forgive you. I think you could've done much better, but I forgive you.' She broke down crying, and I felt this incredible sense of relief."
Because of that experience, Agranat attributes much of his healing and personal success to being in touch with his physical body. Whenever he feels the need to get back on track in life, he turns to exercise and diet. He explained, "The only way to kick my unhealthy habits and rewire my neural conditioning was to do something where my brain and lack of neurological connections would have no impact or power over me. Only my body had to do it; my brain didn't have to do anything."
Agranat offered this advice to others struggling to overcome difficulties: "Your success in life is all about your mindset and attitude, not about what you think is actually possible." He then quoted Henry Ford: "The person who thinks he can and the person who thinks he cannot are both right."
If you would like a full transcript of this extraordinary interview with Theodore Agranat, please email: TheLifeOutLoud@gmail.com
Photo Credit:Theodore Agranat