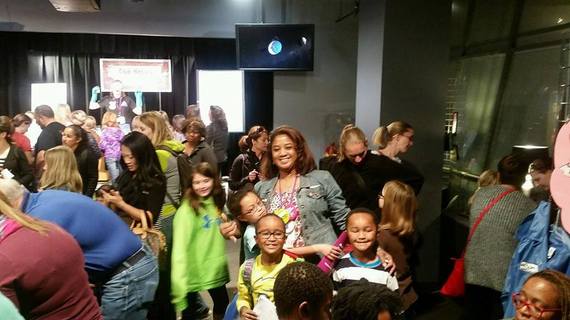 Zyola Mix has overcome many difficulties in her personal life, as well as cultural obstacles, to pursue her dream of working in the space industry. Her road to becoming a Mechanical Designer at SEAKR Engineering began during her childhood in Hawai`i. At age five, a visit with her great uncle and cousins to Diamond Head provided a view of the stars so inspiring--"the ocean was glassy and black, perfectly reflecting the stars above,"--that Zyola decided to pursue a career in the space industry. Zyola's story is proof that determination pays off in the long term. We are glad to have her involved in the GlobalMindED Conference (www.globalminded.org) June 9-10 in Denver.
Her home life was difficult and, at times, abusive, which meant that Zyola was not always confident in her own abilities. Furthermore, she says, "there were many cultural, racial and gender biases to fight through." Like other women and minorities, the prospect of trying to fit into an overwhelmingly and persistently white and male workplace was somewhat daunting. "The adults in my life either actively discouraged me," she says, "or didn't know enough about the STEM world to encourage me." Still, she was able to "find refuge in books and in the story of Dr. Mae Jemison," the first female African-American astronaut.
After deciding to move across the country to escape an abusive marriage, Zyola reconnected with her goal of doing work related to the stars--largely because she wanted to provide a stable home for her daughter and demonstrate that "any challenge can be overcome." She "started over without a penny and suffered the stigma of trying to live on public assistance; on top of that, [she] was going to school full time, working, and raising a child alone without support."
Once she enrolled at Metropolitan State University of Denver's school of Aviation and Aerospace Science, she often felt that "the only thing that really kept me moving was my refusal to give people excuses to write me off." She adds, "I never gave up all hope. If you feel hope is gone, take a step back, call a true friend."
Zyola has achieved her childhood dream. She now designs "electronic systems for control, memory and visual processing," which are used "for satellites and other space-borne lab systems." Her enthusiasm for her work is contagious: "I get to be both book smart and creative, and it's a perfect fit. What I enjoy the most about working in the space industry is the ability to be part of a future train of thought. We are an industry that is focused on solving problems in the most efficient way possible, with the biggest gain."
Along with the excitement of working with spacecraft, she also enjoys her work because of its broad effects: "Much of what we do impacts the lives of the rest of the world. Research and techniques developed in the space industry have improved communications, transportation, water purification and reclamation, medicine, safety equipment and agriculture, just to name a few. It's amazing to me, to work in an industry with so much forward progression and an underlying positive outlook, while at the same time, few people fully understand what we do."
The intellectual demands of working in aerospace engineering, combined with the public's widespread fascination with spacecraft, also fuel Zyola's love of her job. "When I meet people who are curious about rocket science," she says, "I get to see the sudden engagement they have when they begin to talk about movies and stories and their own dreams. Even with all the political and financial drama that comes with the industry, the energy is always positive. For many people, it starts as a Star Trek/Doctor Who/Star Wars-induced dream; the inventiveness in those shows translates to the real-world industry, too. Even on our worst days, we still keep dreaming of new challenges. It's exciting."
Calling all HuffPost superfans!
Sign up for membership to become a founding member and help shape HuffPost's next chapter